Hotstar US stopped its service in the USA and merged with the Disney Bundle, so subscribers might be lil'bit worried about where to watch their favorite shows and programs. Especially sports lovers who watch their favorite sports like Cricket, Football, Kabaddi, and more. Now here's the deal.
ESPN Plus now has the streaming rights to Cricket, Football, NBA, Baseball, and major world leagues like IPL Cricket, ICC World Cup 2023, Asia Cup 2023, India tour of South Africa, and many more.
ESPN Plus offers the best quality content and service at an affordable price. ESPN Plus has everything users are looking for. Get ESPN Plus Deals starting at $6.99 per month. Compare ESPN Plus cost with the other streaming service.
ESPN Plus Deals and Discounts
ESPN Plus is designed to offer viewers affordable, high-quality content that can be streamed on their TV and ESPN Plus app. With this deal, you get access to the latest sports games and live events (IPL, Football leagues, NBA), including live ESPN channels, original programming, and exclusive major sporting event videos.
Get bundles of ESPN Plus content, which offers a variety of live-streaming sports and entertainment services in addition to Video-on-demand programs with the ESPN Plus Subscription.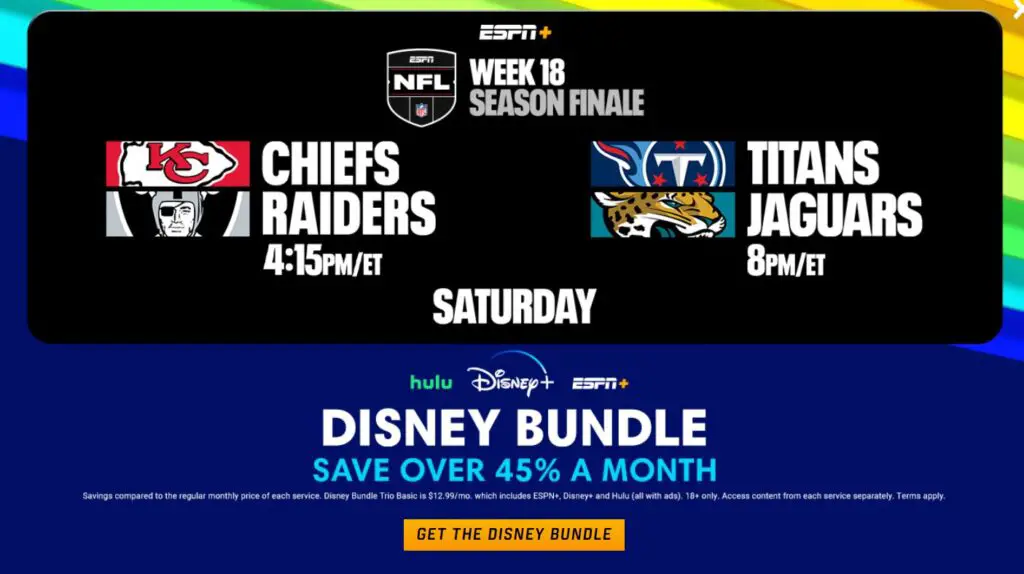 45% Off on Disney Bundle: With a bundle of ESPN Plus, Disney Plus, and Hulu, you'll pay just $12.99 per month or $5.98/mo less than the regular price for each service. Stream live sports, enjoy Pixar, Marvel, Star Wars, and more.
$13.99/Mo Disney Bundle: Sign up for the Disney bundle for only $13.99/mo. with this offer from ESPN Plus. Enjoy Hulu, Disney+, and ESPN+ saving 30% if you order them separately.
$6.99/Mo Originals: Take advantage of this ESPN Plus deal, where you can stream exclusive originals for just $6.99 a month. Watch thousands of events and original series in HD.
25% Off on UFC 270 with ESPN Plus: With ESPN Plus, you can watch UFC 270 featuring Francis Ngannou versus Ciryl Gane. Subscribers receive exclusive offers while new subscribers can save over 25% when they sign-up today.
Watch NBA season: Catch the latest NBA basketball games, news, and more with ESPN Plus. Enjoy live games or watch replays in HD.
Watch 30 for 30 Library: Get access to the full 30 for 30 Library with ESPN Plus. Stream now or download anywhere this innovative storytelling that revolutionized the sports documentary.
ESPN Plus offers a replay of UFC events: Missed any UFC events? Watch every bout of UFC at ESPN Plus. Sign up to stream the fight and thousands of other live events, all in HD.
Gift 1-year subscription for only $69.99: Get a 1-year ESPN+ subscription for only $69.99. Give your loved one access to exclusive live sports and original content.
ESPN Plus offers a replay of UFC events: Missed any UFC events? Watch every bout of UFC at ESPN Plus. Sign up to stream the fight and thousands of other live events, all in HD.
Breakaway 30 for 30: "Breakaway," the latest installment in ESPN's "30 for 30" series about Maya Moore's search for justice for a man she believes was wrongly imprisoned, is now available on ESPN Plus. Get started for just $6.99/month or $69.99/year.
Collage Football: Stream college football in ESPN Plus
ESPN Plus Cost
| | |
| --- | --- |
| Product | Current Price |
| ESPN+ Monthly Subscription | $9.99/mo |
| ESPN+ Annual Subscription | $99.99/yr |
| The Disney Bundle w/ Hulu Ad-Supported | $12.99/mo |
| The Disney Bundle w/ Hulu No-Ads | $19.99/mo |
| PPV Standalone | $79.99 each |
| PPV Package (PPV & ESPN+ Annual) | $124.98, then $99.99/year after the first year |
| PPV & The Disney Bundle | $88.98, then $13.99/mo |
ESPN Plus Plans
The ESPN Plus subscription service offers two plans, Monthly and Annual. Prices start at $6.99/month for monthly plans and $69.99/year for yearly plans. The best part about ESPN Plus Plan is that it doesn't require a cable or satellite TV subscription, and one can cancel their membership at any time!
Disney Bundle package also offers ESPN Plus with HULU and Disney+. Disney Bundle costs $13.99/month and $79.99/annual. Enjoy movies, Tv shows, Indian Tv series on HULU, and many Disney movies on Disney+ along with living sports on ESPN Plus.
How to Subscribe ESPN Plus?
Take advantage of ESPN Plus Download the App on Your TV, streaming device, or Mobile.
Visit the site espnplus.com or the app. On the top right, you will find the Login button.
If you don't have an ESPN Plus account, you'll see a yellow button that says "Get the Disney Bundle" and a link below that says "Subscribe to ESPN Plus only." Select the package you want to purchase.
The next Page is "Create Account." Enter your details and click the Sign Up Now Button.
Select a plan that suits you, either monthly or annual. You can see how much your subscription will cost and when it will renew on ESPN Plus.
The PayPal account can be linked, or you can enter credit card information if you wish to pay with a credit card.
Accept the terms and conditions and click "Buy ESPN Plus." Your browser should display a "Success" page now, indicating that everything has been completed correctly.
Does ESPN Plus Offer Free Trial?
No, unfortunately! The ESPN Plus free trial is no longer available. Free trials for ESPN Plus have been offered in the past, but they ended in 2020. However, there is an affordable monthly rate that enables you to check out the service and see if its content catalog fits your needs.
You can also go with the Disney Bundle (HULU, ESPN+, and Disney+) subscription starting at $13.99/month.
How To Cancel ESPN Plus Subscription
You may cancel your ESPN+ subscription and any third-party subscriptions you have purchased through your ESPN+ service subscription anytime before the end of the current billing period or free trial, which will take effect at the start of the next billing period.
Your subscription can be canceled by logging in to your account at espn.com, sending an email to support@espnplus.com, or calling customer service at 1(800) 727-1800.
If you subscribed to ESPN Plus from any third party or another source, Click here and check out the full cancellation process. How to cancel ESPN Plus subscription.
Read Also:
What Channel Comes With ESPN Plus?

The ESPN Plus platform offers live games, on-demand shows, and exclusive content, including soccer, baseball, hockey, boxing, mixed martial arts, golf, tennis, cricket, lacrosse, and rugby events. Some NFL, NBA, and other pro sports games stream live via ESPN, but you must have a login for your cable, satellite, or live TV streaming provider in order to access them. Read the full ESPN Plus Guide to get more information
Besides games, ESPN Plus offers original shows, which feature in-depth game recaps, documentaries like '30 for 30′, and video-on-demand service.
What makes ESPN Plus the best option?
ESPN Plus is a streaming service that offers live streaming and video-on-demand services to customers. This gives sports fans the opportunity to watch their favorite games in high definition, something that's not available with other streaming services. ESPN Plus also has a lot of additional features, including original content, live scores, stats, news, highlights, and more.
UFC PPV and UFC Fight Night events
ESPN Plus deals offer exclusive PPV matches costing $64.99 for existing subscribers. PPV events often play with UFC and boxing matches on ESPNPlus.
On-demand content on ESPN Plus
To entertain viewers between live streams, ESPN+ offers a library of documentaries, expert analysis, and original series. Highlights from recent events are also available on-demand. 
Conclusion
ESPN Plus is a streaming service that provides access to sports coverage. It's an update to the basic ESPN program that includes live broadcasts, on-demand programming, and much more. 
You can also tune in to live sports through this service. It's available only through the website for $6.99 per month, or you can subscribe annually for $69.99.
FAQ on ESPN Plus Deals