Congratulations to all my sports fans, you may be wondering if ESPN Plus has live sports and if you can watch MLB, NHL, MLS, and other games live. Here is a detailed explanation of the ESPN Plus subscription offers, plans, features, free trial, and price. To learn more, continue reading.
You can subscribe to ESPN Plus for $9.99 per month, or save over 20% with an ESPN+ Annual Plan for $99.99 per year. ESPN+ can also be in Disney bundled with Disney+ and Hulu for $13.99 per month. ESPN+ costs $9.99 per month and $99.99/yr.
ESPN Plus is ESPN's streaming service that launched in April 2018. On the go, you can watch live streams of baseball, soccer, UFC, hockey, and many more sports. If you're looking for a cord-cutting alternative to cable and satellite, ESPN Plus is a great option. Additionally to ESPN's regular linear coverage, it provides live games, access to ESPN Insider content, as well as exclusive on-demand content.
With ESPN+, you can stream your favorite games. Signing up gives you access to the entire 30 for 30 libraries, as well as live events and exclusive content. After purchasing a subscription to ESPN Plus, you will find live sports content, TV Shows, and many more.
ESPN Plus Overview
ESPN Plus is an online streaming service. It includes live events and on-demand content not available on any other ESPN network, as well as free content from ESPN's mother network. Though it is separate from anything else on ESPN, it has a lot of the same characteristics as the content you're used to seeing.
Its highly produced sports content focuses on the most important leagues, players, and teams in the NHL, MLB, MLS, NFL, and NBA. Using it, you can follow your favorite teams and watch highlights from their last game or predict what they'll do next.
ESPN Plus is an affordable, supplementary streaming service that lets you watch extra content, behind-the-scenes content, and most importantly, ad-free. Despite not offering all the range you've come to love on standard ESPN, ESPN Plus gives you a lot more of the same.
ESPN Plus Subscription Offers
Saving a few dollars is always lovely. ESPN Plus offers a few ways for you to save money. Listed here are the best ongoing ESPN Plus deals:
Buy an annual ESPN Plus subscription. ESPN Plus costs $9.99 per month, but you can get a yearly plan for $99.99, which is a savings of $14 a year.
Purchase a Pay-Per-View (PPV) event. When purchased with a PPV event, the streaming service offers a nice discount. For example, ESPN Plus annual subscriptions often go for more than half off when viewers purchase major UFC fights on PPV.
Combine ESPN Plus with another streaming service. Hulu, ESPN Plus, and Disney Plus are all owned by Disney, and all three are available for only $12.99 per month. That's not bad. It works out to a $7 monthly savings, which significantly reduces Hulu and Disney Plus subscriptions.
What about the ESPN Plus free trial? Unfortunately, it's no longer available. To try the service, you must pay for at least a month, but you can cancel at any time.
Keep an eye out for future ESPN Plus deals, such as student discounts, military discounts, and senior discounts.
ESPN+ UFC PPV Price list
| | |
| --- | --- |
| Product | Current Price |
| ESPN+ Monthly Subscription | $9.99/mo |
| ESPN+ Annual Subscription | $99.99/yr |
| The Disney Bundle w/ Hulu Ad-Supported | $12.99/mo |
| The Disney Bundle w/ Hulu No-Ads | $19.99/mo |
| PPV Standalone | $79.99 each |
| PPV Package (PPV & ESPN+ Annual) | $124.98, then $99.99/year after the first year |
| PPV & The Disney Bundle | $88.98, then $13.99/mo |
Subscription Process for ESPN Plus
Get ESPN+ on your TV, streaming device, or mobile device.
Visit the ESPN Plus official website or click here to log in. The Login button can be found at the top right of the page.
If you do not have an ESPN Plus account, you will see Yellow Button "Get the Disney Bundle" and a link "Subscribe to ESPN Plus only." Click on the package you wish to purchase.
This will take you to the "Create Account" page. Fill in your information and click "Sign Up Now.".
You can choose a monthly or annual plan that suits your needs. ESPN Plus tells you how much your subscription will cost and when it will renew.
You can link your PayPal account or enter the credit card information to pay with a credit card.
Select "Buy ESPN Plus" and accept terms and conditions. You should now see a "Success" page, indicating everything went well.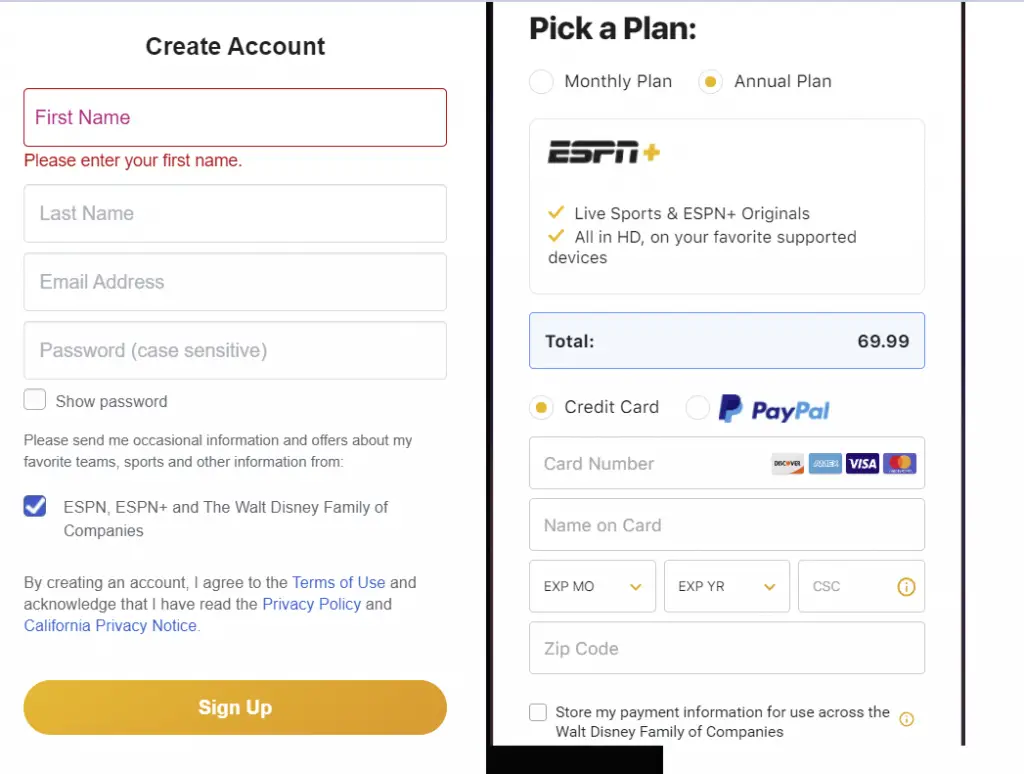 ESPN+ Streaming Quality and review
The ESPN+ streams looked good. The highest quality available in 720p HD is not spectacular but necessary to stream live events smoothly. With 60 FPS, the movement on my screen was as smooth as anything I've seen from cable or satellite.
Except for a minor issue, ESPN+'s streams are reliable and perfect, except for a brief blackout followed by a reload before picking right up right where it left off. However, there was no actual difference between the video lag and the real video.
Other than those minor hiccups, I did not notice much difference when streaming on different platforms and devices. Everything worked pretty well and looked very good on my Roku TV, Chromecast, iPad, Mac, and PC. You can stream ESPN+ on up to three devices at the same time.
By the way, we should talk a bit of buffering and lag here. With live streaming events like sports, You can probably see where all this is going: Buffering means downloading the next few seconds of a video, but that's not something you can do when the next few seconds haven't happened yet! The only solution for live events like sports is to run streaming services on a bit of a delay, giving a little cushion for the services to buffer.
ESPN+ Gift Subscription
With the holidays quickly approaching, ESPN+ is offering a Gift Subscription, allowing consumers to digitally gift a one-year non-recurring subscription to ESPN+. Gift subs can only be redeemed by new ESPN+ subscribers and are not redeemable toward PPV. The Gift Subscription costs $99.99, the same cost as an annual subscription.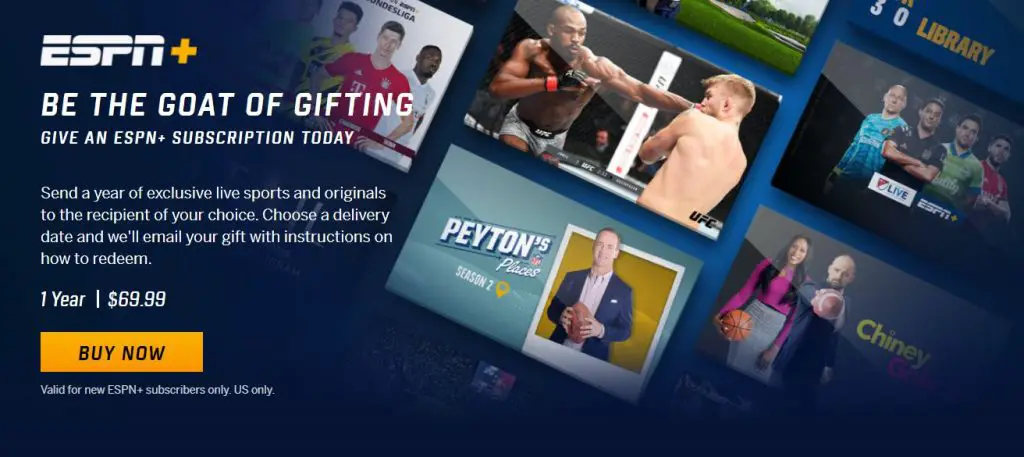 On ESPN Plus, the most-watched cricket series
IPL Live on ESPN Plus: The world's most popular cricket league is on ESPN+. Stream every single match of the VIVO Indian Premier League live in both English and Hindi.
T20 WC on ESPN Plus: Stream the 2021 ICC Men's T20 World Cup, featuring more than 45 live T20 matches from the United Arab Emirates—all on ESPN Plus.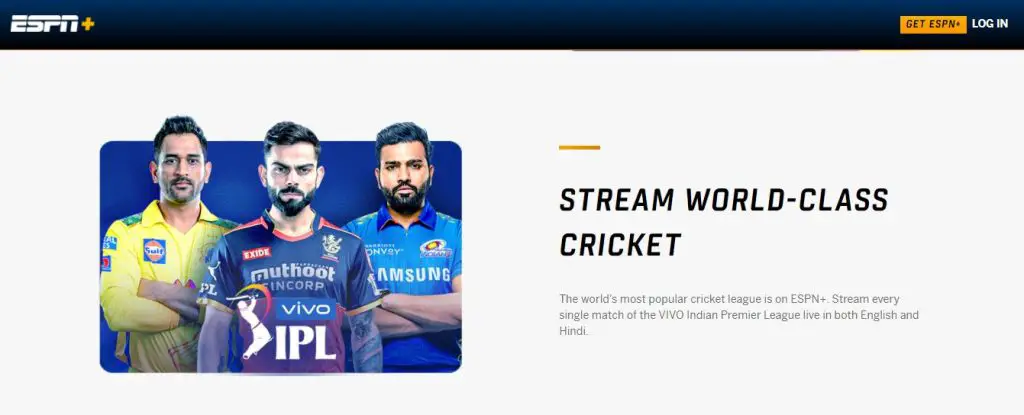 On ESPN Plus, the most-watched Live Sports, Events & Shows.
The Little Master: For over two decades, Sachin Tendulkar dominated his sport and claimed every record for his home nation. But the one thing that eluded him was the sports' ultimate prize—the cricket World Cup. Stream The Little Master, only on ESPN+.
Windies and Black Caps: ESPN+ is the home of hundreds of cricket matches featuring the biggest teams in the sport, including New Zealand Cricket, Cricket West Indies, and more.
Stream Exclusive Live Sports & Archives: Thousands of live events from MLB, NHL, LaLiga, MLS, FA Cup, Top Rank Boxing, and more. Plus, get UFC Fight Nights and PPV events, Grand Slam tennis, and access to your favorite college sports like football, basketball, and lacrosse.
Discover ESPN+ Originals: Experience groundbreaking originals from the top names in sports including Eli's Places with Eli Manning, Stephen A's World with Stephen A. Smith, More Than An Athlete with Michael Strahan, Bettor Days with Mike Greenberg, and more.
Access the Full 30 for 30 Library: Unlock the complete award-winning 30 for 30 libraries, featuring innovative storytelling that revolutionized the sports documentary. Stream now or download and enjoy anywhere.
Explore ESPN+ Premium Articles & Daily Studio Shows: Get exclusive access to over 3,000 premium articles a year from top writers including Matthew Berry, Buster Olney, Jeff Passan, Mel Kiper Jr., and more. ESPN+ is also the new home for LIVE daily radio telecasts of Greeny, Chiney & Golic Jr., The Max Kellerman Show, and Jorge Ramos y Su Banda.

ESPN Plus for Business
ESPN+ for Business is our subscription offering for commercial businesses, such as bars, restaurants, and other out-of-home locations. It includes a specific lineup of live events tailored to excite fans. You are not permitted to use your personal account to show ESPN+ at your place of business or in any other public space. The ESPN+ Subscriber Agreement allows for personal, non-commercial use only. ESPN+ for Business is accessed solely through DirecTV. Click Here to Learn more.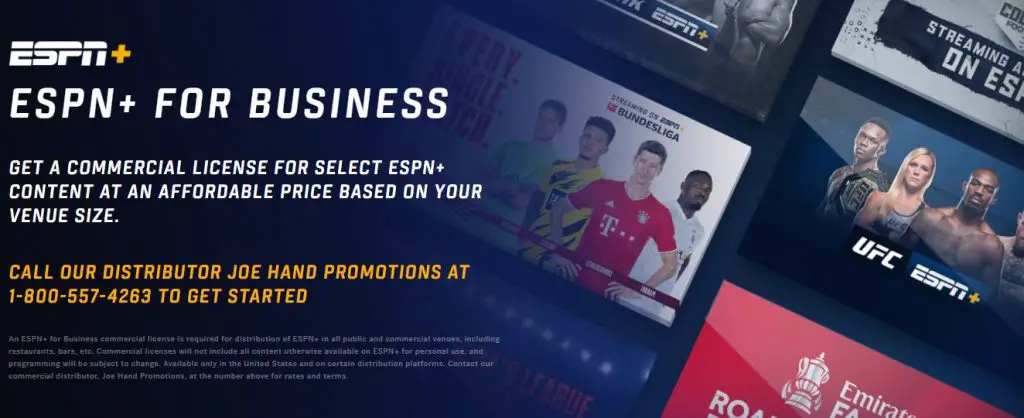 Bottom Line
ESPN+ offers some live sports and old episodes of ESPN shows, but not the network's flagship or prime-time programming. The service costs $6.99 per month in the United States. If you want to read about ESPN Plus, sports, IPL cricket, and more, keep visiting us.
Our ESPN Plus review is focused on the streaming video aspects of ESPN+, but I'd be remiss if I didn't mention the extra content. ESPN+ includes special access to premium ESPN content, including exclusive articles and fantasy sports tips. Since ESPN+'s streaming features are already built into the regular old ESPN app, it's pretty easy to hop back and forth between the exclusive articles and video content.
FAQs- On ESPN Plus Subscription Offer