How does ESPN Plus work
ESPN+ offers thousands of exclusive live events, original studio shows, and acclaimed series not available on ESPN's networks. Subscribers to ESPN+ are able to purchase UFC PPV events and access an extensive archive of on-demand content (including ESPN Films, 30 For 30, and game replays).
ESPN+ includes live sports, highlights, replays, commentary, interviews, and sports documentaries. You can watch everything from college sports to UFC events and "30 for 30" biopics. ESPN+ has original programming hosted by some of the best athletes in the world, including Peyton Manning, who hosted "Detail," a sports analysis show.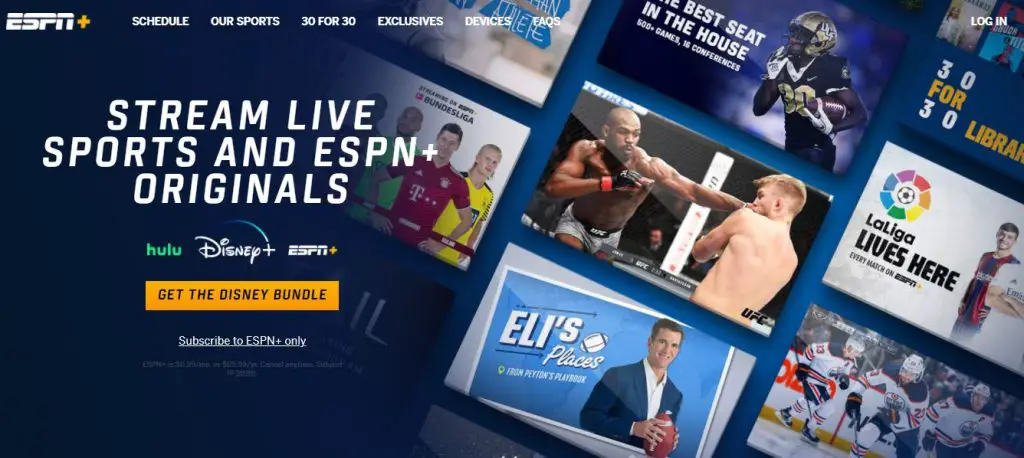 What does ESPN Plus Include
Programming on ESPN+ includes exclusive UFC events, hundreds of MLB and NHL games, college sports (including football, basketball and nearly a dozen other sports from 20 conferences), top domestic and international soccer (LaLiga, Bundesliga, Serie A, FA Cup, MLS, Copa Del Rey, EFL Championship, Carabao Cup, Eredivisie, and more), Golf (coverage from PGA Tour, The Masters and PGA Championship).
Top Rank Boxing, Grand Slam tennis, international and domestic rugby and cricket, exclusive ESPN+ Original series and studio shows (including ESPN+ NFL PrimeTime, Peyton's Places, Stephen A's World, SportsNation, The Fantasy Show, Why Not Us, America's Caddie, Detail, ESPN FC, Bettor Days, Our Time, The Ultimate Fighter, Dana White's Contender Series, and many more), plus exclusive access to the entire library of ESPN's award-winning 30 for 30 films.
| | | |
| --- | --- | --- |
| | | |
| | | |
| | | |
You can sign up for ESPN+ for just $6.99 a month (or $69.99 per year) at ESPN.com, ESPNplus.com or on the ESPN App (mobile and connected devices). Additionally, it is available as part of The Disney Bundle, which gives subscribers access to Disney+, ESPN+ and Hulu for $13.99/month (Hulu with ads) or $19.99/month (Hulu without ads).
ESPN+ Plans and Free trial
ESPN+ plans vary in price based on your choice of plan. Please note Taxes may apply in certain areas.
Monthly: Monthly subscriptions to ESPN+ are currently available for $6.99/month.
Annual: Annual subscriptions to ESPN+ can currently be purchased for $69.99/year.
Disney Bundle: The Disney Bundle is available for $13.99/month and includes both Disney+ and Hulu (ad-supported), as well as ESPN+.
PPV Package: Currently, ESPN+ subscribers can purchase UFC PPV events for $69.99 per event. New subscribers can also purchase the PPV package, which includes an annual subscription to ESPN+, as well as access to the next upcoming UFC PPV event for $89.98. The annual subscription to ESPN+ will automatically renew at the then-current price (unless canceled).
Free Trial offer: Free trial of ESPN Plus is no longer available. The free trial subscriptions for ESPN Plus were removed after the initial launch period. Alternatively, ESPN Plus is available for $6.99 monthly, $69.99 annually, or $13.99 if you purchase all three platforms at the same time. When ESPN Plus launched in 2018, it offered a seven-day free trial. However, the offer has since ended.

ESPN+ PPV (UFC) Updated Price list
| | | |
| --- | --- | --- |
| Product | Former Price | Current Price |
| ESPN+ Monthly Subscription | $6.99/mo | $6.99/mo |
| ESPN+ Annual Subscription | $69.99/yr | $69.99/yr |
| The Disney Bundle w/ Hulu Ad-Supported | $13.99/mo | $13.99/mo |
| The Disney Bundle w/ Hulu No-Ads | $19.99/mo | $19.99/mo |
| PPV Standalone | $69.99 each | $74.99 each |
| PPV Package (PPV & ESPN+ Annual) | $89.98, then $69.99/year after the first year | $99.98, then $69.99/year after the first year |
| PPV & The Disney Bundle | $83.98, then $13.99/mo | $88.98, then $13.99/mo |
How to Cancel ESPN Plus Subscription
Especially for shorter-term monthly subscriptions, ESPN Plus is one of the better streaming services for commitment-phobes.
Considering an ESPN Plus subscription lasts only 30 days, all you have to do is cancel before it expires – head over to manage the subscription on the ESPN website or app and confirm your cancellation. You will be able to walk away from ESPN Plus without any issues.
A yearly subscription works the same way – if you want to cancel, make sure to cancel before the 12-month period expires.
ESPN Plus offers you the ability to cancel your subscription online through the official website, or you can click the link below and follow the instructions:
Cancel ESPN Plus From Web Browser
Navigate to the "my account" option through the above link.
If you forget your password or username ID, you will have to click on "for more information," which will help you recover or reset it.
To begin the process, click on the "login button."
Open the "manage" option.
Select "cancel a subscription."
A cancellation confirmation message will pop up on your screen.
Cancel ESPN Plus Subscription on Roku
Go to Roku account from the Roku website
Click or tap Manage your subscriptions.
After the My subscriptions page loads, you will see all subscriptions billed by Roku, along with terms and renewal date.
Choose your ESPN+ subscription and select Unsubscribe to cancel.
Confirm your cancellation when prompted.
Cancel ESPN Plus Subscription on Amazon
Go to Amazon account from the Amazon website
Sign in to your Amazon account.
Find your ESPN+ subscription and select Actions.
Select Cancel your subscription to cancel.
Confirm your cancellation when prompted.
Cancel ESPN Plus Subscription from Google Play
Go to Google Play account from the Google Play website.
On the left, click My Subscriptions.
Choose your ESPN+ subscription and select Manage.
Select Cancel Subscription.
Confirm your cancellation when prompted.
Cancel ESPN Plus subscription through Apple iTunes on my computer
Open iTunes on your computer.
Click Account from the top navigation and select View My Account.
(Sign in with your Apple ID if not already logged in)
On the Account Information page, scroll all the way to the Settings section at the bottom.
Find Subscriptions and click Manage to its right.
Find your ESPN+ Subscription and click Edit.
Use the options to manage your ESPN+ subscription. You can choose a different subscription plan or you can cancel by clicking Cancel Subscription.
If you cancel, you will continue to be able to view ESPN+ content until the end of your current billing cycle. You will not be charged on your next bill date.
ESPN Plus Live Sports and Movies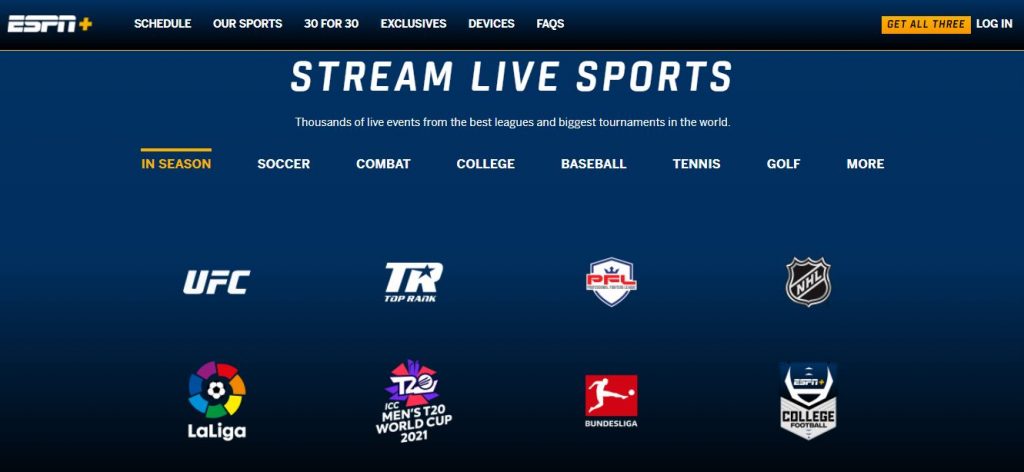 This streaming service may not allow you to watch live NFL games, but you can relive some of the league's most memorable moments. If football isn't your thing, you can watch a replay of a significant golf or tennis event. ESPN+ provides a good value for the monthly fee, as it offers live sports events and on-demand content.
Live games, including college sports
"30 for 30" documentary series
Replays of Wimbledon and U.S. Open events
"NFL's Greatest Games"
"NFL Primetime"
"Peyton's Places"
"The Last Dance" documentary series
"Detail" from Kobe Bryant
"The Boardroom" with Kevin Durant
"Ariel & The Bad Guy"
"Stephen A's World"
FAQ on ESPN Plus Service Stop, Pouse and Refund
What is ESPN Plus?
ESPN Plus is an online streaming service offered by ESPN. The package combines live events and on-demand content not available on any other ESPN network, as well as free content from ESPN's mother network.
How Many Devices Can Stream ESPN Plus at the Same Time?
ESPN Plus can stream on up to three devices at once for most content, and there's no option to pay more to get more screens. Streaming pay-per-view events is limited to two devices. Through the ESPN app, you can download ESPN Plus content to watch offline on your smartphone or tablet.
How to check ESPN Plus subscription expire date?
You can check it at any time. After signing in to ESPN Plus official website, go to the user icon to see your subscription details, or go to your account settings in the corresponding app store to see your subscription details.
Is it possible to cancel my ESPN Plus membership?
Yes, By logging into your account on espn.com, emailing us at support@espnplus.com, or calling Customer Support at 1(800) 727-1800, you can cancel your subscription.
How to turn off auto payment mode in ESPN Plus?
Go to the "payment" button and hit the click on the auto payment mode off button.
How would be able to get my money back after canceling ESPN Plus?
As per ESPN Plus company policy usually, they are unable to refund money.
How to pause service temporarily in ESPN Plus?
No, ESPN Plus does not offer an option to pause service temporarily.