Sling Tv Review: As the world continues to face financial crises due to COVID-19, people are looking for alternatives to manage their budgets. The best way of saving money is by switching from cable TV to streaming services for family entertainment. The best streaming service is Sling TV Hindi. But the question is, "Is it worth cutting the cable TV cord?" Yes, it is! Here you will get a detailed Review of Sling Tv Packages, plans, Features, deals and promo codes, and available channels on Sling, everything you need to know about sling tv.
People are tired of paying extra bills and paying for unnecessary channels they never watch. Thanks to Sling TV Hindi, where you can watch all your favorite Hindi channels exclusively live. Sling Hindi allows you to cut your cords and still provides many National and International media.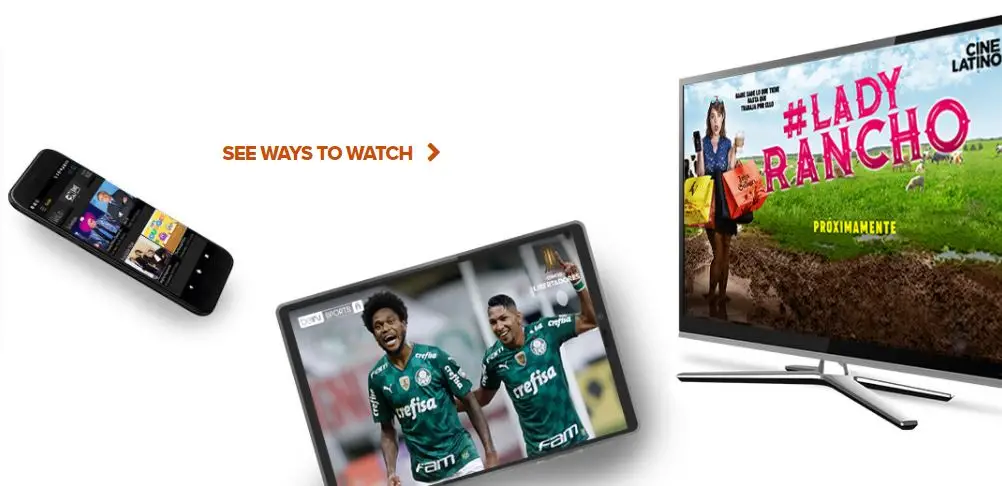 Suppose you are looking for extra savings without compromising on your entertainment. In that case, Sling TV is the right platform for you. It does not require any antenna or cable box to watch live sports, news, and other channels.
Sling TV Review
Get ready to cut your cords.
Sling Hindi provides multiple packages that allow you to save money while paying for only those channels that you are watching.  It picks up a TV signal with a bundle streaming service or over-the-air antenna that you can watch using an internet connection. Besides, it comes with DVR storage so that you can save your favorite movies & shows that you can watch later.  
Let's look into a detailed Sling Review that helps you out in cutting your cords.
What is Sling TV Hindi?
Sling Hindi is an OTT platform where you can stream your entire favorite Hindi content exclusively. It is the best TV streaming service that let users watch selective live and on-demand channels on their computers, TV, Phones, or tablet. Sling TV is just like a satellite or cable TV, however, you can stream it on the Internet instead of using any cable box. It is broadcasting HD content from different regions of India like Tamil, Telugu, Hind, and Bangla.
Read Also: India TV is now available on Sling TV in the United States
How does Sling TV Hindi work?
You might have heard about the terms streaming TV bundle and skinny bundle. The mechanism is similar to cable TV, but TV signals arrive on your home Internet instead of a TV connection or satellite.
Sling Hindi comes with a streamlined lineup of packages compared to satellite or typical cable TV packages. The tires are economical, and there are no hidden charges in the package. You're not going to pay any extra costs for a cable box or antenna fee.
You might need some hardware for receiving signals and streaming live on Sling TV. Sling TV is compatible with almost every device like Android, Apple, Xbox, Google Chromecast, Smart T\V, etc.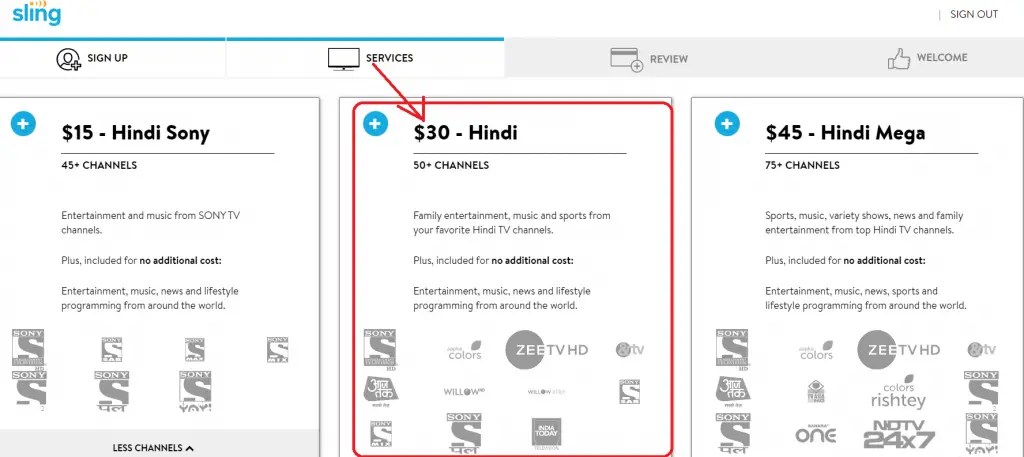 Sling TV Hindi Tires
The list of Sling TV Hindi is long but let's discuss three basic Sling TV Hindi tires that are affordable and economical.
HINDI
You can avail of this monthly package for a flat $30, and there are more than 15+ channels in this tire. Here is a list of these channels:
SONY
SONY HD
ZEE TV HD
SONY HINDI
Aapka Colors
INDIA TODAY
TIMES NOW
SONY SAB
WILLOW HD
WILLOW XTRA
And more.
SONY LIV
It will cost you $6 per month. This package has minimal channels that include music, sports, reality shows, and Indian TV serials from top-rated Indian channels.
You can avail of this package as an add-on if you are already using any other Sling TV tire like Sling Blue or Sling Orange.

Hindi Mega
More than 30 Indian channels are available in this package, including International and National News media, live sports, movies, and Drama, specifically in India. You can avail of this package is $45 per month.
Here is a list of popular channels available in this deal:
B4U Music
MTV India
SONY MAX
B4U Movies
HALLA BOLI Kids TV
Colors CINEPLEX
Zing
NDTV 24×7
ZEE News
Many more.
These are some common Indian TV channels mentioned in the above tires—the channel list is updated from time to time. Keep visiting the Sling TV official website to know about the updated list of channels.
Sling TV Review on Packages & Promotions:
Sling TV has partnered with many local companies that provide promotions and deals by collaborating with Sling TV. These promos and discounts can help you in saving a lot of money.  Let's look into some current sales and promotions.
Free Air TV Mini:
You will get a free Air TV mini by subscribing to Sling TV Hindi and paying two months fee at the start. The Air TV mini price is $79.99.
Flat $10 Discount for new subscribers:

Subscribe to Sling Hindi and get $10 off exclusively for your first month.
Full access to STARZ, SHOWTIME, and EPIX.
Get ten hours of cloud storage free on your subscription.
Access to 50+ channels.
No hidden charges.
Besides these promos and offers, you can add on your favorite channels by paying $5 per month in categories like news, sports, movies, kids, comedy, and much more.
Apply Promo SLINGER12 during your subscription, and you will get a $10 discount for the first month on any package you choose. Let's discuss available offers and deals in detail.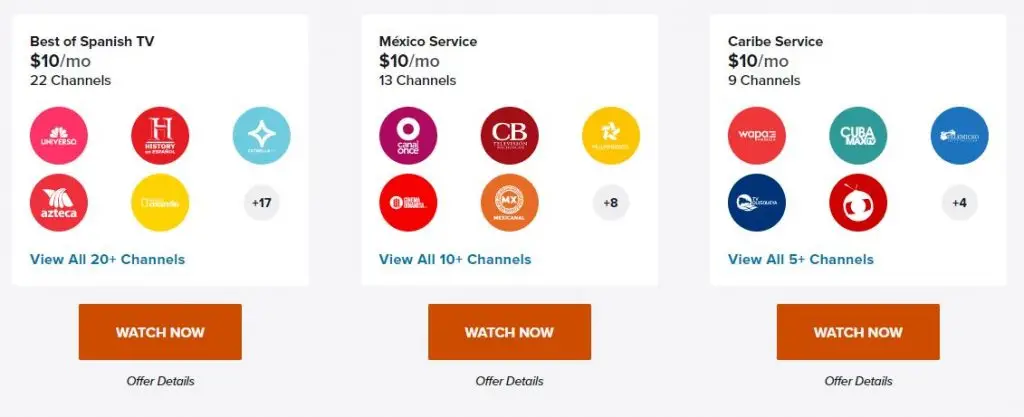 Why Sling TV?
1. It's Economical.
People are looking for saving on their monthly Cable TV bills, so they are switching to services like Sling, Amazon Prime, and Netflix. A cable TV service will cost you more than $100 per month, but Sling TV packages are cost-effective, as its basic tire will cost you only $25 per month.
2. No extra fees and taxes:
Satellite and Cable TV providers never mention the extra fee for hardware usage, HD service, interactive digital guides, and taxes. With Sling TV, you do not have to worry about all these additional fees. You only have to pay the mention, but you have to get your hardware and internet connection (Still economical.)
3. You don't have to sign a contract:
Sling TV is the best platform if you hate being in a contract of one or two years with your cable TV services. Just subscribe to any of Sling TV packages and cancel your subscription whenever you want to without being worried about disconnection charges. 
4. Multiple screens streaming with Sling TV:
You can stream Sling TV on multiple devices at a time on a single subscription. The number of screens varies from tire to tire. You can also stream Sling TV on your mobile or tabs by merely installing the Sling TV App.
5. Create your package with Sling TV:
There are many tires available on Sling TV. Accept the tires mentioned above, and there are many other mini bundles on Sling TV Hindi in your control.
6. DVR storage:
Sling TV comes with 10 hours of free DVR storage, and you don't have to attach any DVR hardware for that. You can also add an extra 50-hour DVR storage by paying $5 only per month.
7. Free trial on Sling Hindi:
Sling TV comes with seven days of free trial for the new users. If you cancel your subscription for seven days, they will charge you nothing. By availing free trial, you can test Sling TV services and make sure if it is reliable for you or not.
8. Change your package whenever you want:
Now you don't have to call customer care if you require any changes in your package. You will have full control of your Sling TV account after subscription, and you can alter your monthly packages online without any hassles.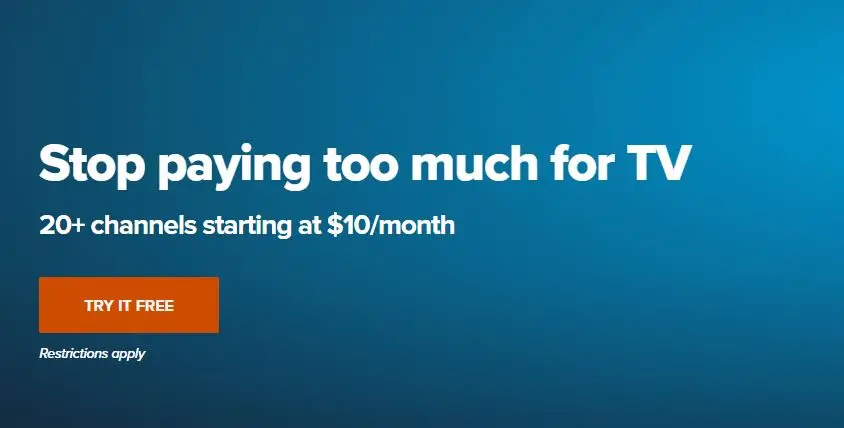 Some Disadvantages of Sling TV:
1. Sling TV requires fast Internet for streaming:
People living in backward areas may not have reliable Internet, and streaming Sling TV might be frustrating. Make sure to have a stable (5mbs recommended) and reliable internet connection for an excellent experience.
2. No useful TV guide:
Like satellite and cable TV, Sling TV does not have any interactive TV guide. Sometimes, searching for features might not be accurate.
3. Local channels issues:
In some regions, Sling TV does not offer some local channels. To get those channels, you have to install an over-the-air antenna. Sling TV is working on this issue, though.
Sling TV App:
This App is available on the Google play store and Apple store. Install the app on your device (Android or ios) and log in through your credentials. Sling App allows you to stream your favorite Hind show on the go anywhere if you have internet access.
Here are some of the features:
Up to 50 cloud storage is $5 per month.
International content is available in 18 different languages.
Access to live Hindi channels
Video playback feature.
Rent new releases or watch movies on demand.
Review on Sling tv Cancellation
There are better alternatives to Sling TV, which isn't the only option for cord-cutters. For instance, fuboTV, YouTube TV, ESPN Plus, and many others are better and more affordable alternatives to Sling TV.
When you cancel Sling TV, you can rejoin at any time. After you cancel your subscription, Sling TV keeps track of your account information. In this case, you'll always be able to log back into your account later and renew your account. You will never be billed again unless you renew your subscription.
Conclusion:
Sling TV Hindi streaming bundles can help you in building a shortlist of your favorite channels. Sling Hindi has many options that allow you to set up your tracks according to your requirements. You might end up with a few unnecessary channels that you don't like, but the number of these channels will be a lot less than other TV services.
Sling Tv offers economical packages and lets you subscribe as low as $20. If you want to enjoy a cable-like experience both for on-the-go devices and at home at reasonable prices, then Sling TV is worth a look. You are not bound to Sling TV; cancel your subscription whenever you want.
Frequently asked questions:
Common problems and complaints:
Customer support:
There are minor complaints about Sling TV customer services that customer representatives cannot solve their problems.
Loading and crashing:
There are some complaints about Sling TV crashing during a show, and the video is not playable after the crash. Some people faced connectivity issues.
Make sure you have stable Internet so that you do not face this kind of issue. The recommended bandwidth is 5 Mbps.
People are still getting charged after cancellation:
If you are still getting charged after your cancellation, contact Sling TV for a refund.