Holding a reputation as the first Live Streaming service in the United States, Sling TV Hindi has carved a niche for itself in broadcasting high-quality Hindi, Telugu, Tamil, Bangla, and other Indian regional content.
It is powered to show Hindi shows, movies, and programs at lesser rates than the cable connection bills. In fact, the purpose is to empower viewers watching their favorite programs from anywhere and on any device so they can feel connected to Home.
Since its debut in 2015 at CES, Sling TV has been measuring the heights of success. It also won an award for Best in many Shows. Right from that time to now, Sling TV has been continually working towards providing improvised content. Now It is an ideal choice for not only the USA but Hindi viewers too, who opt to enjoy live TV that cable networks.
Don't miss a minute more of the IPL 2023, WC, and Coming Cricket Series!
Have your TV bills become a headache for you? Are you fed up with paying such high cable bills? Do you want to cut the cord and still enjoy all the shows and movies you love?
Let's discuss what is sling TV and how can you get the best Sling TV deals with a free trial for one week.
What is sling TV Hindi?
It is a TV streaming service that allows its users to watch selective live and on-demand channels on their computers, TV, Phones, or tablet. Sling TV is just satellite or cable TV, but you can stream it on the Internet instead of using any cable box. It is broadcasting HD content from different regions of India like Tamil, Telugu, Hind, and Bangla.
You can use it directly on your devices like your phone, smart TV, etc. You may also connect your game console or media streamer. Sling TV Hindi is ideal for Hindi viewers in the USA who love to watch Indian channels so that they can feel connected to home.
Through these available channels of your choice, you can stream different Indian shows an unlimited number of movies, and you can record live streaming using cloud DVR.
How to Subscribe to Sling Hindi:
Sling TV Hindi with 50+ channels comes in $30 to watch on one device. But you can watch on a total of 3 devices between your family by just paying EXTRA $5. So $35 on 3 devices will make less than $12 per device. Let's deep dive into how to Subscribe to Hindi 50+ channels STEP by STEP:
Step1: Click Sling Hindi Or Click sling official Site and enter Sling Promo Code: code auto applied
Step2: Subscribe by putting your new email id and password.
Step3: Choose your desired Package.
Step4: Scroll the page and then select Additional Streams as shown in the image. Then click on Next
Step5: Enter the Payment details and you are done.
Get 3 days Sling TV free
Get a $10 Discount on any Sling Desi Package!
Note: You may get some freebies like Desi Bonus and English International Bonus with Higher Package.
Sling Tv March 2023 Updates:
Sling brought back its "half off your first month" promotion on March 17, 2023. The Orange or Blue packages or Orange + Blue packages are available for $17.50 per month for new subscribers.
Apple products now have a redesigned Sling app. As a result, both the iPhone and iPad have changed functionality. In the app, users can watch live TV while browsing a channel guide and the menu has been rearranged.
If you prepay for two months of Sling, you can get a free Air TV mini ($80 retail value).
There is now a three-day free trial period for Sling TV. There had been a seven-day free trial period.
New Sling TV customers who subscribe for one month will receive a free Chromecast with Google TV.
Why Sling TV?
Sling TV offers a variety of packages, In fact, the price and availability of the channels depend on the package taken. There are Hindi, Hindi Mega, and Hindi Gold packages made available to the viewers. Besides the channels included in a package, the viewers can opt for an A-la-carte menu of Hindi TV channels that involves Gujarati news, World News, Hindi Spiritual, Punjabi Extra, Oriya Extra, Bollywood Movie Extra, and even Hindi News Extra.
These channels can be included in the billing at varied rates on monthly basis. The per month inclusion rates range between 5 dollars a month to 15 dollars. Certainly, the Hindi Channels is an excellent source of entertainment for NRIs living in the United States of America, which allows them to stay connected with their country. 
Sling TV is an OTT (Over-The-Top) service that makes it possible for you to watch live TV on the Internet. Sling TV streaming services, which start at $25 a month, provide you access to many channels like ESPN, CNN, and much more.
Moreover, it allows access to local broadcast networks as well in specific markets. You can even sign up for additional channels like HBO and Showtime. 
In simple words, Sling TV is providing services like many other online services such as Netflix, Hulu, and Amazon. The only difference is that Sling TV specializes in Live TV.
You can cut the cords significantly by taking advantage of Sling TV. It provides you all your favorite TV channels on the Internet.
To enjoy all your favorite shows online, sign up on the Sling TV app by downloading their app on your device.
Why Sling TV Hindi is the Ultimate Entertainment?
If you have the above question, then stay attached to this article as we have a meaningful solution to your problem. After reading this article, You will switch to Sling TV instantly to save your money and at the same time, enjoy your best movies on the big screen.
The impact of Sling TV Hindi is such that it enjoys prominence over other streaming channels for providing the best programs. It is all about subscribing to this TV for getting excellent channels at reduced market rates. The idea is to avoid substantial monthly cable bills. Also, on buying a combination of packages, the viewers are offered a great number of discounts. It is the constant changes in packages and the addition of new features that Sling TV is casting an impression on viewers without a doubt.
The best thing that stands in favor of Sling TV is that it has unbeatable pricing packages with some of the most exclusive ones in the kitty. All you have to do is, select the channels to be seen, and the package deal charges can be decided on that basis. Though, it has slightly lesser channels to offer; but, a significant thing is that it enables viewers to pay for what they see and nothing extra. In this way, you tend to save a lot.
It should be noted that one may not get the same channels existing in any package. For example, if the package named Sling Hindi has one set of channels; they will not be a part of the Sling Telugu package, and the Hindi serials viewers might not be interested in watching Telugu. Depending on the requirements of the clients, the channel packages can be taken from the Sling TV. The subscribers also can take a pick as per the type of channels seen in their family, which can vary from daily shows to cartoon shows, sports channels, news channels, and many more. So, it is always better to select from the available ones in a package. Of course, there are separate channels in every package for sure. The services provided by TV include video-on-demand from the channels accessible in the package. Besides this, movie on rent is also a part of the deal's list. 
Sling mostly offers the monthly package, so you are not bounded to pay for a full-year advance. In fact, the best thing about Sling TV is that viewers do not have to pay any sign-up fee or go or any specialized contract. And of course, one week's trial will enable you to decide over the fact as to whether Sling TV is beneficial or not. With so many benefits and easy accessibility, taking membership in Sling TV is not bad. It is all about enjoying excellent visual content without paying high monthly fees. 
Packages and Channels of Sling TV in general:
With numerous channels forming part of the Sling TV Blue or Orange package, the viewers have the opportunity to select more as add-ons. Depending on the requirement, the packages can be crafted. Ideally, the package rates start at 25 dollars a month and include various channels such as ESPN, TNT, CNN, History, Cartoon Network, Comedy Central, Fuse, TLC, FOX Network, Comet, and many more. Along with this, a viewer willing to take Sling TV Orange and Blue Package together would be charged 40 dollars a month. Also, the rates of add-on packages vary from 5 dollars per month to 10 dollars. 
Sling TV Desi Channel/Packages with Price:
Why Sling TV is better than cable or satellite providers:
Let's see what makes Sling TV so unique from its competitors.
It is available almost everywhere in the US.
Sling TV plans start at $20, including 30 live channels which makes it relatively cheaper than other cable services.
It provides ten hours of Cloud DVR storage.
You can stream Sling TV on your Internet; the recommended speed is 25 Mbps for an excellent result.
You will watch your favorite show on your mobile, laptop, or smart devices using the Sling TV app instead of a cable box or satellite.
You can cancel your subscription anywhere anytime, and you don't have to pay any penalties.
The package Sling Blue will allow three users to watch at a time on a single account.
Sling Extra Packages:
Try the Sling TV extra package to enjoy regional, international, and south Asian shows and movies.
Sling Cricket:
Watch live cricket matches with the Sling TV cricket package. Sling's Willow Cricket package offers unlimited access to Willow and Willow Extra!
Subscribe to Sling TV Hindi to get Willow and Willow extra to enjoy international cricket matches in the USA. Use Sling Promo code – SLINGER12 and get a 30% discount on the Sling TV Hindi package.
Sling TV Cricket package allows you to watch all live events, including the Ashes, TATA IPL, ICC World Cup, and more. With Sling's exclusive Catch-Up TV feature, you can stream later even if you missed a match.
You can add willow cricket with the current Sling TV package and save $5/mo. World cricket and World sport package include willow TV so you can enjoy cricket matches any time.
Learn More – about the Sling TV Sport package and more add-ons pack.
Sling Tamil
Tamil channels in the FUSA are now available on Sling TV. Sling TV has more than 50+ Tamil TV channels of every genre like entertainment, sports, news, and movies.
Subscribe to Sling TV Tamil and enjoy your favorite Tamil shows on the Sling TV Tamil package. Sling TV Tamil comes with two packages Tamil which charges $15/mo, and Tamil Gold's price is $25/mo. Sling TV is the best option for watching Tamil channels in the USA.
With the Sling TV Tamil package, you can stream 3 different channels at the same point whether you want to watch your favorite sports, News or Entertainment.
Read More about Sling TV Tamil packages and add-ons.
Sling Bengali
Sling TV allows you to watch Bangla tv channels in the USA. In order to watch Bangla Tv channels, Subscribe to the Sling TV Bangla package. Sling Bangla Super package has more than 5+ channels like nTV Bangla and Colors Bangla.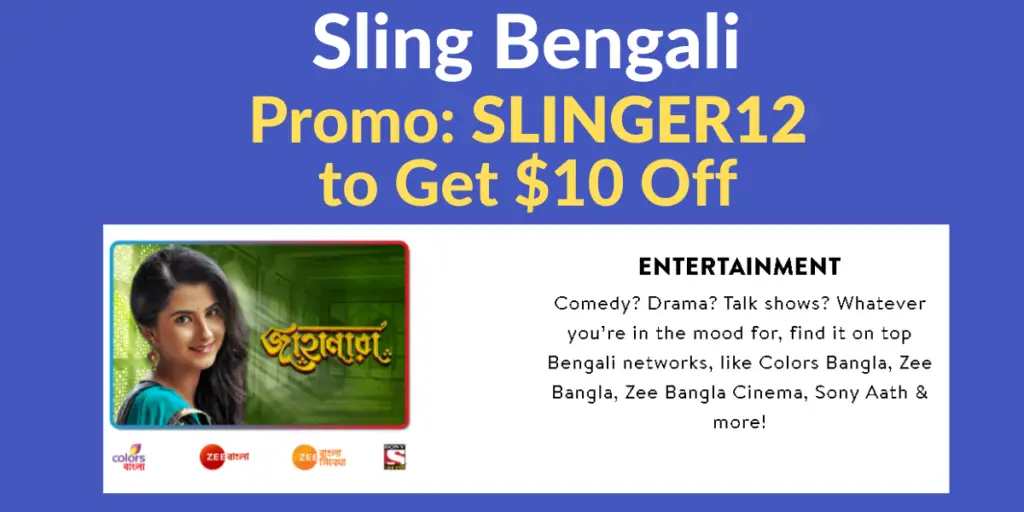 Subscribe Sling TV Bangla package to enjoy your favorite shows.
Sling Telugu
Sling Urdu
Sling Panjabi
Sling Marathi
Sling Kannada
Sling Tricks and Tips:
Sling Hindi can work for 3 devices: Sling TV Hindi has been in high demand because of its variety of content. Everything is offered at nominal rates, from the news to movies and cartoons. Of course, the subscribers have to take care of the channels to be included as per requirement and pay monthly bills accordingly. 
Hindi Popular Channels offered by Sling TV
Sling TV has an extensive range of Hindi channels for the viewers, which lends a variety to the TV channels. With a package starting at 15 dollars a month, you can enjoy a number of channels like:
SET
Aapka Colors
Zee TV HD
&TV
Aaj Tak
Willow Cricket
Willow Extra
SAB TV
Sony Mix
India Today
These are some of the most popular channels that broadcast high-quality content and excellent entertainment. Along with such channels, the Hindi TV package comprises of bonus channels:
Channel One News
Garv Punjab
Garv Punjab Gurbani
Garv Shree Swaminarayan
Gulistan News
Hindi Khabar
HMTV
INSYNC
iPlus TV
JK Channel
Jus Hindi
News World India
News18 North East
Prag News
Prajaa TV
Public Music
Public TV
Rengoni TV
Sadhna Plus News
Sadhna Prime News
Total TV
Tunes 6
TV Asia Telugu
Zee Bihar Jharkhand
Movie Masala
Sakshi
BabyTV
Bloomberg Television
DUCKTV
Eurochannel HD
Euronews
Fandor Festival
France 24 (English)
India Today
Nature Vision HD
NDTV 24×7
News18
RT Network
Trace Urban
Zoom
If you are new to this country and looking option to watch Hindi or other Desi channels but not sure if paying monthly fees is worth it or whether it will work on your TV then I will suggest you try a 7-Days free trial first.
Procedure to Get Free 3-Day Trial of Sling TV
Follow the instructions given below to enjoy a 3-day free trial by Sling TV.
1. Create an Account on the Sling TV Online Portal: First of all, visit the Sling TV website and create an account there. You will have to enter a valid email address and choose a password to create an account. The account creation is free.
2. Choose a plan that meets your requirements: Secondly, choose a plan that you want to try.
Sling TV offers three plans named as:
Orange
Blue
Orange and Blue (Combined)
The pricing of these plans varies and depends on the number of channels for each plan. So, you can click on "View all channels" to view a list of all the channels provided in each plan.
The orange plan offers 30 channels at $20 per month, the Blue offers 45 channels at $25 per month, and the orange + blue combo pack offers 50 channels at $40 per month.
3. Add more Channels and DVRs of your Choice: Once you select a plan, you can still add some more channels & DVRs to the pack as per your requirements. To do so, click on the Channel or DVR you want to add. Once you add the channels and DVRs you required, click on Next.
4. Add Credit Card Details: Finally, it's time to enter your Credit or Debit Information. Enter the following information:
Your Card Number
CVV
Expiry Date
Your Name
Billing Address
Once the information is added, click on Finish & Submit. Don't worry. You won't be charged until your free trial of 7 days ends.
5. Subscribed!: That's it. You have successfully subscribed for a free trial of 7-days. Enjoy it for 7-days and then if you like it, upgrade your plan for 3 months.
Where to watch Sling?
Sling TV apps are available for XBOX, Roku, Smart TVs, desktops & iPhones their app allows us to pause live TV, watch from the beginning or watch shows for up to a week lapse.
Apps:
You can download Apps from any popular device or through Android or iOS. The below Picture clearly explains the Sling-supported devices.
Smart TVs:
Once you have completed the subscription process, you're now eligible to start watching Sling TV online. If you want to watch it on a computer, you can either open it in the Chrome browser or download its app.
However, if you prefer to watch it on the Apple TV or another device, then download the app from the gadget's app store and input your credentials.
Furthermore, if, for any reason, you decide not to continue the free trial, Sling makes it easy for you to cancel the subscription.
Special Offer Free Roku Device:
If you own a Roku Device, there is a special offer for you by Sling TV. Roku device users do not need to go through any of the above steps to get a free trial. Sling TV allows Roku Device owners a "browse as guest" option. This option makes it possible for Roku Device owners to try their services for free. Furthermore, you also get a free Roku Express when if you subscribe and prepay for two
Other OTT Services
Apart from Sling TV, there are many other online OTT services available. These include
DirectTV Now
Hotstar: Use Hotstar Promo code: DESI50 to get a 10% Discount.
Hulu
PlayStation Vue
YouTube TV
Show box
These services provide TV Shows & Movies on the Internet.
Final Words
Finally, if you really want to cut the cord and still enjoy all the shows and movies you love, Sling TV is a worthwhile option. You can try out their services for a week for free.
If you are still facing any difficulties, feel free to inform us in the comment box. 
Just Sign up at their platform and enjoy a 7-day free trial. Once you like their services, you can purchase any of their plans, which range from $25 a month.