The Fubo TV Plans include sports channels like ESPN, NFL Network, and FS1, as well as general entertainment channels. The list includes AMC, BBC America, FX, MTV, and top news channels.
People are ditching traditional cable providers in favor of live-streaming services such as FuboTV. When comparing service options and prices, the most urgent question is how much does fuboTV costs and which Plan fuboTV Updates are available.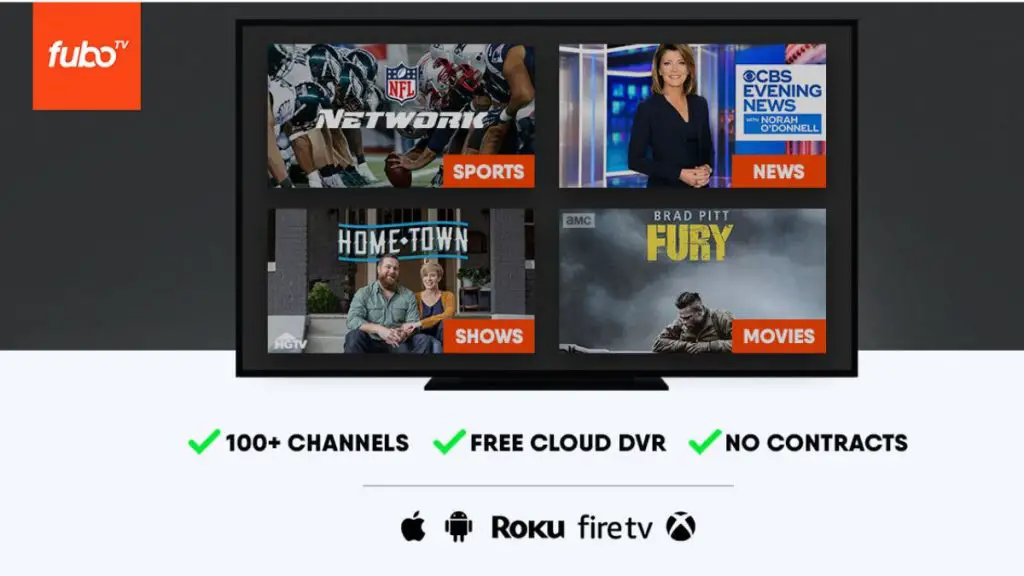 In this article, we'll address these questions as well as how many fuboTV channels are available and if a free trial is available.
FuboTV Updates Plan – 2023
FuboTV currently offers four featured bundle plans. Bundle plans offer you a greater value by combining your base plan with pre-selected add-ons at a lower price than if you purchased them all separately.
Bundle
Plans
Price
Starter
fubo base plan: 250 Hour DVR, Family Share.
$64.99/mo*
Pro
fubo base plan: 1000 Hour DVR, Family Share, Unlimited Screens.
$69.99/mo*
Elite
fubo base Plan: fubo Extra 1000 Hour DVR, Family Share, Unlimited Screens.
$79.99/mo*
Latino Quarterly
fubo Latino: 250 Hour DVR, Family Share.
$99.00/qtr*
($24.00/mo)
Read a Related Article on FuboTV Canada Sports and Entertainment
FuboTV Update Base Plan With Add-ons
| | |
| --- | --- |
| Package | Price/mo |
| Adventure Plus | $4.99/mo* |
| AMC Premiere | $4.99/mo* |
| Epix | $5.99/mo* |
| Extra | $7.99/mo* |
| International Sports Plus | $6.99/mo* |
| Latino Plus | $19.99/mo* |
| Portuguese Plus | $14.99/mo* |
| Rai Italia | $7.99/mo* |
| TV5 Monde | $9.99/mo* |
| Showtime | $10.99/mo* |
| Starz | $8.99/mo* |
| Sports Lite (Only available for English quarterly subscribers) | $27.97/quarter* |
| Sports Plus | $10.99/mo* |
Fubo Latino Add-Ons
| | |
| --- | --- |
| Package | Price/mo |
| Entretenimiento Plus | $4.99/mo* |
| Portuguese Plus | $14.99/mo* |
FuboTV Subscription Process
Signing up is easy! You can create your fuboTV account by following the steps below.
Visit www.fubo.tv in your favorite web browser or Click above Button
Click the "Start Free Trial" button.
Enter your e-mail address and a strong password. (Or use the single-sign-on option.)
Choose your package and click "Start Free Trial."
Choose your add-ons and any extra packages.
Click the "Continue to Last Step" button.
Provide your payment information.
Select "Start Watching FuboTV."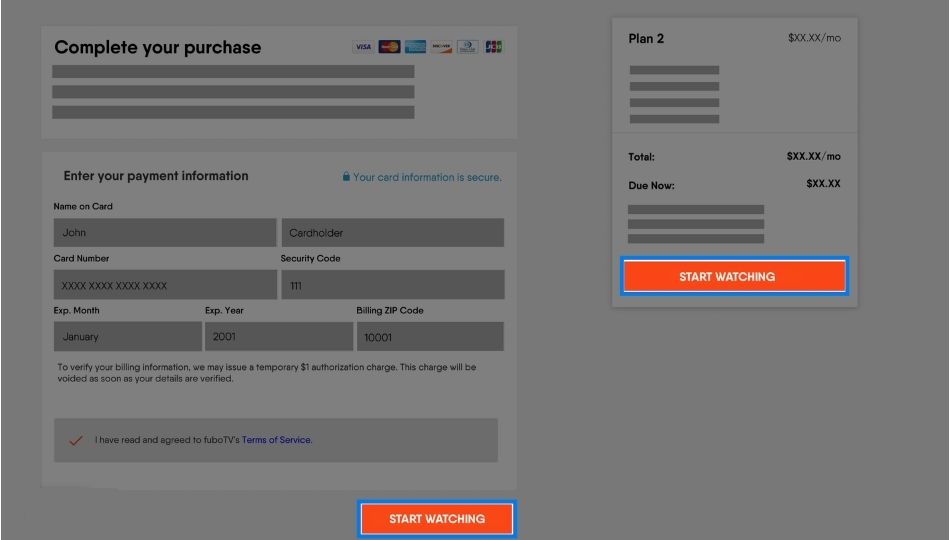 FuboTV Updates on free trial 2023
When you sign up for fuboTV, some plans include a free trial. You must provide a credit/debit card to sign up for a free trial. Your trial subscription will automatically convert to a paid subscription at the end of the trial period when your credit card will be charged for your first month of fuboTV.
At the top of the page, you will see the following message during sign-up if you choose a plan with a free trial. "You will not be charged until your free trial ends on (date) at (time)".
Go to fubo.tv official site.
Select your profile
Click the current profile next to the Search box
Select My Account
View the remaining days of your trial under Account Details.
You may cancel your fuboTV subscription before your free trial expires to avoid being charged for a monthly subscription if you are not satisfied.
If you cancel the subscription while you are still in the trial period, your trial will expire immediately and you will not be able to receive the remaining trial days.
FuboTV Updates deals and offers for Live Sports
The most live sports for the least money
Live sports, shows, & movies on 100+ channels
Live coverage of the NFL, MLB, NBA, and NHL in HD (plus select events in 4K)
Includes 30 hours of Cloud DVR storage, plus the option to upgrade to 250 or 1,000 hours
Replay nearly any game, show, or movie that aired in the last 72 hours
It is compatible with iOS, Android, Apple TV, Roku, Amazon Fire TV, Android TV, Samsung Smart TV, Xbox One, and Chromecast.
About FuboTV
FuboTV was founded in January 2015, by David Gandler (CEO), Alberto Horihuela (CMO), and Sung Ho Choi. As of its launch, FuboTV costs $7 per month and offers live soccer streams.
The world's only sports-focused live TV streaming service with top teams and leagues, plus TV shows, movies, and news for everyone. You can watch 100+ live TV channels and thousands of on-demand titles on your TV, phone, tablet, computer, and more.
How to install the fuboTV app?
How do I cancel my fuboTV subscription?
FuboTV Provides deals and offers for Live Sports. Still, if you want to cancel your subscription follow the below steps.
Sign in to your account, then select a profile. You will need to sign in using your fuboTV email and password if you are not already logged in.
Click on your current profile next to the search field and select My Account.
Select "Subscription and Billing" from the "My Account" screen.
Click "Cancel Subscription" at the bottom of the screen.
Click "Complete cancellation" to cancel or pause your subscription. If you're just taking a break from fuboTV, pausing your subscription may be a better option.
Below is an example of what you may see. The account has not yet been canceled. This screen allows you to accept the offer by clicking "REDEEM OFFER," or cancel your subscription by clicking "CANCEL SUBSCRIPTION."
Once you cancel your subscription, you will receive a confirmation page. Click OK to dismiss.
In case you'd like to provide us with feedback on why you're canceling, you can do so after completing your cancellation.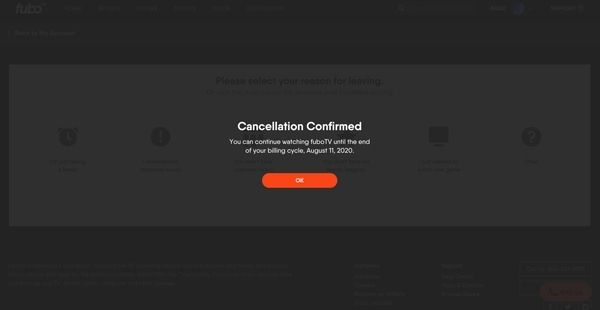 How to Upgrade fuboTV Subscription?
No matter how much storage you need or how many channels you want, you can upgrade your subscription
Click the profile icon in the upper-right corner of the page and select My Account
Select Subscription & Billing from the left side of the page
Next to Current Plan, choose Manage
Select this plan on the option you wish to change to the button will turn orange and say Selected
If there will be an immediate charge for making the change, review your changes and click Update Subscription.
Confirm your subscription change by clicking YES, UPDATE MY SUBSCRIPTION.
FuboTV Upgraded features
There are a couple of upgrades that are not included by default in the standard package, but can be added separately.
Two options are available to add DVR storage: Cloud DVR 250, which increases your plan's DVR storage capacity by 250 hours, for $9.99 per month; and Cloud DVR 1000, which increases DVR capacity by 1,000 hours, for $16.99 per month.
Up to three people can stream simultaneously with the Family Share upgrade for $5.99 per month.
With Unlimited Screens, users can watch FuboTV on up to 10 devices simultaneously on their home internet, plus two others on the go. Additional screens can be added through Family Share.
FAQ on FuboTV Plans Pricing & Free Trial.