The ability to earn cash back always helps customers to minimize their daily shopping expenses. Fetch Referral offers a referral bonus along with cashback. There are also cashback apps that offer signup bonuses and free gift cards.
By scanning receipts, you can earn points and save money with this affiliate-based commission rewards app. The Fetch Rewards program is free, and you can redeem your points for Amazon, Target, Walmart, eBay, and Home Depot gift cards.
You probably throw away your receipts if you're like most people. Fetch, on the other hand, allows you to save money by scanning your receipts. Stores such as grocery stores, convenience stores, liquor stores, and more can use it.
By using our Fetch Rewards referral link and our code ARC45J, new customers will receive a $5 sign-up bonus and get their own referral link. Before you snap the first receipt, make sure you use the referral code.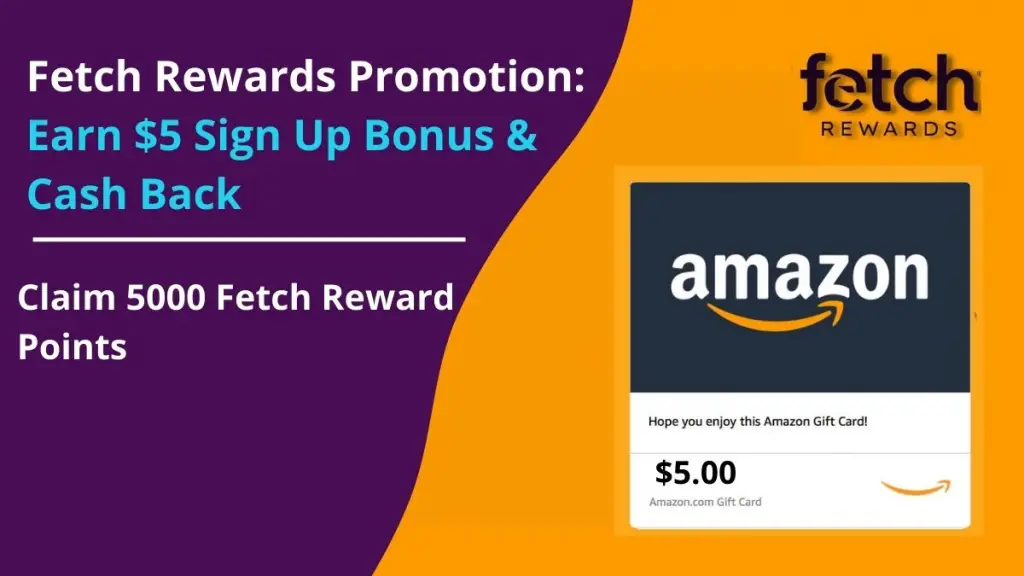 About Fetch
The Fetch Rewards app is based in Madison, Wisconsin. Scanning your receipt gives you points. Points can be redeemed for gift cards, visa cards, charity donations, and sweepstakes entries. In general, 1,000 points are worth $1.
Unlike other cashback apps, Fetch Rewards does not require you to clip digital coupons before shopping. Scanning receipts earns you cash back. As a result, you won't be tempted to buy things you don't actually need just to earn cashback. It doesn't require any planning.
At least 25 points are awarded for each eligible scan. If you purchase partner products from participating brands, you can earn more points. Receipts from grocery stores, convenience stores, markets, club stores, liquor stores, and other retailers can be scanned.
Note: Receipts must be scanned within 14 days. A seven-day period allows you to scan 35 receipts. Points cannot be earned on receipts older than 14 days.
Fetch Features
There are several great features of Fetch Rewards, including:
You can use it offline.
$3 sign-up bonus.
Scanning any receipt will earn you 25 points.
It acts as a budgeting tool, keeping track of all scanned purchases for you.
It is completely free to join Fetch Rewards. No banking or personal information will be requested.
Fetch Sign-up Referral: Get a $5 bonus
Fetch Rewards is now offering a $5 sign-up bonus when you download the app and scan your first receipt, redeemable for a $5 gift card from Amazon, Target, or other partners.
How do I claim 5000 Fetch Reward Points?
Upon signing up with a Fetch rewards referral code, new users will receive 5,000 points ($5 value). Download the fetch rewards apk from the App Store or Google Play Store to get started.
To receive 5,000 Fetch Reward points, enter referral code "ARC45J" before scanning your first receipt.
Sign up for Fetch Rewards in less than two minutes with an email address or an existing Google or Facebook account. You will need to provide your phone number, state of residence, and birthday.
Keep your Fetch Rewards account safe and secure by creating a strong password.
Fetch Rewards recommends creating a password with a minimum of 12 characters, including one capital letter, one number, and one special character.
Upon successfully completing the Signup process, you must search your shopping receipt within 7 days of your purchase.
It is possible to scan any grocery receipt.
You can earn points for all of the brands and products listed.
The retailer of your choice will give you a gift card when you reach a certain amount of points.
Fetch Special Offer
Several dozen Special Offers are usually available from the Fetch Rewards app at any given time. You'll receive bonus points if you upload a receipt with a participating item. Getting 1,000 to 5,000 points, which is equal to $1 to $5, is easy with this method.
Recently, more of these offers require you to shop at a specific retailer (Walmart, Amazon, etc.) to earn points. Before you go to the store, read the fine print!
There is a recurring offer for GoodRx prescription savings.
Each time you show your pharmacist the digital GoodRx card from the Fetch app, you'll save on your prescription and earn at least 1,500 Fetch Rewards points.
Pros And Cons of Fetch
| | |
| --- | --- |
| Pros | Cons |
| It is free to use | Be sure to upload receipts within 14 days. |
| Instead of clipping coupons beforehand, scan the entire receipt | Points can only be earned on eligible receipts. |
| Hundreds of brands to choose from | Direct deposit redemptions are not available. |
| The process of scanning receipts is quick and easy | A maximum of 35 receipts can be uploaded in a 7-day period |
| Getting your gift card rewards is quick and easy | Inactivity points expire after 90 days |
Conclusion
You might already be using Ibotta or Chase for cash back, so adding Fetch Rewards to the mix makes sense. Although I still make more money with Ibotta and Chase, the Fetch app is more convenient.
Take advantage of Special Offers as often as possible to obtain free gift cards with Fetch Rewards.
You will be able to benefit from the Fetch Rewards Referral if you are able to scan receipts from certain Special Offers and participating brand purchases. Your account will be credited with 25000 points for each supermarket receipt.
It's great for families, coupon clippers, students, and those looking to try new brands. Free gift cards can be earned with no effort through this app, but direct deposits are not available.
FAQ on Fetch Referral
Is Ibotta or fetch better?
Fetch Rewards is easier to use and takes less time than Ibotta. Despite this, Ibotta offers a more generous welcome bonus, a better selection of offers, and more flexible redemption options. Both of these apps reward users for buying and uploading retail receipts when they buy featured items.
Does fetch have a receipt limit?
Within a seven-day period, Fetch Rewards allows you to submit 35 receipts. The 35 receipt limit is determined by the date you snap the receipt, not by the date you checked out.
Why am I only getting 25 points to fetch?
Fetch Rewards may not be worth it for you if you don't scan receipts with Special Offers or participating brand items. Each grocery receipt will increase your balance by 25 points.
Can I cash out Fetch Rewards?
Yes, of course. To cash out with Fetch rewards, you'll need at least 3,000 points. Remember: 1,000 points = $1, so the minimum cash-out is $3.