Do you have Arabic Channels or wanna add them to your subscription package?
Sling TV provides you with the best of its packages to stream Arabic Programmes on it. Now you can watch Arabic Channels in USA on Sling TV without any obstacles.
You do not have to search for the other streaming sites or go to hit the books for it. Sling TV makes streaming easy for you, by providing a vast content library with different packages for affordable prices.
This article includes all the content about Arabic Channels or How to Watch Arabic Channels in USA on SlingTV.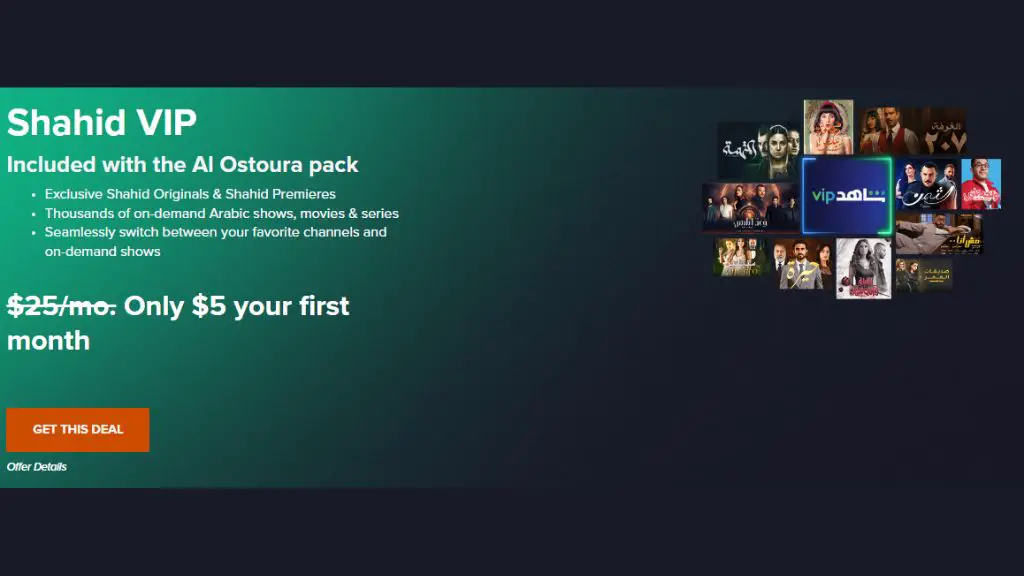 Watch Arabic Channels in USA on SlingTV 
Sling TV streaming provides American fans with a huge platform to watch their fave shows and programming in different languages. It gives you to watch unlimited sports, news, movies, shows, and a lot of live on-demand content.
Sling TV also provides you with the features to enhance its service and to engage more users with it. It gives in its packages a multi-video screening, 50 hours of Cloud DVR, and HD video quality streaming. And it also offers a surprising deal to their fans, giving you a 50% discount on the first monthly plan.
It gives you all the content to stream, including the Arabic channels. It has 135 Arabic Channels, Shahid VIP, beIN sports, and a more on-demand content library of Arabic shows. It is one of the top streaming services for watching Arabic channels, providing you with different packages to indulge the fan's requirements.
Want to know more? Read our related article:
Subscription Plans And Pricing:
Sling TV has many different plans for fans to make streaming easy for them. You can choose any of the packs to enjoy your streaming. It also includes plans for the Arabic channels to also not disappoint the users who want an Arabic lineup of channels.
Here, you mention some of the best Sling TV packages: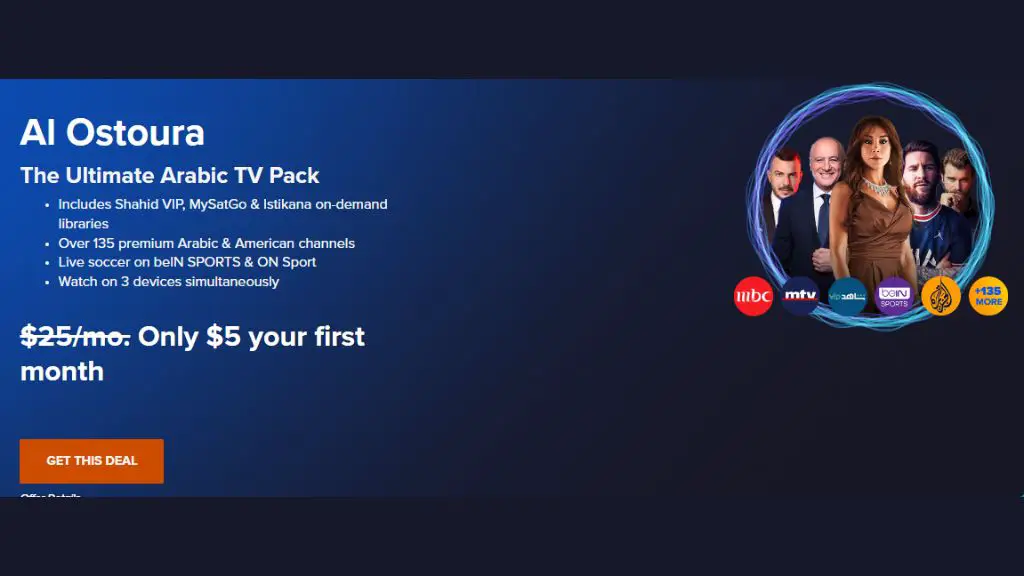 Best Of Arabic TV-Only:
You can get Sling TV Best of Arabic TV packages for $25 a month and get a discounted offer for the first month for $5. This package includes the best Arabic Channels lineup, having Shahid VIP, MySatGo, beIN sports, and many other live Arabic Networks.
Al Ostoura Package:
The Al Ostoura Package is for $25 a month and allows you to stream many of the Arabic channels. This ultimate Arabic TV pack gives you 135 premium Arabic and American channels in a lineup, having Shahid VIP, Istikana, MySatGo, and other on-demand content libraries. Also, it can give you the right to watch live soccer games on the beIN sports network and On sport. It also gives an amazing way to attract users by offering 50% off in its first month, which allows you to get it for $5 a month. You can also share 3 screens at a time.
Shahid VIP Pack:
Shahid VIP Package is for $25 a month, $5 for the first month's offer. This plan is included in the Al Ostoura package. It has the Shahid Original and Shahid Premier networks giving you to stream thousands of on-demand movies, shows, and series in Arabic. You can change your programming according to your mood without any hurdles.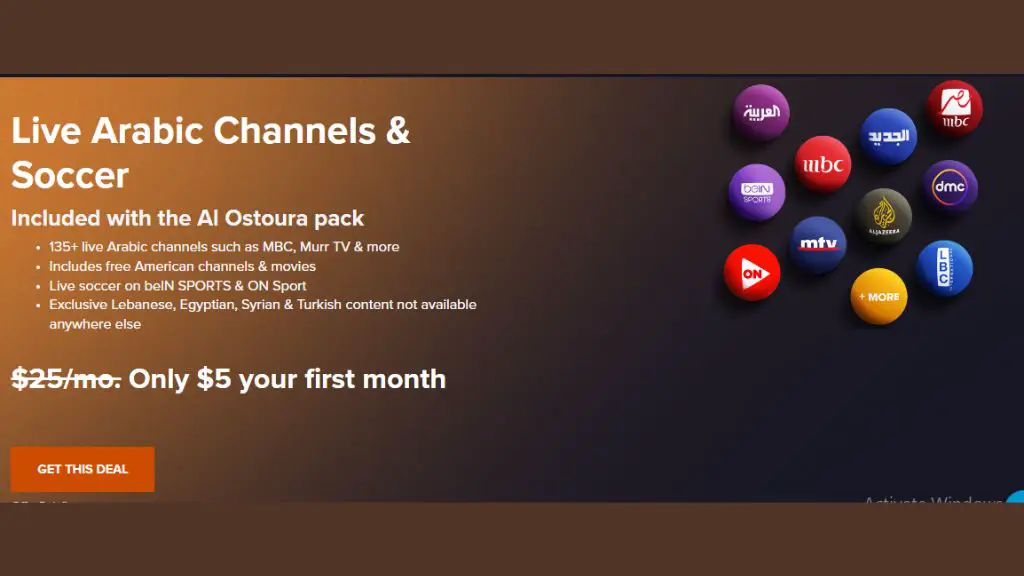 Live Arabic Channels And Soccer Pack:
Live Arabic Channels And Soccer are also included in the Al Ostoura Pack, which is for $25 a month, and for the first month, it is for $5, giving you a 50% off offer.
It has the content of 135 plus live Arabic channels like Murr TV, MBC, and more. Moreover, it gives you American channels and movies free with it. It includes live soccer programming also on beIN sports and On Sports networks. It exclusively has the content of Turkish, Egyptian, Syrian and Lebanese, which you only get in this deal.
MySatGo And Istikana Pack:
The Al Ostoura Pack includes the MySatGo And Istikana plan having a thousand premium on-demand content libraries with titles. Lebanese, Egyptian, and Syrian series and movies on MySatGo with Al Jadeed and Murr TV-like networks. Nostalgic dramas and classic movies on Istikana.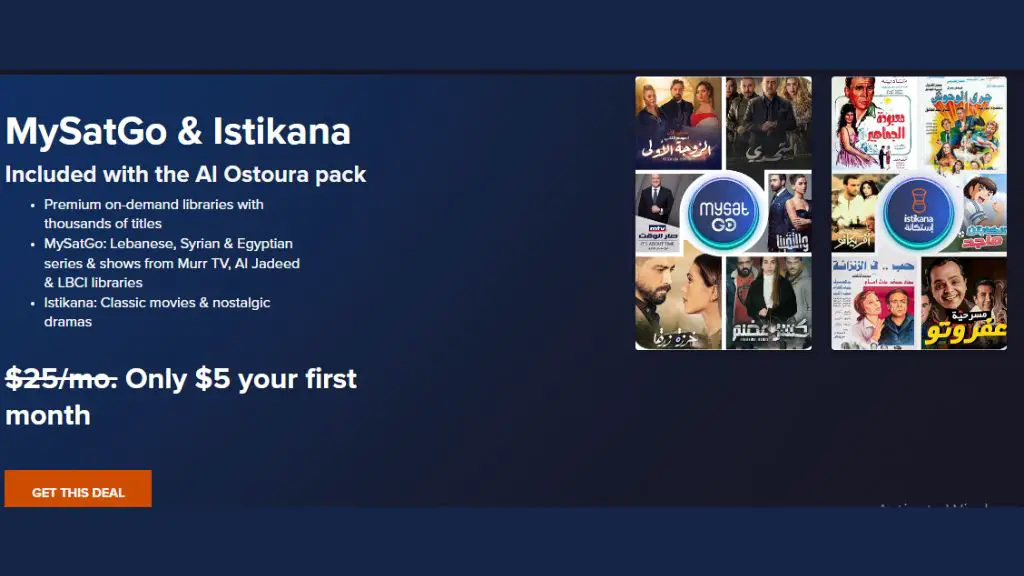 You Can find out more in our Sling Tv Review.
Signing Up:
To sign up with Sling TV, you need one of the supported devices which allows Sling TV streaming. It may be your Android Phone, iPhone, iPad, Tablet, Roku, Apple TV, Amazon Fire TV, Fire Stick, Google Chromecast, and a few more others.
[Steps to Subscribe and Watch]
Firstly, you have to download the Sling app from the official Site.
After that, you have to create an account on SlingTV.
Then, you select the suitable plan for the Arabic channels.
Now, you have to fill out all the required Sling TV credentials.
You are ready now to stream all the fascinating Arabic Channels on Sling TV in USA.
To Sum Up:
Sling TV provides you with the streaming of almost all the content library. It gives you a vast network of Arabic channels to watch. It provides the best of its package for Arabic Channels. It is the leading and prominent streaming service in USA.
You just need to hit the subscription icon, and then you can enjoy the full channel lineup of Sling TV in USA.