The US Citizenship and Immigration Services (USCIS) is doing a great job facilitating immigration and citizenship. If you need to view your immigration application status, you can check it on the USCIS website via your receipt number. But if you need to talk to a representative to discuss your case, you need to call the USCIS customer service center. 
Operating procedures at USCIS
We can contact Live Assistance at USCIS on the toll-free phone number, which is 1-800-375-5283. Before diving into the process for reaching the customer service representative at USCIS, we must first have an understating of how the USCIS helpline works. The USCIS service center operates on a two-tier model. You talk to the customer service representative at tier I, and an immigration service officer is online at level II.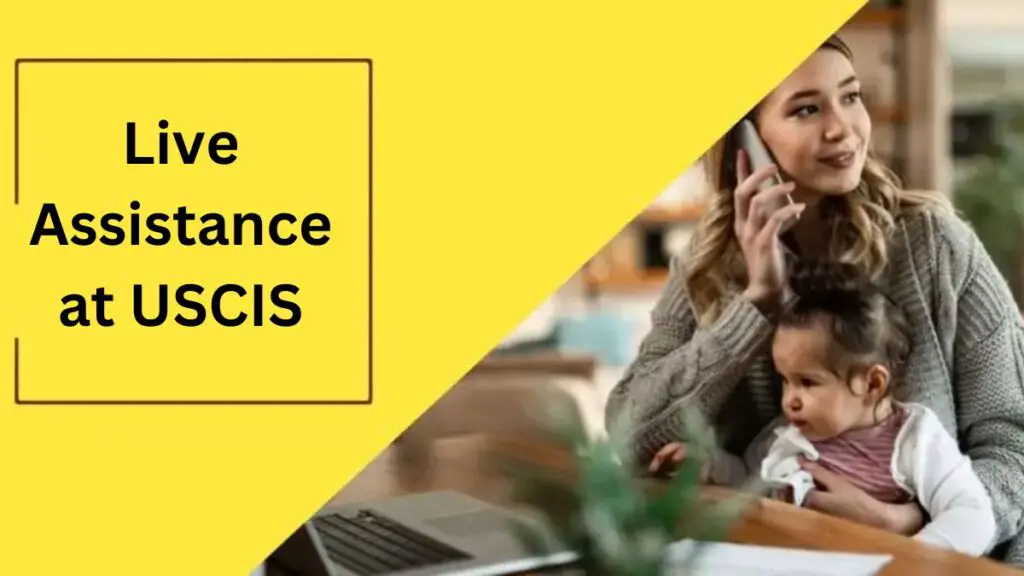 Live Assistance at USCIS
Tier I – Customer Service Representatives
When you contact the USCIS, you'll be conversing with a customer service representative CSR. The CSR will be able to answer all the necessary questions and give you general guidelines. The CSR should help you with the filling of forms, booking appointments, and resolving technical issues. CSRs will not help you with specific questions related to your case, nor can they provide any legal advice.
Tier II – Immigration Service Officer
If the tier 1 officer can not answer any specific questions, your call will be transferred to a tier II official where you are connected with an immigration service officer. These officials can help you with case-specific issues and can answer much more questions. 
Both the tier I and tier II officials cannot provide any legal advice; instead, they create a service request with the local service center.
The fastest way to contact a representative at USCIS
The USCIS helpline is a telephone software with an automated system working to help you out. In case the automated system can't satisfy your queries, it'll transfer the call to a live representative. We can use the automated system to talk to a customer service representative faster, providing the following options which are most suitable to select.
Dial the number 1-800-375-5283
Press 1 – for the English language. Press other numbers for other languages.
Press 1 – check the status of your case/application.
Press 2 – if you can't locate your receipt number.
Press 2 – talk to a customer service representative.
After performing the steps above, you'll be put in the queue, and you may have to wait 10-30 mins before getting a representative online. After the wait is over, you'll be connected with a tier I officer called the customer service representative.
Customer service menu at USCIS
You'll be making your way through the following options on the phone call:
Main Menu
Press # – hear about the recent immigration announcement
Press 1 – obtain a form from USCIS
Press 2 – listen to the latest information about an application or petition already submitted to USCIS
Press 3 – notify USCIS about changing your address
Press 4 – find the USCIS local office or the USCIS application support service
Press 5 – find a doctor to perform an immigration medical exam
Press 6 – reach services for attorneys and BIA accredited representative
Press 8 – questions regarding the freedom of information act or reporting an alleged violation of immigration law
Press * – all other information
(*) Other Information Menu
Press 1 – request a copy of the USCIS guide to naturalization.
Press 2 – inquire about the priority cut-off date.
Press 3 – enter the US citizens' services section.
Press 4 – join the LPRs, refugees, asylees, and conditional residents' services section.
Press 5 – temporary visitors' information
Press 6 – employer's information
Press 8 – technical failures while submitting an electronic application
Press the hash (#) key – deferred action information
Press the star (*) key – information related to provisional unlawful presence waivers
You can navigate the service menu to find the answers you're looking for. Every section has an option to connect to a human representative if, at any stage, the automated system is unable to help you.
Best time to call USCIS
The USCIS live assistance center's operating hours are 8 am to 8 pm from Monday to Friday. The best time to dial USCIS is 8:15 am. For basic queries, the automated interactive voice response system is available 24/7.
Getting ready to call USICS
Before dialing the USICS, you must be prepared. You should:
Check the status of your online case/application.
Have all supporting case documents with you.
Check for any processing time applied to your case.
Have all receipts with you.
Have the A-number present with you.
Other ways to contact USCIS
Besides the toll-free number 1-800-375-5283, a TTY customer service number is also available at 800-767-1833 for people with speech or hearing disabilities. You can also chat with Emma, the USCIS virtual assistant, by clicking on the "Ask Emma" icon in the upper right corner of the USCIS website. Alternatively, you can:
Contact Social media pages:
Final Words
USCIS receives thousands of calls every day, and it is practically hard to give live assistance to everyone. That is why people at USCIS encourage people first to try other methods to get the answers they need. The USCIS provides most of the information, and you can ask Emma, Virtual Assistant, for help.
Useful links
Case Status Online – Case Status Search (uscis.gov)