Do you want to make $100,000 per month? Be a Temu influencer and monetize your audience by promoting Temu products in your content.
"Temu is a recently launched e-commerce marketplace that gives sellers a wide platform to list products and connect buyers across the world."
Knowing the power of influence marketing, Temu launched its Influencer Program to expand its sales and credibility. It allows social media influencers and content creators to promote Temu products in their everyday lifestyles, inspiring youth for self-improvement and more. You can earn commissions on each product promotion. 
But how can you become a Temu influencer? If you are new to social media or a professional influencer, this step-by-step guide will help you rank as Temu's top influencer.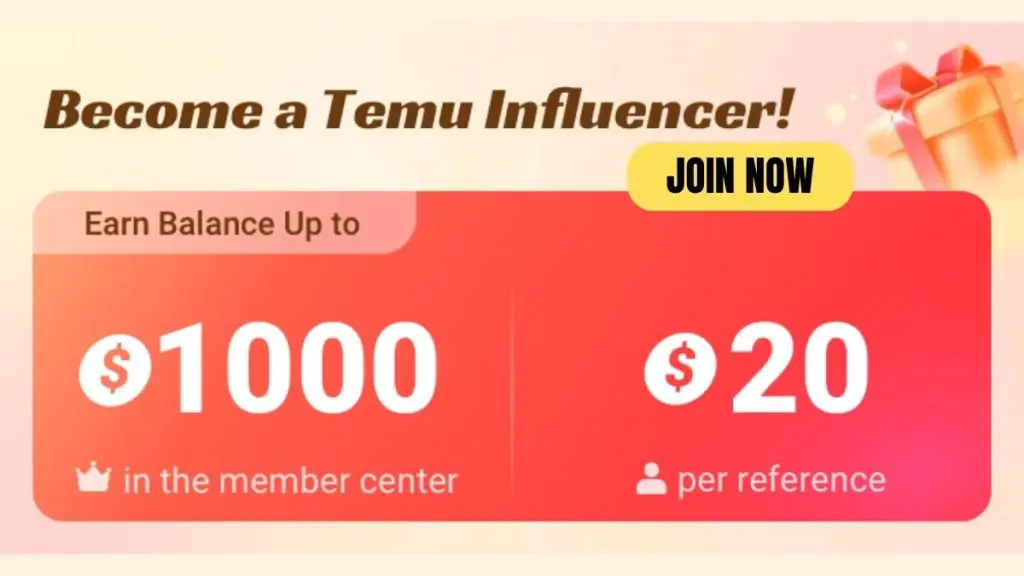 Temu Influencer Program 2023:
As a leading online e-commerce platform, Temu also shows its vital role in influencer marketing, using this strategic planning to win more attention, boost sales ratios, and collect a larger audience around the globe. 
In January 2023, Temu launched its Influencer Program to give content creators or social media influencers a rousing chance to inspire others by demonstrating distinctive fashion, styles, and the latest trends. 
As a Temu influencer, you get free products to showcase pictures and share product videos on your social media platforms while directing your traffic to explore new brands. This will let you earn commissions up to 30% on your valid posts and advertising promotions. 
Latest! Start Temu Dropshipping today and earn $10,000 per month.
How do I become a Temu influencer?
Anyone can sign up for the Temu Influencer Program on the official Temu website. It will provide you with an easy Temu influencer application to start with.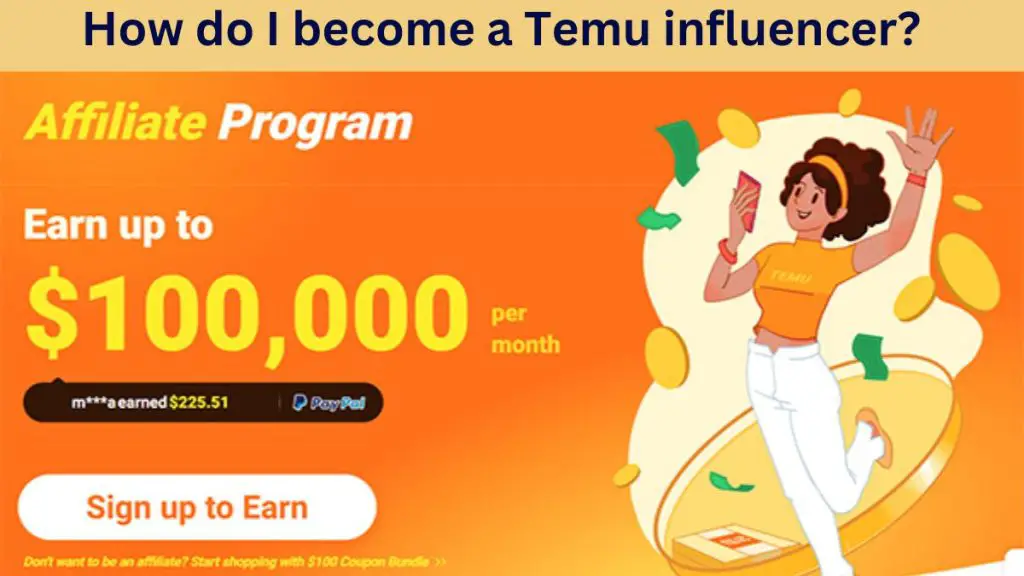 But wait! To become a Temu influencer, you must have an active social media presence, an interest in exploring the latest trends, and a number of loving followers. 
Steps to apply for the Temu Influencer Program:
Go to the Temu Influencer Page— Open the Temu website and go to the "Become an Influencer" option to fill out the application.
Sign Up for Temu— Click to sign up for a Temu influencer account, which requires your name, password, and email. Use the name that you have on your social media platform as an influencer. If you already have an account with Temu, simply log into it. 
Temu Influencer Program application form— Fill out the application details exactly as they require: your followers count, country, contact information, about your accounts, and more. 
Temu Policy— Click on the agree button to accept the Temu influencer program terms and conditions, which include commission rates, payment details, and others.
Submit— After filling out all the valid information, sumbit your application.
Confirmation— Once your application is approved, you will receive a confirmation email within a week from Temu's team. 
Temu Influencer Program Requirements: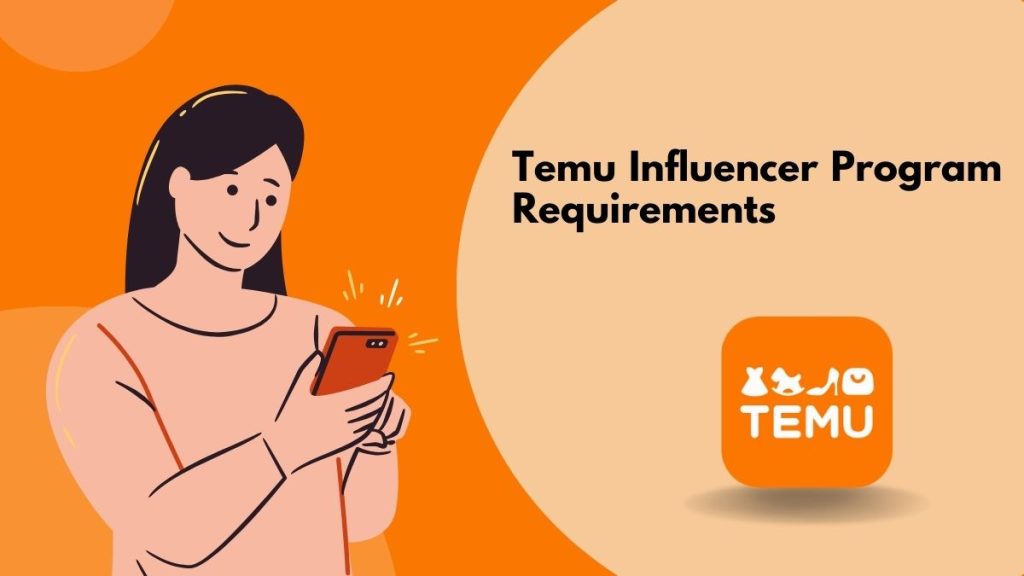 To be approved as a Temu influencer, you need to contemplate Temu's influencer program requirements.
Here are some tips to be eligible for Temu's influencer program:
Your account must have 5000+ active followers. 
Having organized and high-quality content on your account. 
Consistently post on your account by keeping a schedule. 
Choose a niche that is relevant to your post content.
Be professional during the application process.
Keep away from all the terms that violate Temu policy. 
If you are not approved, check back, improve your profile, and apply again. 
Complete Analysis; Is Temu Legit? Check it before signing up!
What will you have to do after being approved as a Temu Influencer?
After approving as a Temu Influencer, you get access to an advanced Temu Influencer dashboard. 
If you are new to the social media world and just starting your influencing journey or are an expert influencer, this step-by-step guide will serve as a roadmap to becoming a Temu influencer.
Select Products— Temu gives you a wide catalog of products to promote. Select your products by examining their reviews, price descriptions, and more.
Get your affiliate link— You can provide a unique affiliate link to share on your profile, which generates sales with your promoting link.
Track your performance— You will be provided with a professional dashboard to track your sales, clicks, commissions, and post views. 
Connect with the Temu support team— You will get an individual Temu account manager for your guidance and courage. 
Temu Influencer Program perks— When you complete the above steps and establish yourself as a successful Temu influencer, you will enjoy Temu perks like cashback, immediate commissions, and free stuff.
Benefits of becoming a Temu Influencer:
Are you mull over 'Why become a Temu Influencer?' Here are some incentives and benefits of the Temu Influencer Program:
Earn passive money: You can receive valuable commission rates and attractive rewards by directing your traffic and generating sales for Temu. At present, Temu influencers earn thousands of dollars a month.
Get Temu Coupons & Deals: As a Temu influencer, you get rewarded with exclusive discounts, deals, coupons, and offers on variable Temu products, which you can also share with your loving audience. 
Get free stuff on Temu: Temu provides free products to its influencing partners so that they can create strong content for its audience by giving honest reviews while testing the product itself. 
Increase your reach: By making consistent efforts to create quality content with scheduled postings, you can grow your engagement, followers, and account reach. 
Give a boost to your influencing journey— The Temu influencer program is an easy way to stand out in your influencing career.
Tips to become a successful Temu Influencer:
To be a successful Temu influencer and rank as a top Temu influencer earner in 2023, you need to focus on these few simple tips:
To make your product catchy, focus on your quality pictures and videos. 
Analyze your top reviewing content type and then connect your audience accordingly.
Provide coupons and stay aware of seasonal sales. 
Instead of posting a number of posts, try to give high-quality content to your audience.
Connect with your audience wholeheartedly.
Establish your own brand voice. 
Conclusion:
The Temu Influencer Program gives you the opportunity to earn thousands of dollars per month by promoting Temu products in your content. It is a worth-considering option to flourish your career as a successful social media influencer. 
The Temu Influencer Program stands out for being clear in its policies and commission rates, giving you exclusive deals & discounts, free products, and other benefits.