Tired of paying for cable and still not having access to all the channels you want? If you are a Spanish speaker, then Latino TV channels are a great way to stay connected to your culture and heritage.
Many Latino TV channels are available, each with its unique content, such as news, sports, music, movies, and more. So, Now you may be wondering How to watch Latino TV Channels in USA?
You Can Watch Latino channels on SlingTV at the most affordable price!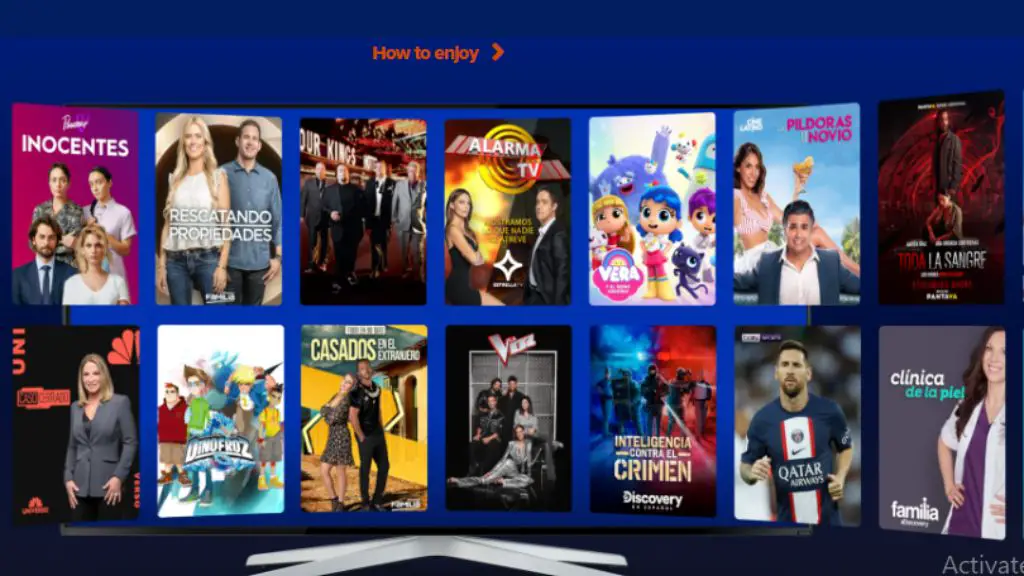 This article will guide you to watch your favorite Spanish Channels in your native language, along with the greatest discount on the most affordable streaming package!
What Is Latino TV?
Latino TV is a type of television programming geared towards Spanish-speaking viewers. This can include news, dramas, comedies, and other types of shows. Latino TV channels are available in many different countries, including the United States.
No matter how you choose to watch, there are plenty of great Latino TV channels to choose from. Some popular ones include Univision, Telemundo, and TNT Latin America. With so many options available, you're sure to find something that interests you!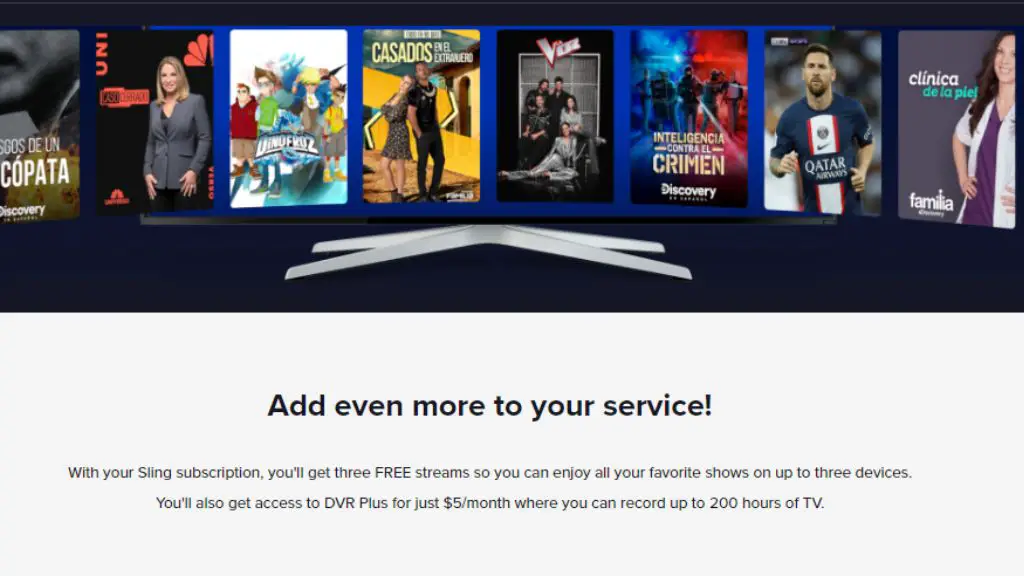 Best Way To Watch Latino Channels In USA
"The Best Way to Watch Latino Channels In USA is on SlingTV, and With SingTV, you can watch all of your favorite Latino channels without any cable or satellite subscription. All you need is an Internet connection and a computer or mobile device."
SlingTV is one of the most affordable streaming services that provide access to several Latino TV channels. 
SlingTV has a variety of packages to meet your needs, and it's available in English, Spanish, or both. Additionally, it offers packages for various age groups and extras and add-ons for more customization.
SlingTV Plans And Pricing
Sling TV Latino offers an excellent selection of Spanish-language channels at a very competitive price. The Best of Spanish package includes dozens of great channels, and you can also subscribe to Sling Orange or Sling Blue if you want even more programming options.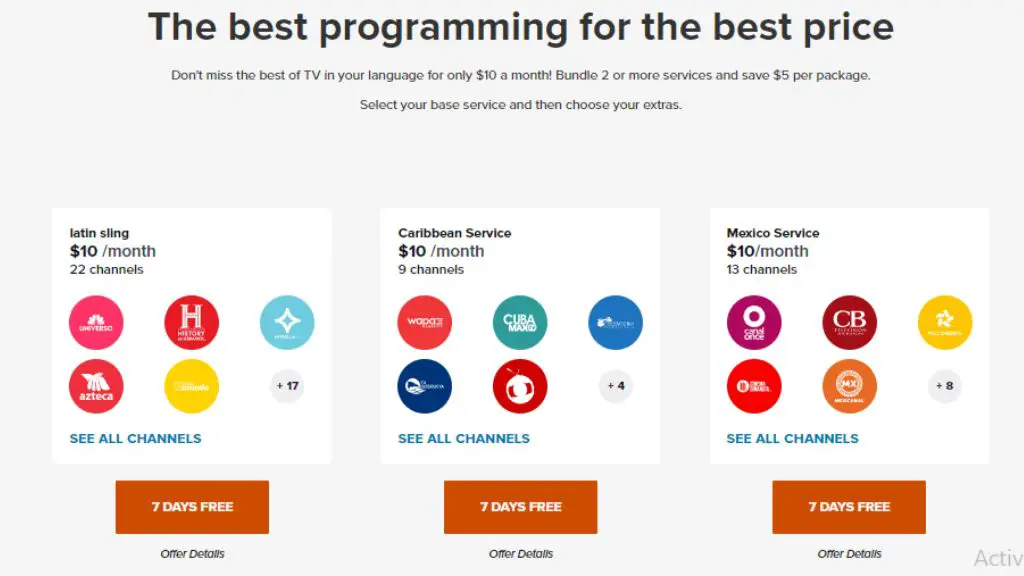 Here is the complete SlingTV Plans List:
Sling TV is Better than Live TV. Sling Latino has great options for the whole family, including the best in soccer, Novelas, kids' shows, and movies.
What you're looking for in popular Mexican television, novels, and current events. Watch them without the interference of the cable company.
SlingTV is the best place to find Cuba's and Dominican Republic's top movies, series, news, and more! Plus, live television from Spanish-speaking Caribbean nations is included with your subscription. You can't get Wapa America in Puerto Rico.
Wanna get more detail about SlingTV Plans? Read our article on Sling orange vs blue and find the best plan for you!
Sling TV Latino is a great choice for anyone who wants a top-quality Spanish-language streaming service.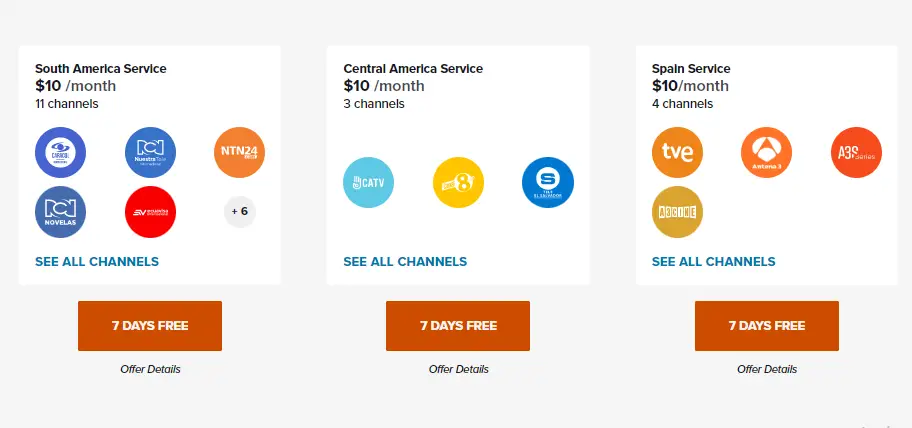 Subscribe To SlingTV
Check out Sling TV's website, or Just click on "Join now!"
To start watching, click on the orange "Watch Now" button.
Please give us both your email address and a strong password.
Choose the SlingTV Latino package that you like best.
If you scroll down, you'll see a list of "Extras," which are different add-ons.
Add any "Premiums" to your purchase that you want.
Please enter your payment information. You can sign up with a credit card or PayPal.
After clicking "Finish and Submit," you can start watching Sling TV immediately.
SlingTV Free Trail
SlingTV is now offering viewers the ability to watch their favorite Latino TV show for free with their latest SlingTV Free trial. All you need to do is sign up for an account with Sling Promo Code. After you've logged in, you can begin watching immediately. 
This is a great opportunity to catch up on your favorite show or discover a new one. So don't hesitate to take advantage of this offer today.
What Channels Does SlingTV Latino Offer?
Sling TV's Best of Spanish package may be a good option for you. With over 20 channels available, including Azteca, BabyTV Español, beIN Sports Español, Cbeebies, Discovery en Español, Estrella TV, History en Español, and Hola! TV, there is something for everyone. 
Plus, with Nat Geo Mundo, Universo, Zee Mundo, and Zee Familia also available, you'll be able to keep up with your favorite shows and movies in Spanish.
Sling TV Latino's Best of Spanish package offers a great selection of Spanish-language channels, including A&E, BET, Cartoon Network, E!, FS1, FS2, Syfy, and truTV. This package gives you everything you need to stay entertained in Spanish.
Meanwhile, if you opt for Sling Orange, you'll have access to even more great channels, including BBC America, CNN, Disney, ESPN, ESPN Deportes, ESPN 2, ESPN 3, HGTV, and Investigation Discovery. With so many great options, it's easy to see why Sling TV is the best way to watch TV in Spanish.
Cable and satellite TV providers that offer Latino channels include Dish Network, DIRECTV, and Comcast Xfinity. These providers typically offer a package of Latino channels as part of their regular programming. You can also find standalone Latino channel packages from some providers, such as AT&T U-verse and Verizon FiOS.
Want to know more? Read our related article:
Conclusion
Finding a reliable, legal source to watch your favorite Italian shows might be challenging, but your search is ended thanks to the Spanish language pack on Sling TV. This bundle has a solid lineup and a wide variety of options to choose from.
Live sports like the T20 World Cup and today's most-watched shows are available on SlingTV. They offer a 7-day free trial, so you can try before subscribing.
FAQs