Wanna get ready to watch the New Zealand Tour of India? Be a couch potato! And stream live ODI and T20I matches with the best of the apps mentioned below.
New Zealand Tour's India to play an engrossing cricket battle with them. It is scheduled to play three ODIs and T20Is from January to February. As everyone is not eligible to go out of their home town to watch the live matches, they are now searching for the best streaming apps to watch the live cricket series 2022-23.
This article does not let you skip any series match by providing the best streaming services for New Zealand Tour of India 2023: When and Where to Watch live.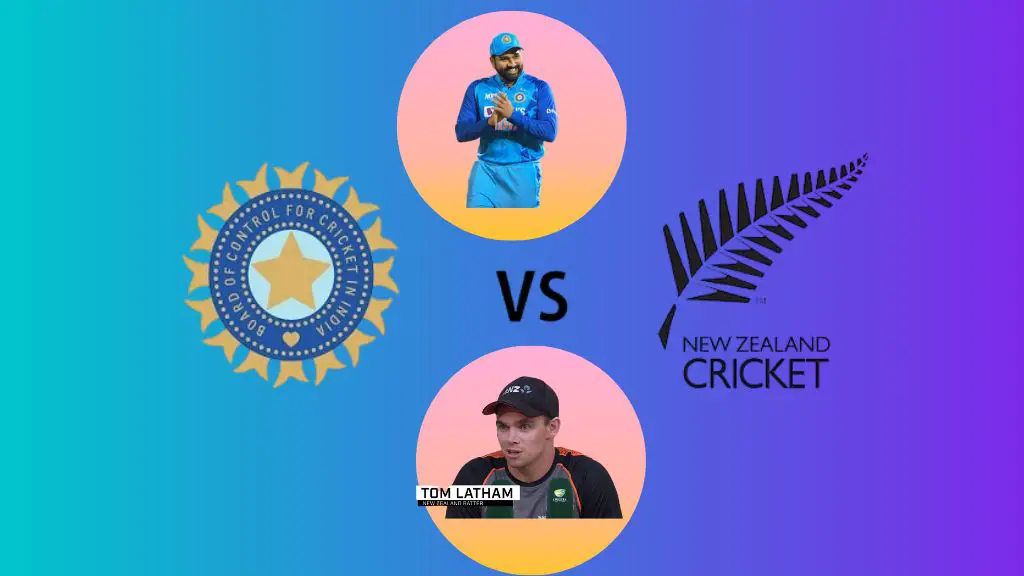 New Zealand Tour Of India 2023
The New Zealand cricket team visited the nation of India to compete with them in their home country. The tour of New Zealand is designed to play three One Day International (ODI) and three Twenty 20 International (T20I) with the Indian Cricket team. The series is set to play from 18th January to 1st February.
The first ODI is fixed on 18 January in Hyderabad, the second ODI is on 21 January in Raipur, and the third ODI is on 24 January in Indore.
The first T20I is set to play on 27 January in Ranchi, the second T20 is on 29 January in Lucknow, and the third T20I is on 1st February in Ahmedabad.
The New Zealand team is currently touring Pakistan, playing an ODI series with the Pakistani cricket team, and the Indian Cricket team is playing an ODI series with Sri Lanka. Now both tough teams are ready to play the 2023 cricket battle against each other.
Read our related article New Zealand tour of India complete Schedule.
Where to Watch live NZ vs Ind?
Best Apps To Watch New Zealand Tour Of India 2023: All are now finding the best ways to watch the New Zealand Tour of India. No stress! Here the mentioned apps let you to stream live New Zealand VS India on your smart phones. The American cricket fan can also watch the New Zealand Tour Of India 2023 in USA with these great streaming apps.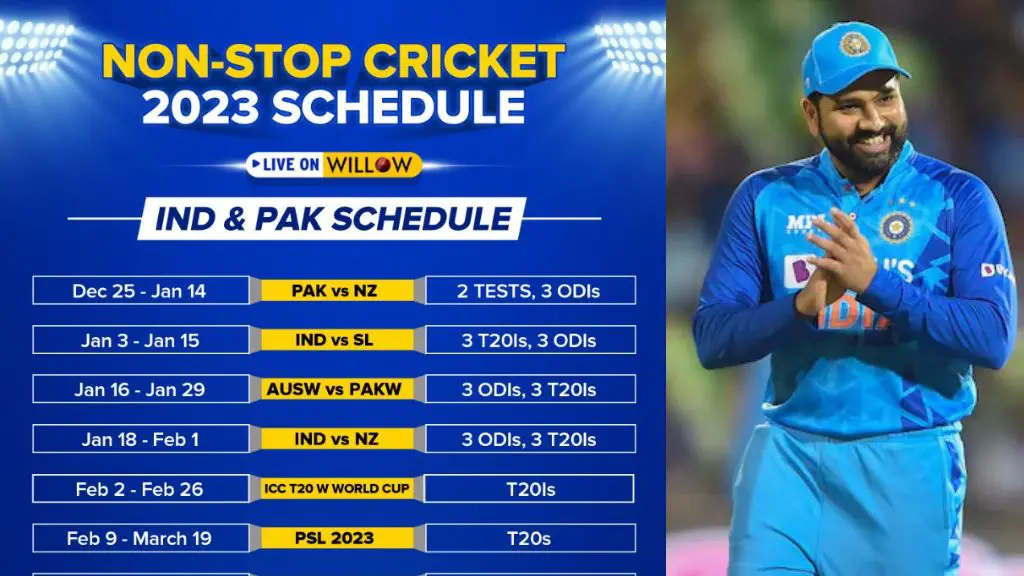 Sling TV Streaming
Sling TV is the leading OTT app-based streaming service, streaming live cricket matches with thousands of other sports events. It also has films, hit shows, news, and another latest and on-demand programming from top channels.
Sling TV has the right to broadcast live cricket matches through Willow TV in Hindi and English commentary. It must have the live series of New Zealand VS India matches, giving you full coverage with replays, highlights, and reviews. Plus, you can catch the match after 8 days of its airing through Sling Catch-up TV.
Sling TV Packages
Sling TV offers you different affordable packages which let you to stream the live New Zealand Tour Of India 2023.
Sling Willow Cricket Monthly Pack:
The Sling Willow Cricket Pack is for $10 a month, providing you with the first month off offer, giving you to get it for $7 for the first month.
You can stream live cricket matches on the Willow network available on this deal.
It provides you with a lineup of 2 channels; Willow Xtra and Willow HD.
Sling Desi Binge Plus Monthly Pack:
The Sling Desi Binge pack is for $15 a month get for $10 on your first month off deal.
It has 6 channel networks to stream, like SonyLIV, VOOT, Willow, and more.
Sling Dakshin Pack:
The Sling Dakshin Pack is for $20 a month.
It has a 30-channel network for streaming, giving you live cricket with South Indian programming combo.
Sling Urdu Pack:
If you are an Urdu series lover, subscribe to Sling Urdu Pack for $10 a month.
It has 17 Urdu networks with live cricket streaming.
Sling Special Pack:
Sling gives you a special pack which is full of entertainment. It is for $45 a month.
It includes the lineup of Sling Blue networks plus Willow Cricket Mini.
These amazing deals let you watch cricket matches with a 50 hours of Cloud DVR option. Also, having a thousand plus blockbuster movies and web series for more entertainment.
Check out our article on SlingTV Subscription Details.
ESPN+ Streaming
ESPN is one of the biggest streaming services, providing thousands of live sports events on your screens, allowing you to watch the New Zealand VS India series with MLB, NFL, NASCAR, NBA, EFL, MLS, NHL, international football, and golf. Moreover, you can also stream blockbuster movies, the latest shows, live, on-demand, and many other original programming, making it a full entertainment pack for their subscribers. You can also purchase UFC PPV events with it.
ESPN+ has the rights to telecast the live New Zealand Tour Of India in Hindi and English commentary. Letting you get full coverage with highlights, replays, news updates, and back-to-back commentary of every single moment.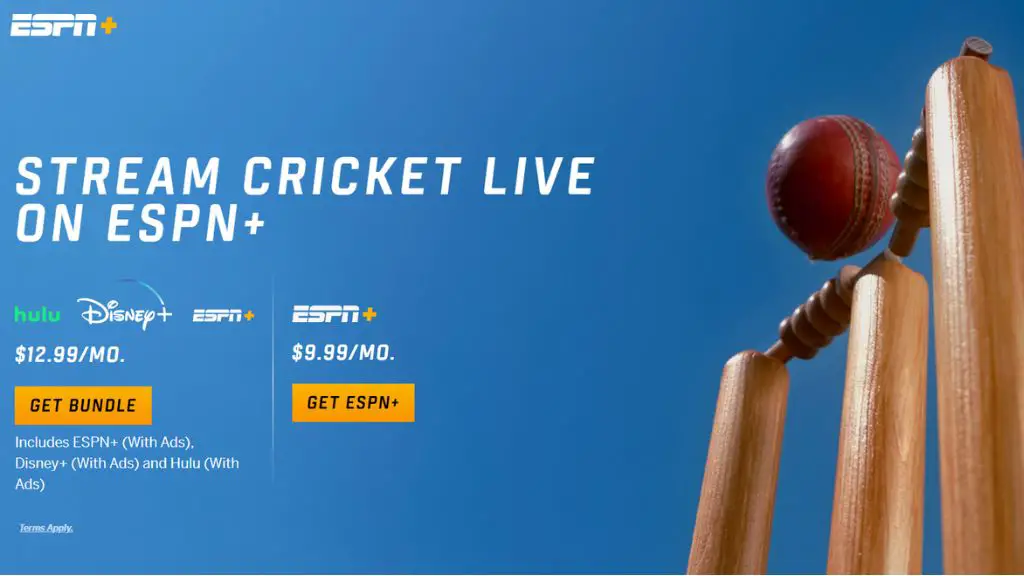 ESPN Plus Subscription Packages
ESPN Plus offers you a simple subscription package. With this plan, you can hit all the libraries of ESPN plus. Let's have a look at ESPN affordable packs:
ESPN Monthly Pack
ESPN offers you a Monthly Plan for their users for just $9.99 a month. You can get live matches and the broad library of ESPN at a low cost.
ESPN Yearly Pack:
ESPN offers a full complete Yearly Plan to their users for $99.99 per annual year. This pack benefits you by saving some bucks of money with a lovely ESPN Plus entertainment kit.
ESPN Plus also allows you to watch the full cricket series and offers a seven-day free trial. You can get free streaming before paying any amount.
Check out our article on ESPN+ Subscription Details.
Conclusion
To sum up, Sling TV and ESPN+ are the two best streaming services which broadcast the New Zealand vs India series for you. The USA audience hit the live New Zealand Tour Of India 2023 through these streaming apps. Go and hit the subscription bell to get the live matches on your screens.
FAQs