Are you ready to colour your screen with March Madness event? If not, then, this article covers for you the best options to watch March Madness live in USA.
March Madness is the term used for the NCAA Men's Division I Basketball Tournament. The fans who got the tickets are hyphy to watch this mid-march event and those who are left don't get anxious here, gather for you the best apps to watch March Madness live without cable.
Let's begin the content with a brief intro to March Madness. You must have a little knowledge to interact with it fully and discover ways to stream its every enthralling live action.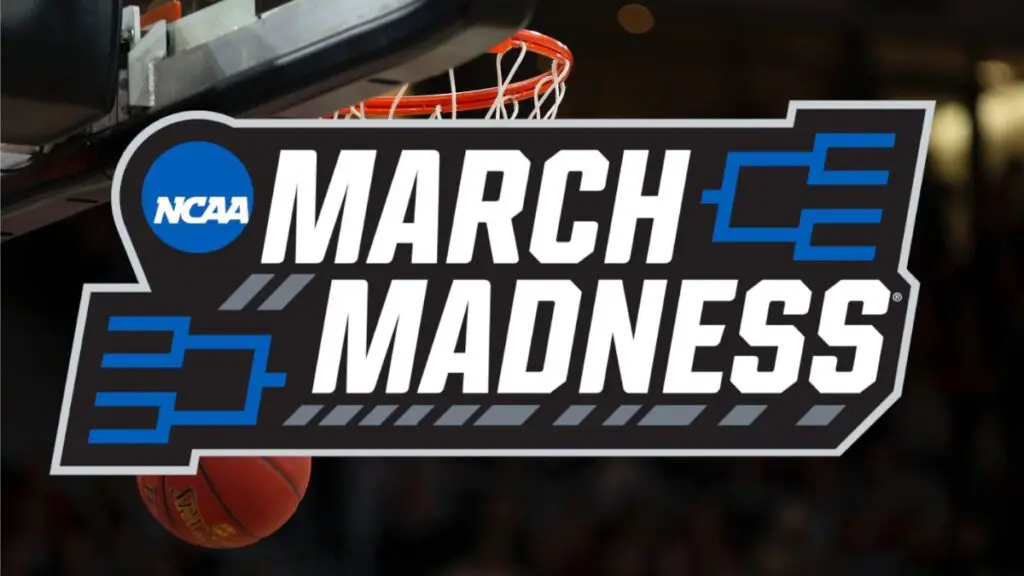 March Madness Info
The March Madness title is given to the NCAA ( National Collegiate Athletic Association) Division I Men's Basketball Tournament to illustrate the eagerness and elation of the basketball tournaments. These basketball matches are held in mid-March to determine the national champion, which consists of 68 teams.
It is a single elimination tournament that was begun by the National Association of Basketball Coaches in 1939 and at present it has become one of the largest sporting events in the United States.
The 68 teams of March Madness are designed as the 32 teams that are the winners of distinctive conferences get a chance to play the tournament and the remaining 36 teams are decided by the NCAA Selection Committee.
March Madness has various rounds consisting of unique names, as in the NCAA, the third round when 16 teams are left in the tournament is called Sweet 16, the next one called Elite 8 and is in the last round called Final 4.
To stream all these enchanting rounds, continue reading the article and explore HOW TO WATCH MARCH MADNESS LIVE IN USA this year.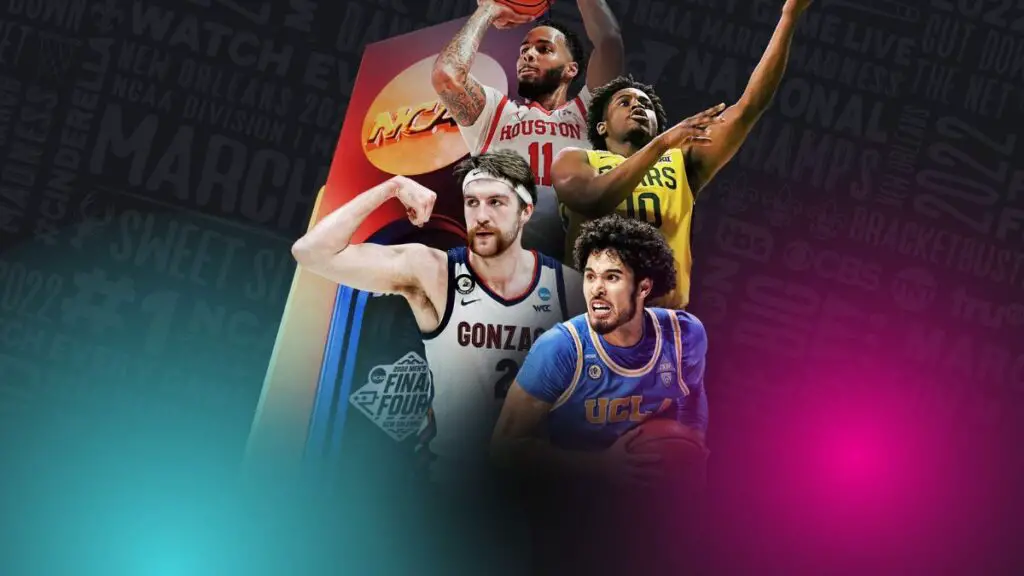 Watch March Madness Live in USA
Looking to watch March Madness live online? Free live streaming of March Madness 2023 will be available on Fubo TV. In addition to Sling TV and HULU+ TV, other streaming services will also carry March Madness matches.
Here are all the paid and free streaming services to watch March Madness 2023 live in USA:
Sling TV For March Madness
Sling TV streams college basketball with thousands of more sporting events. It is one of the best OTT services, which allows you to watch thousands of enchanting sports live on TV. Plus, it also offers tons of films, shows, news and other entertaining content. You can stream it via Sling TV through various subscription plans which include your desired content.
TNT, TBS, truTV and CBS networks get the broadcasting right to air March Madness NCAA tournament matches, but unluckily, CBS network is not obtainable on Sling TV. Don't get disheartened. Sling TV telecasts most tournament matches for you.
Sling TV Subscriptions
Sling TV offers distinctive subscription plans for their customers. Subscribe the one you are comfy with.
Sling Orange Subscription: Sling Orange includes 31 channels to stream for $40 per month. You can get it in a half discount for your first month. Also, you have an option to add Sports Extra for $11 a month to add more sports to your screen.
Sling Blue Subscription: Sling Blue includes 40+ channels to watch for $40 a month half off for your first month. Sports Extra is also in add-on for $11 a month.
Combo Subscription: If you wish to attain a blend of Sling Orange & Blue subscriptions, Sling answer your desire by giving you this combo deal at $55 a month and half off for your first month. Sports Extra comes with this subscription for $15 a month.
Sling Orange: $20 Per Month.
Sling Blue: $20 Per Month.
Sling Orange & Blue: $25 Per Month.
You'll also be able to read this related article and take advantage of Sling TV free trial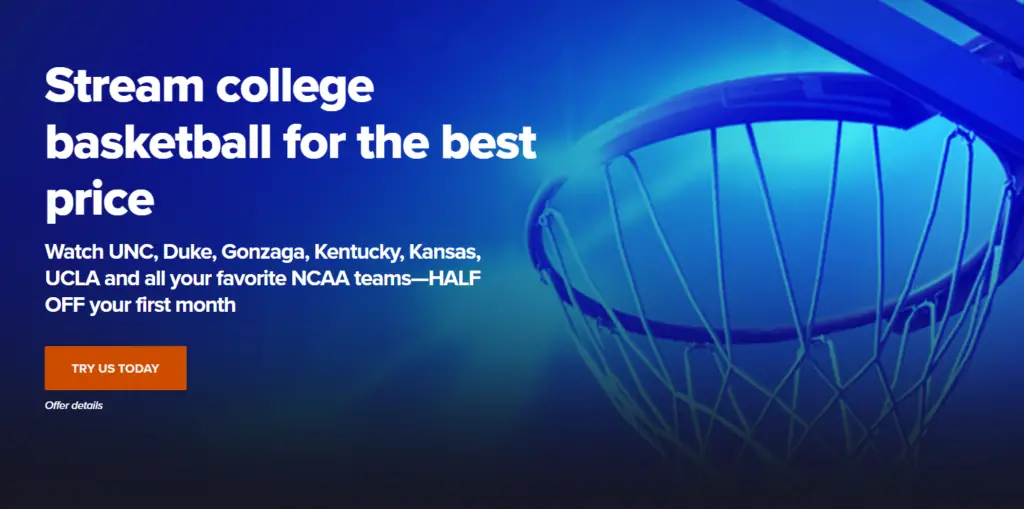 Fubo TV For March Madness
Fubo TV offers March Madness on your screens. It is a sports-based streaming network mainly targeted at delivering sports events to its audience. It also adds further more entertaining and alluring on-demand content due to audience appeal. 
As March Madness is available to you on TNT, TBS, truTV and CBS, but on Fubo TV, the only available network is CBS. You can watch your matches, which air on the CBS network. You can combo it with Sling TV and can enjoy the entire season without skipping any single match.
Subscription Plans
If you want only the CBS network for streaming basketball, then you can go with its standard plan (Pro Plan) or if you want more entertainment, then you must look at its other packages.
Fubo Pro Plan: It includes 130+ networks to stream (includes CBS) with a subscription fee of $69.99 a month.
Fubo Elite Plan: It includes 190+ networks to stream (includes CBS and special add-ons channels) for a charge of $79.99 a month.
Fubo Ultimate Plan: It includes 230+ channels to watch (includes CBS and distinctive add-ons) and comes for subscription at $99.99 a month.
You can try the service free for seven days, plus a thousand hours of cloud DVR and multiple screening options.
You'll also be able to read this related article and take advantage of Fubo TV Free trial.
The Bottom Line
The March Madness NCAA Tournament is the most charming and awaited event among Americans. This year the date of the tournament is set from 17 March to 4 April.
You are just a few clicks away from your enthralling event, hit the subscription bell and get the live coverage of March Madness in the USA.