Mint mobile plans – Its 3 months free when you buy any 3-month plan puts Mint Mobile plans on top of the affordable-wireless world. Heading into 2022, Mint Mobile currently offers the most value among all wireless carriers. If you want to cut your mobile plan price then read full articles. Also you get detailed information about where to buy mint mobile sim card and how you can get 2 years of Free mint mobile by just helping your friends and family.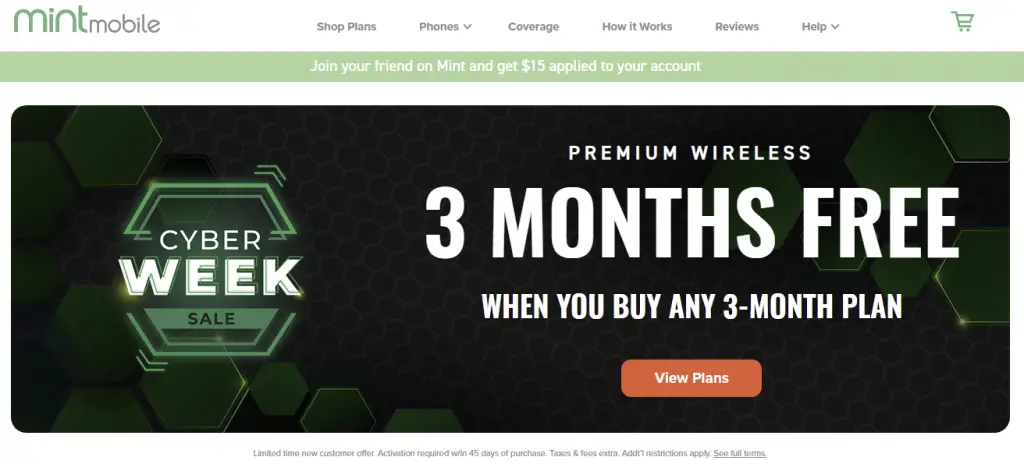 Where to buy mint mobile sim card:
Although Mint Mobile does not have any physical store locations, you can order a Mint Mobile SIM card or device through their website. You can also find Mint Mobile starter kits at select retail stores across the United States. But if you order from the website with this mint mobile referral link, you will get extra $15 Credit. Also, another profit of buying from the website is that you will get 7 days mint mobile free trial, so I highly recommend you order through the official Mint mobile website. Mint mobile will send you a sim card within 2-3 days. But If you're looking for a Mint Mobile starter kit quickly then, you can find them at the following retail locations:
Best buy:
Target:
Amazon:
Walmart:
Mint Mobile Black Friday offer:
The Black Friday offer from Mint mobile is insane. Below is the Mint mobile black Friday offers available:
Black Friday offer #1: 
GET 3 MONTHS FREE WHEN YOU BUY ANY 3-MONTH PLAN. You will have to pay only $45 + tax for the 4GB plan for 6 months means it is less than $10 per month. 
Activation is required w/in 45 days of purchase. The offer expires on 1/7/2022. New Mint Mobile customers who purchase any 3-month plan on mintmobile.com will receive 3 months for free. Free 3-month plan applied as a discount at checkout, and customers will receive a 6-month plan in total. Plan activation must occur within 45 days of purchase. Plans renew as a 6-month plan at full price.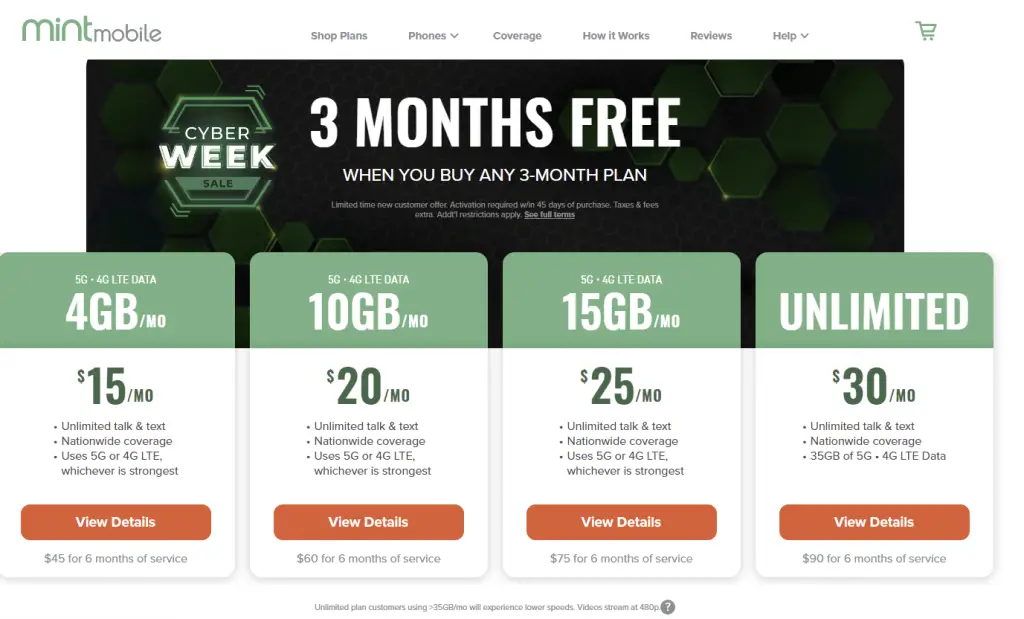 Black Friday offer #2: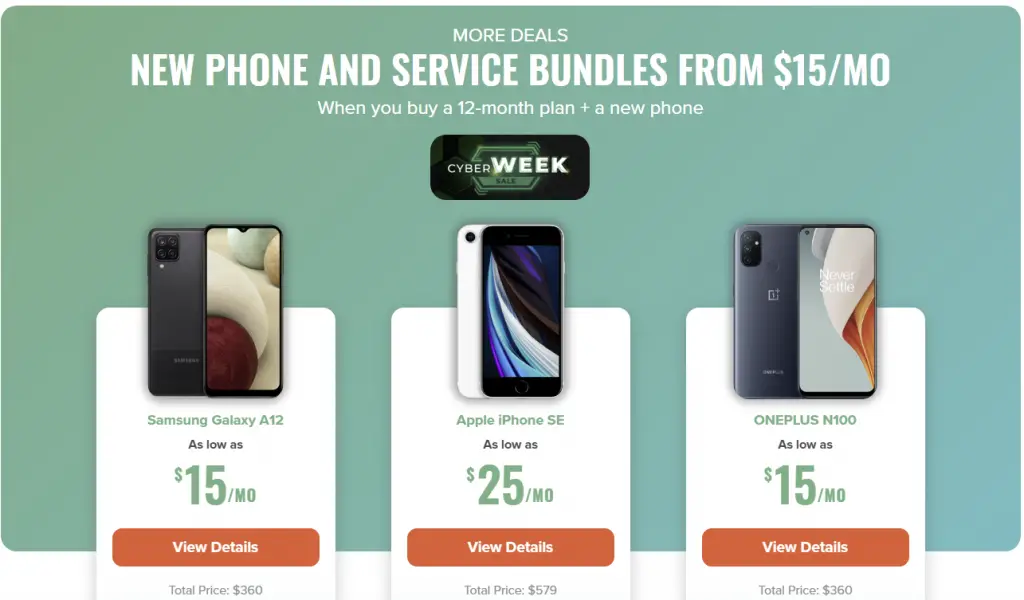 Get 12 free months when you buy a select device plus 12-month plan. Mint Mobile's Black Friday sale also includes a nice little combo saving on select devices. Right now, if you purchase an unlocked Google Pixel 6, Samsung Galaxy A12, OnePlus Nord100, Nord200, iPhone 11, or iPhone SE upfront with a 12-month Mint Mobile plan, you'll get another 12 months for free. For example: Samsung Galaxy A12 smartphone (about a $179 value), 32GB storage + 24 Months of Mint Mobile service, unlimited talk text and 4GB of data monthly. it means $180 (phone price) + $180 (for 24 months, instead of just the normal 12 months, cell service) = $360 + taxes/fees. Approx $16 to $17 (includes taxes/fees) for a month for cell service and the phone is basically for free. Good for your Kids or a second phone if you have a good TMobile coverage in your area. 
Mint Mobile India calling (International): 
Mint mobile charges 1 cent per minute for India calling. Complete international calling charges are available in this Mint mobile international link. 
How to recharge and make an International call
Log in to your Mint Mobile account, click load wallet and add credit
Dial the exit code (011)
Dial the country code for your desired destination
If you are dialing a landline dial the area code
(2-4 digits). If you're calling a mobile skip this step
Dial the number you wish to reach and press call
Mint Mobile deals and promo codes for January 2022
Mint moile Best Deal of the January 2022 —Buy 3 Months, Get 3 More Free! Phone Plans start at $15/month. Plans include Unlimited Talk & Text + High-Speed Data on the Nation's Largest 5G Network.
How to activate Mint Mobile :
When you order Mint mobile online, then you will get a starter kit. Each Mint Mobile starter kit includes a Mint Mobile SIM card, activation instructions, and a Mint Mobile welcome guide. 
If you're already a Mint Mobile customer, you can purchase Mint Mobile refills online or call them.
Mint Mobile is an excellent alternative to the big four carriers like T-mobile, as Mint mobile offers lower prices and the same high-quality service. Be sure to check out the Free 7 days trial of Mint Mobile today!
Mint mobile referral credit:
Get a $15 renewal credit when you sign up for Mint Mobile as a new customer using a referral link. 
Fifteen days after you complete your activation, the referrer gets a renewal credit whose value varies. For their first or sixth referral, they'll get a $25 credit for the first referral, second or seventh, a $30 credit, third or eighth, a $35 credit, fourth or ninth, a $40, and fifth or tenth a $110 credit.
Mint Mobile 2 years Free Service:
Mint mobile has great referral program. If you refer some one then you can be names ad Advocates and as per Mint mobile site Advocates will earn credits as follows:
Friend who refer (Advocates): On every successful referral you will get awarded as Referral #1 = $25, Referral #2 = $30, Referral #3 = $35, Referral #4 = $40, Referral #5 = $110.  Free year of service for 5 referral credits is the sum value of 5 referral credits or $240 which equates to the advertised cost of Mint Mobile's 12 month 10GB plan. option.  In the event of a 6th referral, the Referral cycle starts again and the Advocate will receive a credit of $25 escalating to $110 in the event they reach a 10th referral.  All credits will be posted to the Advocate's account no sooner than fifteen (15) days after the Friend has activated service. Advocates may earn credits for up to ten referrals total within a calendar year. Friends may still earn the $15 credit for referrals made by an Advocate above the ten referral limit.
Friend who use the referral link:  Friends will earn $15 credit when signing up for service.  Friend must activate a new Mint Mobile account.  All credits will be posted to the Friend's account no sooner than fifteen (15) days after the Friend has activated service.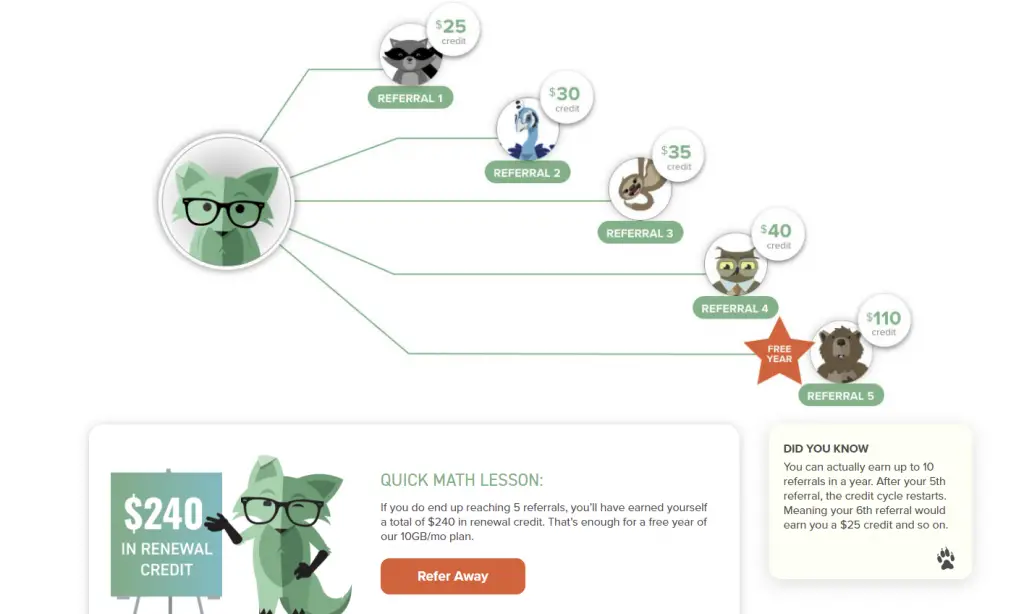 Mint Mobile Network:
If you want to check mint mobile coverage, simply enter your zip code on the Mint Mobile website.
In general, Mint Mobile is currently available in the following states:
Alabama, Arizona, Arkansas, California, Colorado, Connecticut, Delaware, District of Columbia Florida, Georgia Hawaii Idaho Illinois Indiana Iowa Kansas Kentucky Louisiana Maine Maryland Massachusetts Michigan Minnesota, Missouri, Mississippi, Montana Nebraska Nevada New Hampshire New Jersey New Mexico New York North Carolina North Dakota Ohio Oklahoma Oregon Pennsylvania Rhode Island South Carolina South Dakota Tennessee Texas Utah Vermont Virginia Washington West Virginia Wisconsin Wyoming Colorado Springs, CO Washington D.C.
Mint mobile plan: 
If you choose to purchase Mint Mobile through their website, Mint Mobile requires a valid credit or debit card upon signing up. There are three different Mint Mobile monthly plan options available: The Mint Mint 3GB SIM Starter Kit ($20), The Mint Mint 5GB SIM Starter Kit ($30), and The Mint Mint Unlimited SIM Starter Kit ($45). All three of these monthly plans include unlimited talk and text, as well as 3, 5, or 10GB of high-speed data, respectively. Once your limit data is used, your speed will reduce to 2G speeds for the rest of the month.
Mint Mobile starter kit
If you have any questions about Mint Mobile or its services, please feel free to contact Mint Mobile's customer support team. They are available 24/7 and are happy to help!
How do Mint Mobile's customers describe the company?
Several users have praised the user-friendliness and inexpensive rates of Mint. In contrast, if you have to call customer service, the experience may not be that great. Several subscribers on the Mint Mobile subreddit have complained about poor support, especially when it comes to the Google Fi network, which prides itself on quick responses and available support. Mint customers have fewer resources available to them rather than having a brick-and-mortar presence.
Mint Mobile users have reported slower average speeds than T-Mobile when it comes to network performance. The reason may be that T-Mobile's customers are prioritized over Mint's. Prepaid users are almost always overshadowed by postpaid subscribers, a phenomenon that's not unique to prepaid users. Customers of Mint say they sometimes reach peak speeds, perhaps when network congestion is more diminutive.
Review of Mint Mobile
As with most prepaid wireless networks, Mint does sacrifice some comforts – such as readily available customer support and the best possible data speeds – in exchange for a lower monthly fee.
The bulk sales model of Mint still allows it to enjoy some of the most competitive prices. When you can put up with occasionally slow data transfers and using the community forums for some issues, Mint shouldn't disappoint.
As a result, less savvy users, or those searching for more benefits, should look at Metro by T-Mobile, Republic Wireless, or Boost Mobile – carriers with higher data tariffs and better performance and perks.
FAQs
Does Mint mobile have a good reputation?
In general, I like Mint's service, but I wish they made it more evident that you get the most savings during the first three months and if you renew for an entire year at once. I would not recommend Mint to anyone who requires reliable service or is a heavy user of data.
Is mint mobile worth switching to?
You should check out Mint Mobile if you're looking for an inexpensive, no-frills prepaid cell phone plan. In terms of features, its service isn't nearly as robust as those offered by rival carriers. However, when it comes to value, it's hard to beat.
Which is better, Mint mobile or Mint visual?
For unlimited data, Visible is the preferred choice, but Mint is the best value. If you are okay with slightly slower speeds, then Visible Wireless is probably better for those who want genuinely complete data. In addition, the family plans are much better.
What is the ownership of Mint mobile? Does Ryan Reynolds own the company?
In that case, there has been much speculation – is Ryan Reynolds, the owner of Mint Mobile? I guess the answer is yes. It is more precise to say the actor purchased part of the company in a highly publicized manner back in 2019.
What kind of coverage does Mint Mobile have?
Because of the T-Mobile network, you will have strong coverage. T-Mobile provides the coverage and data services offered by Mint Mobile to our customers, and as a result, T-Mobile has one of the country's best networks.
Conclusion
When it comes to value, Mint Mobile really stands out. Mint Mobile's plans offer a lot of data for the money, much more than some of its pay-per-month competitors. Mint mobile works like Costco concept Buy more, save more (bulk buying to the wireless space). How anyone can get a Wireless plan in less than $10 per month. This can only happen with Mint Mobile.