Earning cash back doesn't have to be for just credit card purchases, This can happen even when you shop from your favorite online store. RebatesMe offers you the best way to shop online and get cashback rewards. You can find great deals on all your favorite brands, while earning cash back through RebatesMe just for shopping.
RebatesMe is a retailer rebate portal that offers cash back for shopping online at your favorite online stores like Swagbucks and Rakuten. Rebtesme has partnered with more than 5,000 famous online stores across the United States to offer promotions. 
Not only will you be saving money by simply shopping at your favorite stores, but you can also invite your friends and family into this as well to earn a referral bonus! in your RebatesMe wallet. RebatesMe offers this only for a limited time, so start saving money now!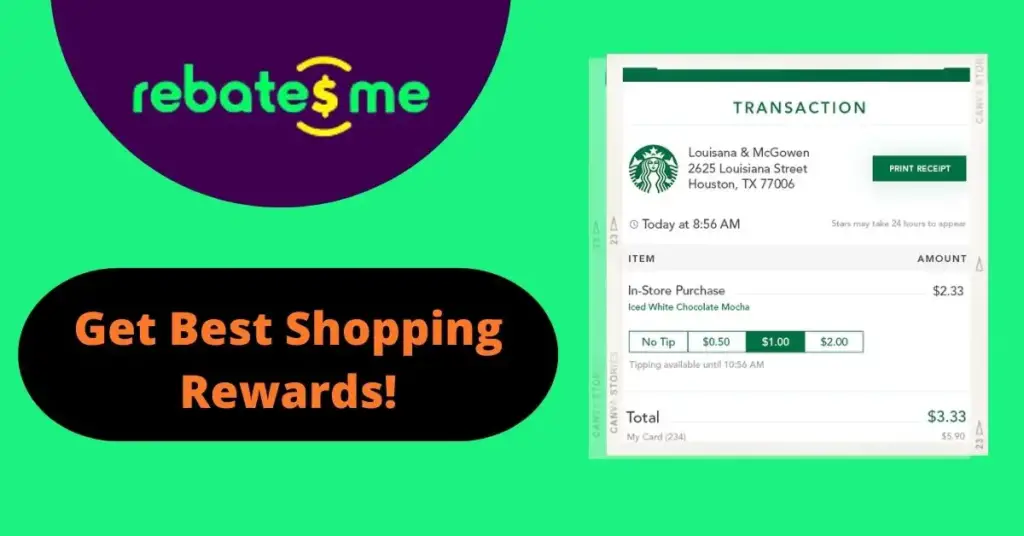 For now the important question: Is the RebatesMe offer actually legit?
The website doesn't have as many reviews to find for more information about the website.
But, the reviews (especially RebatesMe reviews on Reddit and quora) proves that it is giving cash back for shopping. And you can withdraw it any time
Let's take a look at the site's ratings on the Better Business Bureau and on Trustpilot.
According to Trustpilot user experience was excellent with 4.4 stars.
This proves that RebatesMe is a legitimate cash-back rewards site and gives payment.
$30 RebatesMe sign up bonus
If you join RebatesMe today, you can earn a $30 bonus. Signing up for RebatesMe is a great way to start earning cash back on things you're already buying. It's free, and it takes less than 2 minutes! To verify your Sign Up Bonus.
How to get a sign-up bonus from RebatesMe?
You can sign-up a fully verified RebatesMe 
account with the following steps:
(Button with RebatesMe referral link)
Click the above button and you will be redirected to the sign-up page of the RebatesMe offers.
Now you have to enter your email and create a password for your account.
You have to make an eligible purchase that earns cash back totaling above $10 within 365 days of joining.
When your RebatesMe account's available cash back amount reaches a minimum of $10(including your bonus), you can request payment.
If you will have completed all the steps successfully then you will get $30 sign-up
bonus. You can check your sign-up bonus from the "My Account" section.
RebatesMe referral bonus
Start making money just by referring friends and family. When your friend joins with your referral link, you'll be giving them $30 to join which is actually a sign up bonus but in return you are receiving $20 without doing anything. 
The best part of RebatesMe is, there is no referral bonus cap, so the more people you refer to, the more money you get as a bonus. This is a great program and you should take advantage of it.
How to join RebatesMe offers referral program: 
Visit the "Invite Friends" section of your RebatesMe account to access your unique referral link and other sharing options.
Share your unique RebatesMe referral link with your friends and family.
Your $20 referral bonus will appear in your RebatesMe account once someone signs up using your link.
You will earn a $20 referral bonus, and your referrals will get $30 as a common joining bonus when they sign up.
Your $20 referral bonus will remain pending until your referral earns a minimum of $10 in cash back within 365 days of account opening.
There is no limit in referral offers; you can refer unlimited people to RebatesMe. The more people you refer to, the more you can earn.
This is a super easy way to earn a free $30 bonus if you plan on making some online retail purchases.
Here is another RebatesMe offer and you will definitely like it :-
Earn $150 Bonus After 3 Referrals
Interested in earning from referral? Currently you can Earn $150 Bonus After 3 Referrals. Simply invite three or more friends to earn money! Take advantage of this offer before it ends!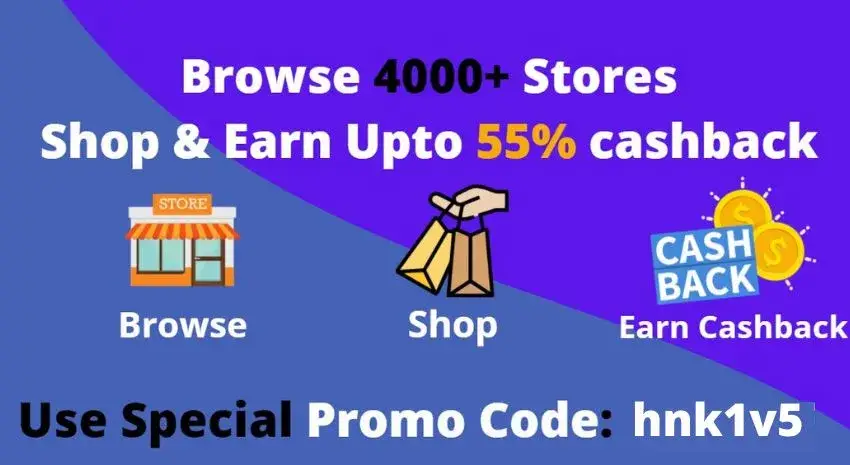 How does RebatesMe work?
It is very easy to to earn money from RebatesMe offers:
To get started, just log in to your RebatesMe account and browse deals, select the store you want and start shopping.
If you don't want to shop through the site, you can use the browser extension of the RebatesMe offers.
When you use the RebatesMe extension, you can go directly to your favorite store. And you can select the product you want to buy.
When you open your favorite online store, an activation popup will appear reminding you that you need to click the pink "Activate" button to get started. The button will turn green and the display will be activated, which means you can shop now and you will get the reward in your RebatesMe offers account.
There are more than 5,000 stores featured on the site and you can get up to 60% cashback.
Other deals
It's not just cashback deals that the company provides. On the website, you can find deals combined with cashback offers, giving you even more savings for your purchase.
You will get shopping coupons which will give you upto 40% discount on your products.
Okay, so once you've earned cash back from a store, it's time to redeem it to your PayPal account.
To cash out your RebatesMe earnings, your cashback amount must reach a minimum of $10. Then, you'll be able to cash out your earnings.
The website offers a few different payment options:
(VISA/Mastercard)
The total amount of cashback cannot exceed $1,500.
RebatesMe chrome Browser Extension:-
Many other cashback offers sites give a browser extension. RebatesMe's extension is called the "Cash Back Button," and the company claims it can help you earn "up to 55% Cash Back at 4,000+ stores." 
Using the extension is easy. Once installed, it will alert you whenever you visit any merchant that's offering cash back, providing a link to activate the offer.
(Extension link)
RebatesMe offers App
RebatesMe has a mobile app available for both Android and iOS. It functions identically to the website, but offers a more modern and streamlined interface and is helpful when shopping from your mobile device. 
It have a quiet Nice interference as compared to site and easy to use.
How does RebatesMe make money?
No one will give you something without their profit if the company is paying you to shop, how does it make money?
It's simple really. While RebatesMe doesn't say on its site exactly how it makes money, it's safe to assume that it works in the same way as other cashback sites do.
You see, a cashback site functions similarly to the way credit card reward perks do – you make a purchase, The cashback site is paid a commission for doing so, and you get rewarded.
You can make money from RebatesMe by 2 ways:
By doing shopping and earn cashback.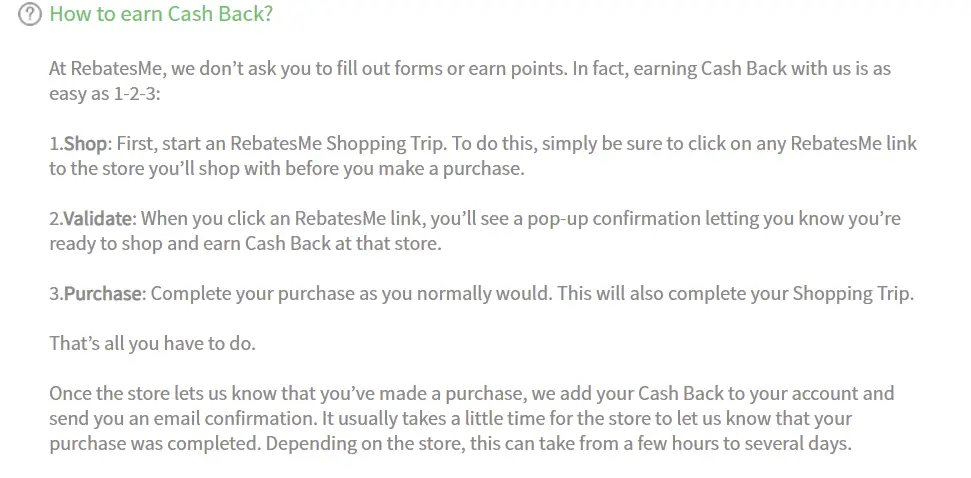 By promoting RebatesMe and getting referral money.
How do I cash out money from RebatesMe?
When you want to cash out your rewards from RebatesMe, you can get an added bonus by choosing a gift card as your method of payment.You can use PayPal, Credit Card or choose a Gift Card to receive your Cash Back. Within 24 hours of withdrawal request you will receive your payment to your wallet.
The bonus amount you'll receive depends on which gift card you choose, but can be up to 10%!
All gift cards are E – cards and will be sent directly to the email linked to your RebatesMe account. Because of this, they are also the fastest method of payment on RebatesMe offers. You will receive your gift card within 24 hours. Let's see how to cashout through gift cards.
How long will it take to cash out ?
As soon as you earn minimum $10 cashback amount including bonus, you will be eligible for payment. Below image explains the complete status and lifecycle of payment.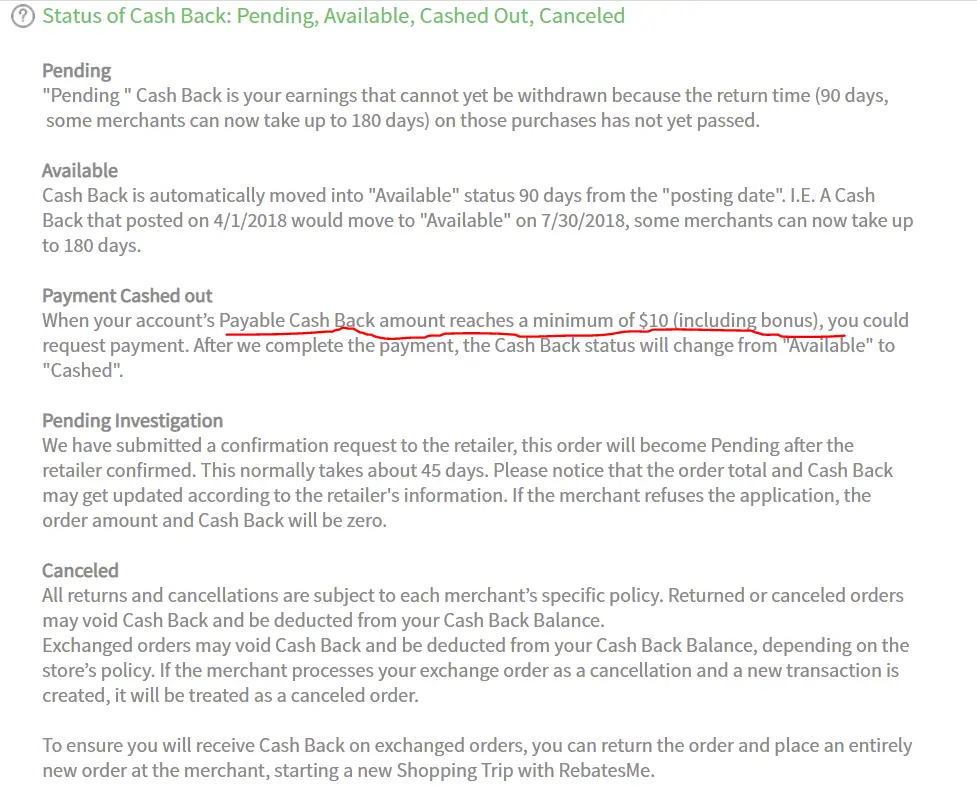 How to Cash Out via Gift Card
Login to your RebatesMe account and go to "My Cash Back & Bonuses" Section
Click on the "Cash Out" button at the top of the screen
To cash out via a gift card, go through the gift card options listed on the page. The amount listed on each gift card section
You will receive an email confirmation that will contain your gift card code once you do.
After completing the steps successfully you have to wait for 24 hour and the gift card will be in your mail. In my case I got my gift card within 2 hours of time.
Conclusion
RebatesMe offers is one of the best cashback sites to use if you want to start earning cash back on your purchases. Get rewarded for simply telling your friends where to get the best items for the best price.
With more than 4,000+ vendors to choose from, you'll more than likely find anything you're looking for.
FAQ