There is a thrill that comes from making raw ingredients come together to create delightful flavors. India is home to such vegetarian delights all over – each state and community has a dish that is unique to them. In this article, we will be covering ten such Indian dishes that bring something new and exciting to the table – be it their unexpected ingredients, ease of cooking, or wonderful textures.
1.Navratan Korma
Just like the court of Mughal emperor Akbar that boasted of nine esteemed gems or courtiers, this creamy, decadent Indian dish boasts of nine different types of rich ingredients. Ranging from nuts, vegetables, and fruits, this dish is the epitome of royalty and you can make it on occasions like Diwali or Eid.
Recipe for making Navratan Korma
It will take around fifteen minutes to prepare the raw ingredients, and it will take half an hour more to cook everything well together.
First of all, we need to make the onion paste. It will act as the base of this dish. So, you have to cube a cup of onions and add them to boiling water for a couple of minutes. Drain and cool the onions. Then, you have to blend them with around 12 cashew nuts and two green chilies.
Now, fry some cashews and almonds in a tablespoon of oil. You have to add paneer and raisins to this pan after the cashews turn brown. Remove the raisins when they swell up.
Wash and boil the cauliflower in hot water. Half boil the potatoes and then steam them together with the other six to eight vegetables that you have chosen. Try not to overcook the vegetables.
Now, you have to stir fry bay leaves, cumin, cardamom, and cloves for a minute.
Add ginger-garlic paste to it and stir until the rawness is gone.
Add the salt and spices, and then the ground paste too.
You have to sauté everything until the oil begins to separate.
That is when you add a cup of water to bring the pan to a boil. Add the half steamed vegetables now as well.
Add milk cream, raisins, paneer, and pineapple if you want.
Garnish the dish with pomegranate, coriander, etc.
You can serve Navratan Korma with naan, paranthas, a plate of jeera rice, Kashmiri pulao, or ghee rice.
2.  Baingan Ka Bharta
Roasting baingan or aubergine over the flame totally elevates its taste instantly. If you choose the right quality of baingan and roast it on an open flame, the end result will have you smacking your lips in delight!
Recipe for Baingan Ka Bharta
As the baingan has to be roasted, there are three distinct ways to go about it – you can roast it on a gas cooktop, grill it, or roast the eggplant in the oven.
As the first method is most common and accessible, let's go with that. You have to place the eggplant on the burner (on low flame). Keep turning and shifting the eggplant as it roasts. Keep an eye on how well its skin is being charred. Just as the flesh begins to fall into itself, you will know it is done.
Now, you have to wait for a while till all the heat dissipates and the eggplant cools down completely.
When that happens, you need to peel off all the charred skin from it.
Now, you can gently mash the insides together and keep it aside.
Take a pan and add some oil. Heat it for a while and then add cumin seeds. Wait till they pop.
Add onions and stir them together until they go translucent. Add ginger and garlic now.
Add the tomatoes and all the spices you want to now. Stir well with some water to allow the masalas to incorporate easily.
Now, you can add the mashed eggplant to this and stir for a minute or two.
Garnish with fresh coriander. Serve with ghee laden rotis!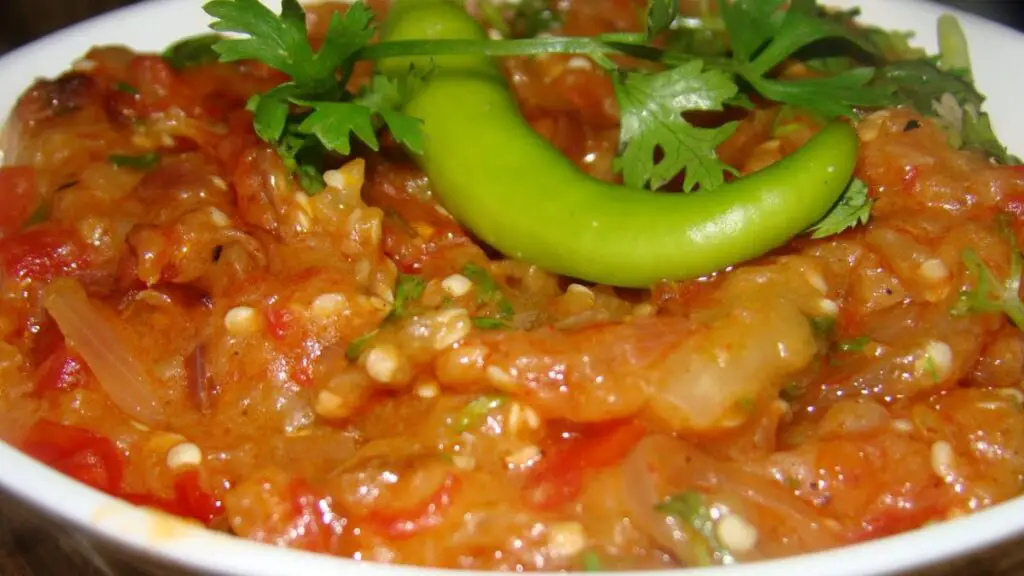 3.  Malai kofta
Malai kofta is the perfect solution for you on days when you want to make something smooth, creamy, and spicy as a break from the routine of potatoes and ladyfingers. This curry is a bit tedious to make, but when you gorge on a cup full of it with hot rotis – all that hard work will feel absolutely worth it.
Recipe for Malai Kofta
The first step in this recipe is to pressure cook two tomatoes with ginger, ½ tablespoon of poppy seeds, cashew nuts, salt, chili powder, and two tablespoons of melon seeds.
Once the tomatoes have broken down properly, you have to wait for the mixture to cool down. Now, blend it all together with ⅛ cup of yogurt. Keep it aside in a separate bowl.
Strain the mixture and transfer it to the stove. Add a cup of whipped cream and some garam masala.
Boil some potatoes. Mash them together and add them to a bowl with crumbled paneer, salt, masala, coriander, and cornflour. This will be used to make the balls (Kofta).
If you want to make them more rich or heavy, you can add raisins and cashews to the mixture as well.
Now, you just have to mix everything together really well. Make balls of suitable size as you please.
Now, you can either fry the balls in ghee or regular refined oil. The former may make the dish heavier, but it will also be tastier and more heavenly smelling for sure.
Once the oil has been heated sufficiently, you have to gently place the koftas in the oil. Fry them well until they turn golden brown.
All that's left to do now is put everything together. Take a bowl, pour the gravy over the golden brown koftas. Just before serving, garnish it with coriander leaves and fresh cream. Eat with basmati rice or chapatis.
4.  Chana Masala
Chana Masala reminds so many Indians of schooldays – the lunch packed with this delicious and aromatic dish that wafted all around the classroom. Chana Masala is a tasty dish you cannot go wrong with – you can have it with rice, roti, naan, etc., and that is why it is a staple for lunch boxes but also for celebratory events like weddings, festivals, and birthdays.
Recipe for Chana Masala
Rinse ¾ cups of Chana Dal (chickpeas) thoroughly. You have to soak them in water overnight, that is for at least eight hours.
Cook them in a pressure cooker with 1 ½ cups of water and wait till the whistle goes off. You can take a ladle and press the back of it on to the chana to check whether or not they have softened satisfactorily.
Now you can put the cooker aside for now. After that, you have to sauté onions until they turn golden brown. Use a tablespoon of oil. Add garlic and ginger paste as well. Stir until the rawness goes away.
To this, you have to add tomatoes. To help them break down quickly, add salt. Sauté them until they soften. Add all the spices you want to now.
After this mixture cools down completely, you can blend it together into a smooth paste.
Now, you have to heat bay leaves, cinnamon, cloves, and cardamom for twenty seconds.
Add the paste and masalas to this pan. Keep stirring and cooking until you see the liquid start to move away from the sides and collect in the center.
That is when you have to add the chickpeas to the pan. You can add the stock from the chickpeas too. It brings a richness to the taste that normal water won't be able to.
Bring the contents of the pan to a boil. This will allow you to stop cooking when the chana Masala reaches the consistency you like.
Taste it once to determine if anything is missing – and add accordingly. You can also add amchur and Kasuri methi. They will bring a tangy flavor to the dish that will make it more memorable. Plate it and garnish with fresh cilantro leaves.
5. Manathakkali Vathal Kulambu
Known for its perfect balance of spiciness and tanginess, this Kulambu is a dish made from sunberries or black nightshade.
Manathakkali Vathal Kulambu is a very unique dish that makes use of tamarind, jaggery, and many other spices to give you that terrific and unforgettable experience.
Recipe for Manathakkali Vathal Kulambu
First of all, you have to heat a tablespoon of oil in a pan. Add asafetida, fenugreek seeds, tur Dal, and a tablespoon of the Manathakkali Vathal too. Wait till they all give off a golden brown color.
After this cools down fully, you can take a pestle to grind everything to a fine texture.
In another bowl, soak some tamarind in hot water. Extract all the pulp out of it.
Now, take a pan and fry the rest of the manathakkali Vathal with gingelly oil. Keep roasting them until they swell and pop in the pan. Drain the oil and separate the berries.
In the same pan, you now have to add mustard seeds. Roast them until they sputter. When that happens, you can roast curry leaves and dry red chilies.
Now, add sambar onions and garlic. Sauté them. Add all the spices like sambar powder, red chili powder, and salt, etc.
Add the tamarind extract to the pan. Heat it until it comes to a boil.
You can now add the roasted manathakkali Vathal. Then, you will see that they float up to the top.
Later, now you can add the ground powder. Mix well and cook over low flame for around seven minutes.
As the last important step, you have to add jaggery. Turn off the flame and let the dish be for five minutes.
You can serve it with rice and papads.
6. Undhiyu
Undhiyu is a unique dish belonging to the vibrant cuisine of Gujarat and it is cooked in different ways all over the state. Filled with vegetables and spices, Undhiyu is a quite interesting vegetarian dish. Owing to its ingredients it is made mostly in the wintry months around Makar Sankranti and Holi.
Recipe for Undhiyu
Mix a cup of gram flour, salt, 1¼ cup fenugreek leaves, 1/2 teaspoon red chili powder, 1/4 teaspoon turmeric powder, a pinch of baking soda, 1½ teaspoons of sugar, 1/4 teaspoon of lemon juice, 1 tablespoon of oil together to make a soft dough. Add water as needed.
Grease your palms with oil. Make ten to twelve oval-shaped muthiyas out of the dough. Over medium flame, heat some oil and fry them.
You have to deep fry three to four muthiyas at a time. Do it over a medium flame so that they cook well from the inside too. Let them turn golden brown and crispy.
Now, gather all the vegetables you are using to make Undhiyu – potatoes, peas, eggplants, carrot, sweet potatoes, etc. Wash them well and peel the ones required. Cut the brinjals and potatoes in large pieces.
Now, you have to take a pressure cooker and heat half a cup of oil in it. Sauté a pinch of asafetida for ten seconds. To this, you have to add yam, salt, Valor papdi, green peas, surti papadi, and Tuvar lilva. Mix everything well together for three minutes.
Add the spices and cook for three more minutes. Now, add the eggplant and potatoes as well. Pour some water and add the muthiyas too.
Wait for three whistles before taking the cooker off the stove. Garnish with chopped coriander and serve with puris.
7. Aloo Fry
Who doesn't love aloo fry? This versatile vegetable can be tastefully added to a hundred different recipes, but undoubtedly, its fried version seems to be a classic hit. You can have aloo fry with rice, roti, paranthas, etc. or even use it as a side for your favorite dal chawal recipe.
Recipe for aloo fry
Wash the potatoes and peel them properly. Cut them or dice them into small pieces. You can put them in a bowl with water until you use them again. This will allow the starch to leave the potatoes so that the pieces do not stick to each other.
Crush a piece of garlic and wash the curry leaves too.
Now, take a pan and pour oil in it. Add cumin seeds, mustard, chilies, etc.
Remove the water from the potatoes and add them to the pan. Stir and fry them for three to four minutes. Use medium flame and add turmeric powder too.
After that, you can lower the flame and cover the pan. After five to seven minutes, prod the potatoes to see if they are cooked well. They shouldn't offer much resistance.
Add the masalas like garam masala, etc. and stir well to incorporate them entirely. Garnish with fresh cilantro and you are ready to go!
8. Allahabadi Tehri
Tehri is a tasty rice dish that is enjoyed across the state of Uttar Pradesh – it had a number of vegetables in it and allows you to experiment with it as you please. That is why you can have it for breakfast, lunch, or dinner by adjusting the richness and heaviness of the dish accordingly.
Recipe for Allahabadi Tehri
Wash a cup of basmati rice and soak it in water for twenty minutes. To prepare the soya nuggets, soak them in warm and saline water for fifteen minutes.
Chop the onions, chilies, and tomatoes. Peel, wash, and cut the capsicum, potatoes, and carrots too.
In a pressure cooker, heat some oil. Add the onions and chilies. Let them cook for a few minutes. Add cashews and fry them for one minute. Now, add the chopped tomatoes to it. Fry for a few minutes. Add all the spices to this mixture and mix them all well together.
You can add all the vegetables now. After a few minutes, add the soya chunks as well. Make sure to remove as much water from them as possible before doing so. Fry them together for two minutes.
Now, add the rice to it as well. Remove all the water before doing so. Add a cup of water to the cooker. When you see that the water is coming to a boil, put on the lid and wait for a whistle.
If you want to experiment, you can add paneer, baby corn, beans, etc. Try different variations each time!
Lo and behold, your Tehri is ready! You can garnish with chopped coriander leaves. To enhance its taste, even more, you can serve it with raita, curd, chutney, papads, etc.
9. Lauki ki Yakhni
Lauki, or bottle gourd, ki Yakhni is a Kashmiri dish that has a yogurt base carrying the explosion of different flavors and textures. This gravy is different from others in that it does not contain garlic or onions – but it does have cardamon and cloves which extend a different kind of richness to it.
Recipe for Lauki ki Yakhni
Firstly, you have to wash and cut the lauki into small pieces.
Now, you have to heat some oil in a pan. Add the lauki pieces to it and stir them until they turn light brown. When you notice the browning, turn off the heat and keep them aside.
To the same pan, you now have to add cloves, carom seeds, cinnamon sticks, and some more oil. Cook them all until the aroma starts rising up from the pan.
Now, you have to put the flame on low and add water to the pan. Wait until it comes to a boil.
Add the lauki pieces back to the pan now. Keep the water boiling as you add asafetida, ginger powder, and fennel powder. Stir them together.
Whisk some yogurt in a bowl and add it to the lauki.
You now have to thicken the consistency of the lauki. For this, increase the flame to medium and add salt as needed.
You can garnish with coriander leaves. Serve lauki ki Yakhni with paranthas and aamras.
10. Shukto
Gatherings and occasions in Bengal are said to be incomplete without the preparation of this mouth-watering dish. Made with milk and a huge variety of vegetables, Shukto is something you can have with no restraint – it is absolutely healthy and nutritious in so many ways.
Recipe for Shukto
First of all, you need to gather the vegetables to make shukto. These include a drumstick split into two, a bitter gourd cut up, a raw banana that you have to dice, a peeled and diced carrot, peeled and cut potato, and a ridge gourd that you also have to peel and dice.
Place all the vegetables inside a pressure cooker. Add ¼ cup of water and some salt to it. Wait for three to four whistles to come from the cooker. After that, you can try to release the pressure from it as soon as possible. You can open the lid and set the cooker aside for the time being.
Now, to prepare the paste, take a teaspoon of mustard seeds, one to two teaspoons of water, and two teaspoons of poppy seeds.
Now, in a pan heat some mustard oil. Add bay leaves, ginger, green chilies, and red chilies. Fry them well together for a couple of seconds.
To this, you have to add the paste, Turmeric powder, vegetables, salt, and sugar. Add around ¼ cup of water to it. Bring everything to a light boil and you can now stop at the consistency you desire. Add milk and water as needed.
Once you are satisfied, you can take it off the heat.
Try These Indian Recipes Vegetarian Dishes
We all love to experiment in the kitchen. Cooking up a meal full of love and care for ourselves and our loved ones is surely a privilege. That is why these recipes will help you navigate the different cuisines of India with a renewed vigor and zeal. They tell us a lot about the cultures they arose from. In short, each recipe tells a tale and is thus, an opportunity for learning. Keep your mind and mouth open to try out different recipes by ordering from top delivery apps so that you keep growing – as a cook and as a foodie!