Buy bitcoin with cash at a participating Coinstar Bitcoin ATM is easy. Coinstar collects coins and exchanges them for cash. In the Coinstar machine, you can exchange your coin for cash or a gift card.
Would you prefer hard cash or a gift card over Coinstar? This is the best option if you don't want to carry around heavy coins. Let me show you how it works.
You can find Coinstar machines in grocery stores, gas stations, malls, and even some restaurants. At any of these stores – including groceries like Walmart – your change will automatically go into the coin slot on the side of the machine, eliminating the need to carry it around.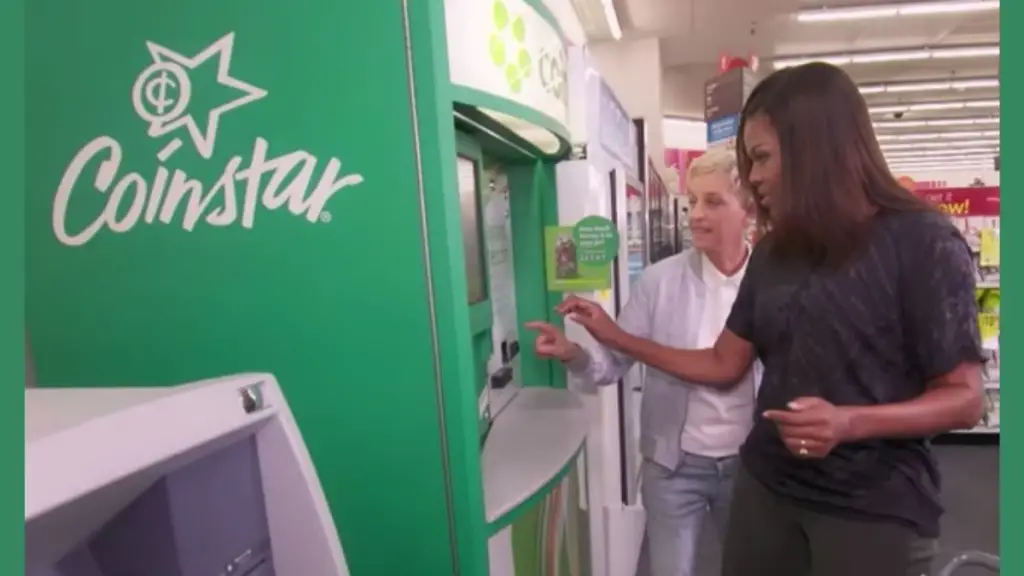 How does Coinstar Bitcoin Work
Cashing in loose change is easy with Coinstar. Put your coins into Coinstar kiosks, and let us handle the rest. Coinstar mentioned the following points:
Most locations in the United States offer free coin counting if you cash in your coins for an eGift Card or donate to a charity. From the Coin Desk, you can choose between three convenient options: cash, which has an 11.9% fee (fees may vary by location).
Ensure your coins are clean, dry, and free of dirt, debris, and other items that may jam your coin tray or prevent counting. Coins should be added to the tray. Guide your coins into the slot by picking up the handle.
Unrecognized coins should be checked in the return tray. You will receive a paper voucher for cash or an e-gift card voucher with a unique code once all your coins have been counted. Upon donating, you will receive a receipt.
Please take your voucher to the cashier if you have chosen cash. The cash voucher should be issued on the day it is issued. You can use the unique code printed on the top of an e-gift card voucher to shop at retail stores, restaurants, or online (Amazon). Keep a receipt if you donated coins to charity.
Fee-free Coinstar
It probably won't happen every time. In most places in the United States, you can exchange your coins for an e-gift card and get a free coin count. Coinstar has more than 20 online stores and restaurants. There is an 11.9% coin processing fee if you exchange your coins for cash. Locations may charge fees.
Steps to redeem bitcoin on Coinstar?
Redeem and manage your crypto in 3 easy steps!
Download the Coinme app for Android or iOS.
Create an account and verify your identity.
Redeem your Coinstar crypto purchase in the app.
How to convert your coins into a gift card
With your small savings, Coinstar now lets you exchange your coins for electronic gift cards for some of the most popular brands around you, such as Walmart, Amazon, and many others.
Insert your coin, select your desired gift card, and will print a receipt with a unique code by a machine that you can use at the same store as you use a physical gift card.
Stores that accept Coinstar e-Gift Cards
Keep your coins saved whenever you want to redeem your coins for an e-gift card to one of Coinstar's store or restaurant partners.
Coinstar offers paper eGift Cards with a unique code. As with plastic gift cards, they work the same way. You can use your code at a store, restaurant, or online shopping.
| Stores | Minimum | Maximum |
| --- | --- | --- |
| Amazon.com | $5 | $1,000 |
| Applebee's | $5 | $500 |
| Best Buy | $5 | $2,000 |
| GameStop | $5 | $500 |
| Home Depot | $5 | $2,000 |
| iTunes | $5 | $500 |
| Southwest | $25 | $500 |
| Starbucks | $5 | $500 |
| Steam | $10 | $100 |
Franchise of Coinstar
With over 20,000 kiosk locations across the US, Coinstar is a convenient and reliable coin for large-scale merchants, grocery stores, and drug stores. Offerings include coin-to-cash, coin-the-gift cards, and charity gift options. Counting services are provided.
There are 20000 Coinstar kiosks across four countries, which means you can find one in a grocery store, mall, restaurant, supermarket, gas station, etc. Find your kiosk by city or zip code. It's easy to do. To find a Coinstar location instantly, go to the Coinstar kiosk finder. You will then see which stores have Coinstar kiosks based on your zip code or city.
At Coinstar kiosks, you can add cash to Amazon Cash
It doesn't matter if you don't have a credit card or debit card. You can add Coinstar cash to your Amazon account and buy anything. There are no charges for adding cash to your Amazon account. With Coinstar kiosks, you can now add cash to your Amazon Balance and enjoy the same benefits as shopping online.
Here's how it works:
On the Coinstar home screen, select Cash Services
Please enter the phone number associated with your Amazon account
Add cash values between $5 and $500 to your Amazon balance by inserting bills into the cash acceptor
Shop Anything on Amazon.com
Buying Bitcoin at Coinstar Kiosks Powered by Coinme
As the first Bitcoin ATM company in the U.S., Coinme collaborates with Coinstar, which operates the country's most significant bitcoin kiosk network. Below are some steps to follow:
Here are four easy steps to follow:
Sign up for a Coinme account
Locate a Coinstar kiosk
Cash should be inserted into the kiosk
Instantly redeem & receive BTC
You can buy Bitcoin from Coinme at Coinstar Kiosk by following these steps:
Bills should be inserted into the machine
Please enter your phone number
Coins are redeemed with a voucher
Redeem your voucher
Please enter your email address, phone number, full name, and code
Then it would be best to verify your identity (powered by Onfido). You can use your passport, driver's license, or ID.
Selfies are required
The verification process takes under 5 minutes (machine learning?), and you are asked to create a Coinme wallet
The bitcoins are transferred to your wallet as soon as you enter your PIN.
Bitcoins can be received and sent from there.
Conclusion
You can get cash for your coins with Coinstar. Let Coinstar count all those loose changes you've been holding onto by pouring your coins into the kiosk. Coinstar offers more than 20 services, and you can quickly locate Coinstar kiosks using a Google map or a local map.
FAQ on Coinstar Bitcoin