Wanna earn on each product you purchase? Then sign-up with the BeFrugal app to get cashback, coupons, and daily deals.
The BeFrugal site comes up with the best features and provides you with cashback offers, coupons, and rewards. It lets you earn cashback on each product you shop through its app. In its various offers, it also gives you a sign-up and referral bonus proposals to provide you with some more cash from it.
Now, it's time to explore BeFrugal, BeFrugal Referral Bonus, or a sign-up bonus, and also includes the guide to claim these offers.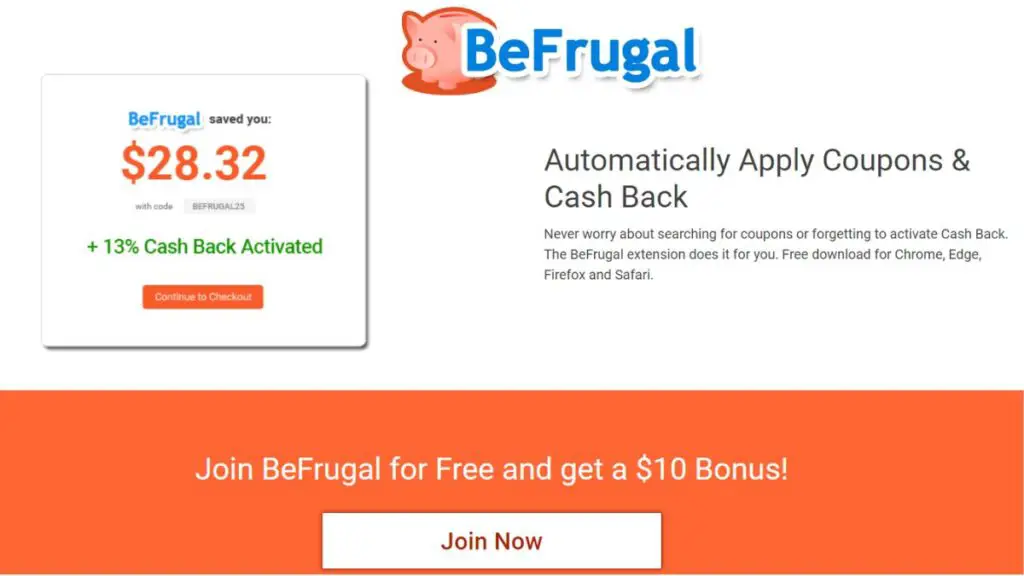 About BeFrugal
BeFrugal app is designed for users who want to earn some extra punch of money by online shopping. You do not benefit from its cashback offers, but it also provides you with various other rewards, coupons, and daily deals.
BeFrugal offers you to purchase your fave product from 5000+ top stores like Amazon, Walmart, eBay, Sephora, Macy's, and much more similar to these brands. This means you definitely got your product from this huge collection of top brands with the best cashback rates.
BeFrugal was introduced to the world as a coupon market, but now, it's upgraded and has its name on the top cashback sites. You just have to click the link below on your fave product and get the cashback to your account.
BeFrugal offers different ways to get your cashback. It provides you with a direct deposit on your account, Venmo, Zelle, PayPal, and milled check, and also offers you a gift card, which means you do not have to worry for your saving it gives you various ways for withdrawal.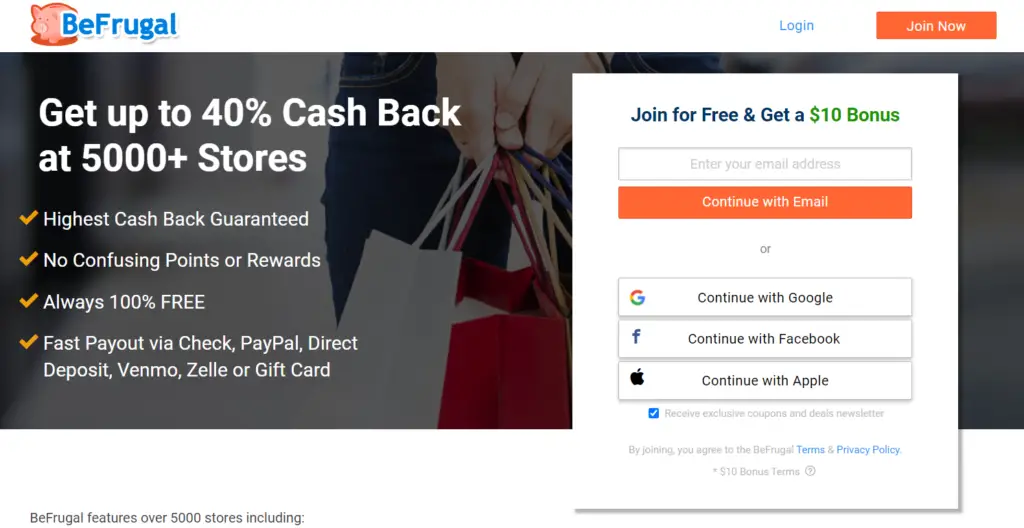 Our related article is here to earn $2000 instantly.
BeFrugal Sign-Up Promotion: Get a $10 New User Bonus
BeFrugal offers you a sign-up bonus, letting you get $10 by creating an account on BeFrugal for free. You must have an active referral link or a code for signing up and have to make a purchase to become qualified for the sign-up bonus.
Our related article is also there to earn a Sign-Up bonus.
Steps To Claim BeFrugal Welcome Bonus
To earn the bonus mentioned below, the process will guide you to never miss this deal:
First, you have to download the app.
Open an account by using a referral link or enter the code "XBECNYL".
Complete the account-making process by giving some basic info about you.
Now, you can see your reward on your home page.
To get this bonus on your account, make a purchase of at least $25 within 90 days after opening an account.
BeFrugal Referral Promotion: Get a $10 Referral Bonus
If you have BeFrugal on your then participate in the BeFrugal Referral Program and start getting $10 from here also after every qualified referral. Your referred person will also earn $10 if it follows the above sign-up procedure exactly.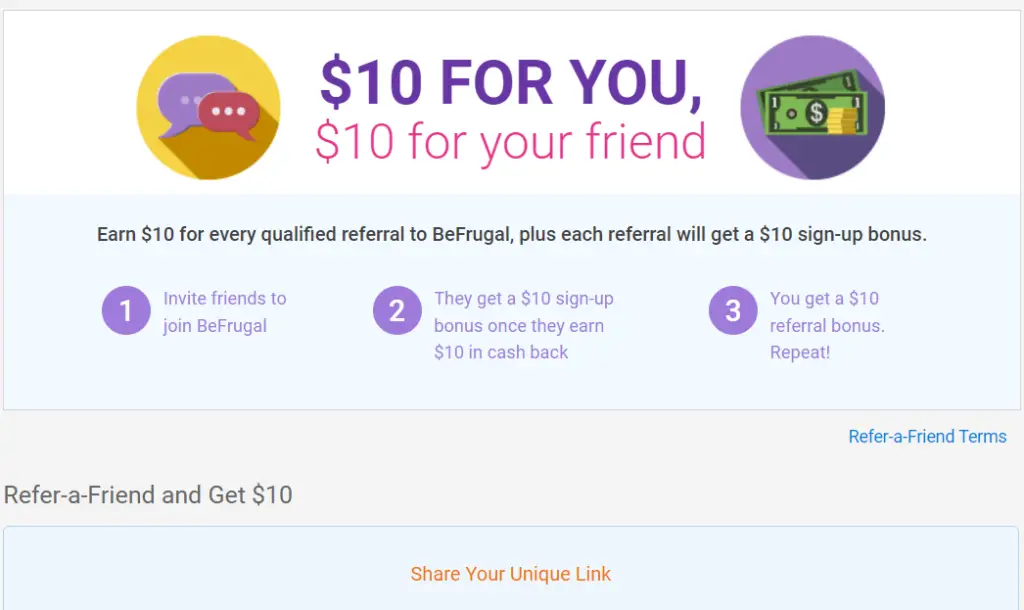 Steps To Earn A BeFrugal Referral Bonus
And find for the refer a friend option.
Whenever you find it, click on it to copy your unique referral link.
Now, share it with your family and friends.
When any of your family members click on your link to create an account, you will receive a bonus of $10.
Condition: To get eligible for the referral bonus, the referred person must have to make a minimum purchase of $25 within 90 days. On only this condition, you will receive a referral bonus or the referral person will also earn a sign-up bonus. Your countdown starts after you create an account on BeFrugal.
How BeFrugal Saves Your Money?
BeFrugal offers you a lot of opportunities to secure your money. To access these deals you just have to go through its sign-up procedure.
Online Purchases: BeFrugal contracts for you the top 5000+ brands including Sam's, Macy's, Walmart, Nike, eBay, and many more. By shopping with these stores through the app, you get cashback on each product you purchase.
Coupons: If you are searching for coupons, then BeFrugal is also there to provide its services for you. BeFrugal offers 1000 coupons for many brands. It also gives you a browser extension that finds for you the best coupons and automatically applies them to your purchasing products.
Restaurant Deals: You can also benefit from its restaurant promotions, having many restaurant deals for its customers.
Sign Up And Referral Promotions: It also offers you earnings by its sign-up and referral promotion. Give and get $10 through BeFrugal Sign Up and Referral Programs.
Conclusion
BeFrugal is a great option to save money. You do not get rewards just by shopping with an affiliate link, but it also has daily deals and surprising coupons which save your money on expensive products. You also receive savings on everyday groceries and restaurant promotions. In short, BeFrugal is the best pack to save your money and get the advantage of its unlimited deals.
It also offers a sign-up bonus and referral bonus offers to add a few bucks of money to these programs. If you also love to save, then go sign up for it, participate in its referral program and earn rewards.
FAQs