Ultra Mobile is a T-Mobile MVNO, and it focuses on providing low-rate plans to those requiring international calling and messaging. Unlimited global calling and texting on all single-line monthly plans are available to more than 75 locations.
By providing Wi-Fi Talk and Text, Ultra Mobile was able to boost the coverage for its customers in November 2016. The function enables those with select Android phones to place calls and text messages over Wi-Fi in areas where network coverage by T-Mobile is unreliable.
The company powers Mint SIM, and at one time, it powered Univision Mobile, and it was once operated by Univision Mobile. However, Ultra Mobile announced in May 2017 that it will merge with its sister company, Univision Mobile.
Ultra is a company committed to developing authentic, creative wireless communications experiences for people around the world. We provide connectivity plans that break down barriers and allow our customers to communicate with their communities easily and affordably regardless of where they are.
Ultra Mobile focuses on offering unrestricted talk, text, and data services that are easy and cost-effective for the approximate 40 million foreign-born people living in the United States who frequently call or text internationally to remain connected with family and friends around the world.
We aim to build positive, mutually rewarding partnerships with our clients, suppliers, distributors, and co-workers; to create differentiated communication products that improve our societies, our families, our companies, and the global communications industry as a whole.
On what network does ultra mobile work?
Coverage Map: The easiest way to get an idea of the coverage frequency of Ultra Mobile in your area is through its coverage map.
Type your zip code in the input bar, and the map will zoom in to that spot. An indicator of strong coverage strength is when the area (and surrounding areas) in which you can use your phone is all green.
You can also click on the tab "My Locations" and then add up to five different locations. Another useful option is to click on the "Show route" option, and a line connecting your destination will be drawn. That's particularly useful if you're traveling a lot.

Another way to find out whether Ultra Mobile has sufficient coverage in your area is to compare their coverage strength to the coverage quality of another company in which you have already serviced. Ultra-mobile operates on T-mobile's T. rex-sized network.
It has no proprietary network. Rather, it piggybacks off T-Mobile's wireless network to provide national coverage. That's good news for you if you want to download crystal clear videos and games without any unpleasant problems of latency.
It operates on the country's fastest network Verizon may take the trophy overall for the best wireless network, but there is a major T. Rex (T-Mobile) hot on its heels.
In its new Mobile Network Experience Survey, Open signal found that T-Mobile had the highest upload and download rates of the four major carriers. T-Mobile also came to the 4 G coverage in a close second.
What are the best Ultra mobile plans?
Unlimited data classic plan
Unlimited, full-strength plans aren't much cheaper than Ultra's $49 Monthly plan. The plan allows you to make unlimited talk, text, and email on the second-best network in America, with a massive 50 GB data deprioritization threshold (that's the amount of data you'd have to use before your speeds are actually slowed down).
Furthermore, in 80 + countries, you get unlimited calls to landlines and cell phones, and you can repurpose any portion of your data for hotspot use. In short, a great plan.
Best Wireless Ultra Plans: 3 GB 3-Month Plan
The 3 GB 3-Month Plan from Ultra Mobile is their most affordable offer, which offers you 3GB of data with unlimited talk and unlimited text for only $11/month for six months. Within this price range, few carriers can offer Ultra's combination of a wide network (T-Mobile) and international roaming options (80 + destinations free). You'll also get an overseas roaming credit of $5 for use abroad.
Do they have any family plans?
One important thing to note with Ultra Mobile is that they do not sell multi-line family plans — which is why our platform doesn't have the choice available. When you're looking for a group package on a prepaid MVNO, you'll need to look elsewhere.
Take, for example, the 4-line Metro by T-Mobile (formerly MetroPCS) $60 Unlimited Service, just $120! The plan includes a 15 GB mobile hotspot allowance, 100 GB Google One storage allowance, and all Amazon Prime subscriptions.
Which ultra mobile plan should you buy?
Ultra Mobile is a low-cost carrier offering fantastic international services on the excellent network of T-Mobile. The lack of family plans is the biggest drawback of going with Ultra. As mentioned, the two favorite Ultra Mobile plans are the $49 Unlimited Monthly Plan and the $11/month 3-Month plan.
PayGo plan
PayGo allows you 30 minutes of talk, 30 texts, or any combination of the two for just $3 a month. When you hit 30, there are only 10 cents each for extra minutes and messages. Just pay for what you're using. No contract is in place, so you can bring your own phone.
How to check your data?
If using a non-Ultra cell phone, users can check their available data and minutes or cash balance, transfer plans, add pins and pay with debit or credit card on the Ultra Mobile service portal or call 222 from their Ultra Mobile phones or call 888-850-5977.
By sending an email or SMS to 6700 with the term BALANCE as the message, users can keep tabs on their Ultra Wallet balance and expiry dates of their plans for free. Users can attach PINs, such as RECHARGE788676753453453, to their accounts by sending an SMS reading RECHARGE plus the PIN number to 6700. In order to check their data balance, users need to send a message to 6700 with the Data to see how much data is being used and how much is left.
The international plan tier comes with a uTalk-a feature that gives you an option of 39 additional destinations for up to 1250 bonus minutes.
Customer service is available daily from 6 AM to 6 PM, by phone, email, and chat.
Ultra-mobile sim card
Ultra Mobile, AT&T, and FreeUP Mobile Prepaid Plan sim cards come in Standard, Micro, and Nano SIM card sizes. You can choose the size you need, and your phone will work well with either of our Ultra Mobile Plan, AT&T Prepaid Plan, or FreeUP Mobile Plan.
There is no difference between the SIMs as far as function is concerned. The only true difference here is the size.
If you have a phone that takes a nano-SIM, then press the smallest size card from the holder of the SIM card and insert it into your phone. Micro SIM is compatible with most newer smartphones and mobile phones. Nano SIM is compatible with all models of the iPhone. If you have a phone that takes a micro SIM, then press the medium size card from the holder of the SIM card and insert it into your phone.
How to recharge your account in ultra-mobile?
If you have an Ultra Flex for a family plan or an ultra Flex for an individual plan, in the following ways you can recharge your account:
Online: Visit our site and select the "Recharge" tab in navigation on the left-hand side.
By Phone: Call Ultra Mobile Customer Service at 888-777-0446 to recharge over the phone or simply dial 611 from your Ultra Mobile phone.
With Ultra Retailer: Any Ultra Retailer will help you recharge your individual or family plan monthly or multi-monthly. To find the nearest Ultra Retailer, please search our store locator.
Remember that if you are an Ultra Flex for the family plan's parent having the "Pay for Family" setting active on your account, you will be liable for recharging each member of the family.
SIM cards and service plans for Ultra Mobile are available via the company's website as well as in-store through retail stores such as Target. Subscribers can frequently find greatly discounted service plans and SIM cards from Amazon.
Phone supported by ultra mobile.
Ultra-mobile offers customers the option to bring their own compatible unlocked smartphone with them. To work with Ultra Mobile on your mobile, you'll need an unlocked GSM phone that supports one or more of the following frequencies:
1700/2100 MHz (3G / 4G or LTE depending on location)
1900 MHz (2G or 3G / 4G depending on location)
850 MHz (2G)
Customers who are looking for the best experience should own a device that supports the frequency of 1700/2100 MHz. Having this frequency would mean that Ultra Mobile's nationwide network gets the highest data speed possible.
If your phone supports 1900 MHz, in most parts of the world, you will be able to get 3G/4 G data rates but not nationwide.
Ultra-mobile Highlighted features
Coverage is offered on the T-Mobile network nationwide.
Prepaid service-no contract, credit check, or activation fee.
Carry your own GSM-compatible phone, or buy one from Ultra Mobile.
Enabled use of Mobile hotspot. Unlimited global texting and unlimited calls to over 80 + countries.
Global roaming at flat data rates per minute/text / MB.
The international plan tier comes with a uTalk-a feature that gives you 39 different destinations up to 1250 bonus minutes to choose from.
Customer service is available daily from 6 AM to 6 PM, by phone, email, and chat.
Customer support service of Ultra-mobile
Customer service is available via the internet, email, and automated chatting. If your problem is not solved by automated chat, your details will be forwarded to a support representative who will then contact you about your question.
Please contact 888-777-0446 or email support@ultramobile.com for questions concerning service, activation, or coverage.
For affirm payments and financing issues, please contact: help@affirm.com (Mon-Sun: 7 AM-7 PM PST)
Customer reviews on ultra-mobile
Reviews of Ultra Mobile indicate a pretty mixed customer service experience. It's an overall rating of 4/5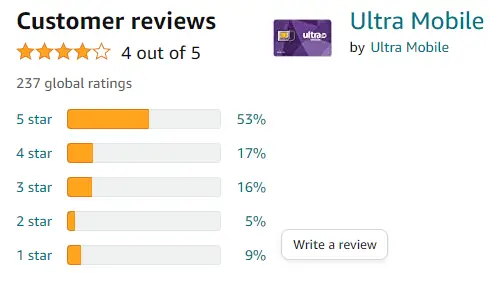 Conclusion
Ultra Mobile provides huge savings on coverage on the same network as T-Mobile.
Even better, if you're making a lot of calls to international locations and need a great rate on those calls, you'll save a bundle. If you are looking for unlimited data, it is a good deal too.
If you want to see what real customers are doing, check out the customer feedback on Ultra Mobile.
FAQ on ultra-mobile