2020 has been a real disaster for everyone; it made people sit in their homes without any income. More than 3 billion people logged into Facebook for entertainment and connecting to their friends and family during the lockdown. It is not at all; in the first week of lockdown, these 3 billion people spend four hours a day on Facebook. The search for work from home or passive income ways has increased to 733% approx.
People are using social media for entertainment, passing the time, and generating a passive income source through it. Well! If we are talking about making money through social media-Facebook grabs the first place. Through this social media platform, you cannot only connect to thousands of people but earn cash in thousands per day. 
It is as easy as we are talking about-like a cakewalk. All you need to learn some skills and practice to earn money. Facebook addiction undoubtedly can turn into a source of extra money without investing much money. Unlike any other type of self-employment, in this, you don't have to have significant capital in your account. 
Focus, attention, passion, intelligence, skills are enough in this method of earning money by sitting in your home comfortably. 
How to make money from Facebook? 
There are only two legit ways to earn money from Facebook. 
1. Invest capital in Facebook. 
2. Invest time, focus, and effort on Facebook. 
It's Your choice, whether you want to earn by investing capital you saved or by investing time, focus, and efforts. 
In this article, we will discuss both the above-given methods; you can choose as per your comfortability.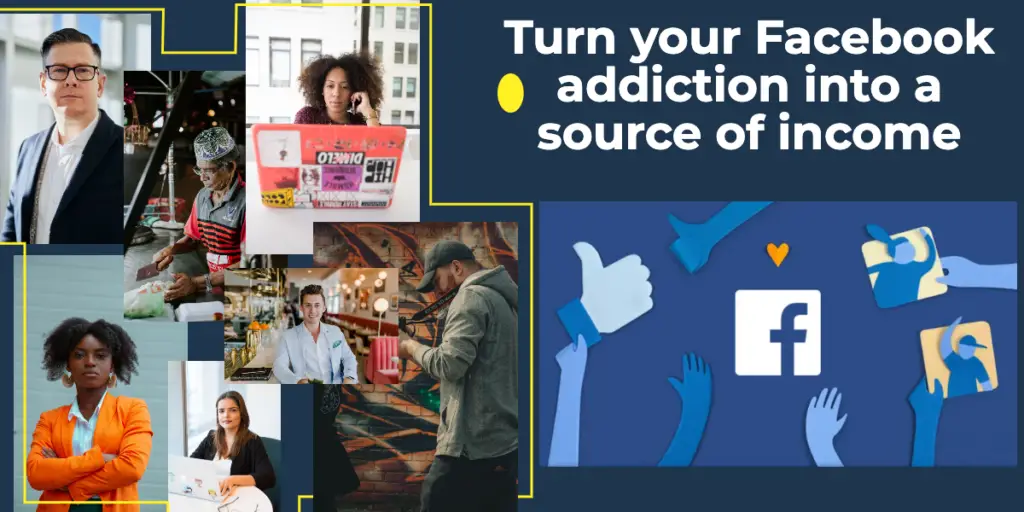 Interesting facts about Facebook
1. Facebook was Started in 2004 with the mission to give small businesses the power to build their brand and reach their audience on a grand scale. Through Facebook, people can buy or sell any product and start their online business. 
2. Facebook is a continuously growing marketing and branding platform where sellers and consumers can communicate easily. There are chatbots available that help sellers to connect with their customers and answer their questions directly. 
3. It is recently estimated by MAP (monthly active people) that more than 3.21 billion people are busy on social media platforms associated with Facebook (WhatsApp, Messenger, and Instagram). This means if you are connected with Facebook, these three options are also there to expand your business. 
4. There 2.74 billion people are now active on Facebook itself. This means if you are not using any other Facebook associated marketing & branding platforms, you are still getting 2.74 billion audiences to connect and grow. 
5. Out of 2.74 billion, 1.82 billion people log onto Facebook daily and spend more than 20minutes on scrolling and exploring. 
6. the experts claim that the growth of Facebook is still at the peak in developing countries, and it will gain over 250 million people between 2019 and 2023. 
7. Facebook is an outstanding branding, marketing, and earning platform as nearly 75% of high-income earners use it daily. 
8. More than 300 million users upload and watch stories daily that again makes it a great platform to sell your platform by showcasing your product or service if you are a seller. 
9. More than 1.4 billion user use groups created on Facebook; if you are someone who wants to start your small business with a small audience, then it would be an excellent chance for you. Now, with this fact, you also understand how to make money from Facebook groups. There are more than 10M existing groups on Facebook where consumers and sellers build a strong community to share services, passions, situations, beliefs, and expertise. 
These facts are not the end of the brilliance of Facebook; as we move with the blog, you will also know the ways through which you can earn well from Facebook. 
You might Also Read How to make your money work for you in 2020?
1. Affiliate Marketing for zero-investment business. 
This method of earning money from Facebook is quite similar to influencer marketing. Affiliate marketers are not doing any less than the influencer who is making just by sharing their views on products and services. But there is an exception in this method- you have opted. A service or product to sell your audience from a website of an affiliate network. 
All you have to do is post a link on your Facebook profile with a code and an ID embedded with the affiliate. Whenever a buyer clicks on the link and makes a purchase, the company will pay you the commission. This is absolutely a zero-investment source of income that needs some skills and time to find the right audience. 
Here the trick is to find the best and trustworthy companies that offer affiliate options and interested people who would love to buy the products and services you are selling. You can also take this method as "Promoting another company's product or service and get rewarded for that" if you don't have yours to sell, this would be the best way to earn from Facebook. 
https://www.facebook.com/BestAffiliateMarketingPrograms/
2. Sell Items on the Facebook marketplace 
Contingent to your location, you will see a broad diversity of products and services to sell on the market of Facebook. These products and services are listed in categories ranging from beauty products to automobiles to gardening to books-you will get almost every turn here. 
Facebook users can select any geographical location where they see relevant products and services for sale. For example, you can easily opt to display well to sell within a set distance from your home. You will also get the option to filter by rates and quality. 
You can easily earn good money by placing your products on the Facebook market. Maybe, you would have to enter into some price disagreements with buyers; they will negotiate. Be sure that you have a fixed price in your mind at which you want to sell your services and products. 
Similarly, there are also some local groups on Facebook where you can post your services with price and significance. While posting, to stand out, make sure your first impression is unforgettable. Do not give any chance to complain to your customer. We will elaborate on this option in the next bulletin. Keep reading.
3. Promote your products and service to local Facebook groups 
If you start a small business from home, you can post the services on local Facebook trade, buy and sell groups to get the audience's attention at a grand scale. When it comes to a local group, people often think about making money from Facebook group, well! This is the answer. 
You can choose random trade, buy and sell Facebook groups related to your business, and then post your products by describing their significance and price. This is one of the best ways to get noticed by a relevant audience and from a buyer who wants to connect with you to resell your product. This is not tough but would take some time and effort of yours. First, you need to find relevant groups to post and then a real audience. Once you get connected with an entire audience, your purse will start vibrating with good money. 
4. Sell from Facebook Page 
Here, you learn how to make money from the Facebook page. This option takes time but a lifetime investment. It is not easy to build a good relevance score of your page and the content you are posting on it. The content on your page should be relevant enough to appear in your follower's feeds frequently. 
Hence, to make money on Facebook, you need to have a page to post quality content to increase followers and audience. One successful formula helps you achieve your goal, be useful + Be reliable + sell sporadically =. Here goes the sale. 
You can go for Facebook marketing to improve the reach of your post and products. Before that, make sure you also have an organic audience. The base needs to be valuable along with the audience who are seeing your creations. It's simple, suppose you are selling pet food, but your post is often displayed on the screen of people who don't have a pet at all-will it be useful? So, before reaching the audience by advertising, make sure you have an organic audience too. 
5. Try becoming a social media manager 
Undoubtedly, Social media is here for the long run; it is not at all going anywhere. The social media platform, like Facebook, is still evolving in developing countries and raising its chance to the top the list of best marketing platforms.
Becoming a social media manager by developing new skills would be best for you if you are a social media person. Don't lose your time just by scrolling; instead, make money for your expertise.