Bundesliga live streaming on ESPN+ It's pretty easy in the USA. Streaming services that cover Bundesliga are your first step. We recommend either ESPN+ or a free trial of FuboTV if you live in the US. FuboTV and Sling TV offer live matches from Germany's top-tier league, but only fuboTV offers English commentary (Sling TV offers Spanish commentary).
On August 5, 2022, Bayern Munich will face Eintracht Frankfurt at Deutsche Bank Park in Frankfurt, Germany, to begin the 2022-23 Bundesliga season.
Through ESPN+ or FuboTV, Americans can watch most Bundesliga matches this season, including Bayern Munich's contests against Borussia Dortmund and Red Bull Leipzig.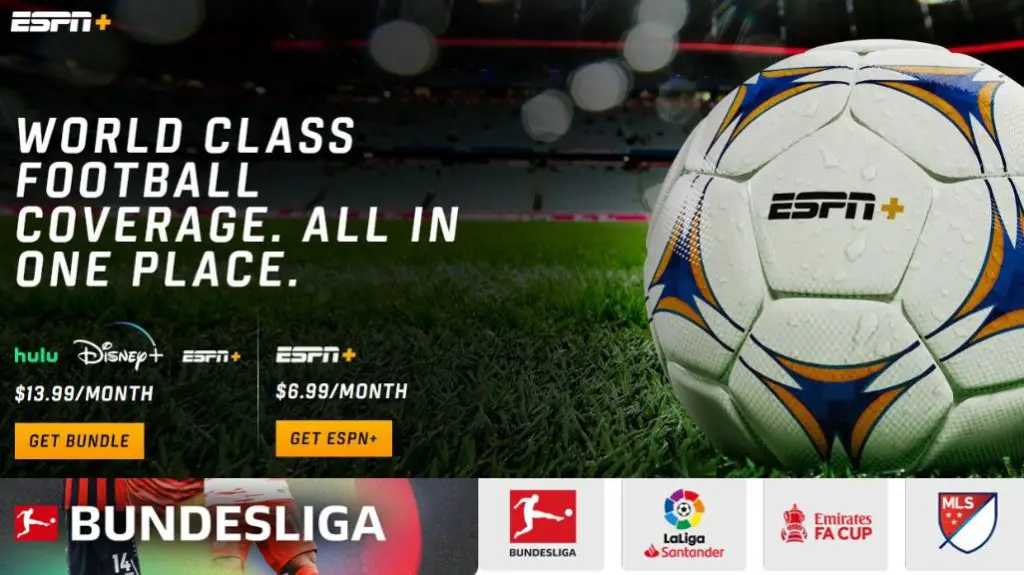 About Bundesliga
League of football. Bundesliga is a professional association football league in Germany. Bundesliga is the top competition in the German football league system. A promotion/relegation system is used in the Bundesliga with 18 teams. August through May is the season. The majority of games are played on Saturdays and Sundays, with a few played on weekdays.
There have been 56 clubs in the Bundesliga since its founding. Bayern Munich won 31 Bundesliga titles, the most among Bundesliga clubs. Borussia Dortmund, Hamburger SV, Werder Bremen, Borussia Mönchengladbach, and VfB Stuttgart are among the other Bundesliga champions.
The Bundesliga is among the top national leagues in Europe, according to UEFA's league coefficient ranking for the 2022–23 season based on performances in European competitions over the past five seasons.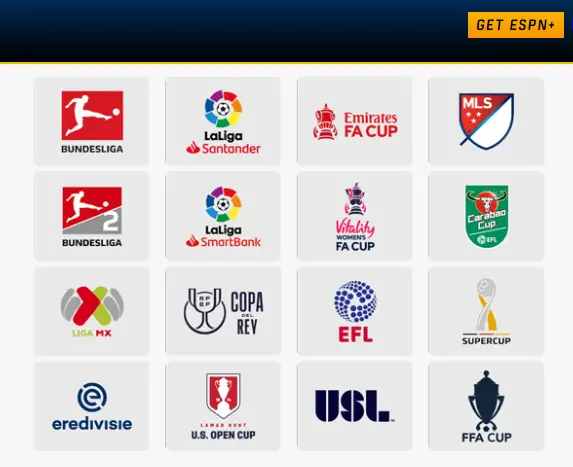 How to watch Bundesliga in USA
ESPN+ will have exclusive rights to the German Bundesliga in both English and Spanish starting in the 2022/23 season. Therefore, FOX Sports and Univision no longer hold the rights.
During each season, ESPN plans to broadcast four Bundesliga matches in the United States. For cord-cutters without ESPN or ESPN2, Sling Orange and fuboTV typically offer free trials.

Under the new ESPN rights agreement, this was the first Bundesliga season. The contract runs until 2025-26. With the Disney bundle, including Hulu and Disney+, you can subscribe to ESPN+ for as little as $6.99/month or $13.99/month.
Another, Streaming Providers of Bundesliga.
In addition to the above coverage, MLS fans can watch MLS games via the following streaming services:
fuboTV — features access to MLS games on FOX, FS1, Univision, TUDN, and UniMás,
Sling TV — includes FOX, FS1, ESPN, and ESPN Deportes,
Hulu Live — includes FOX, ESPN, ESPN2, ESPNEWS, FS1, FS2, and more,
VidgoTV – includes ESPN, ESPN2, ESPN Deportes, FS1, and more.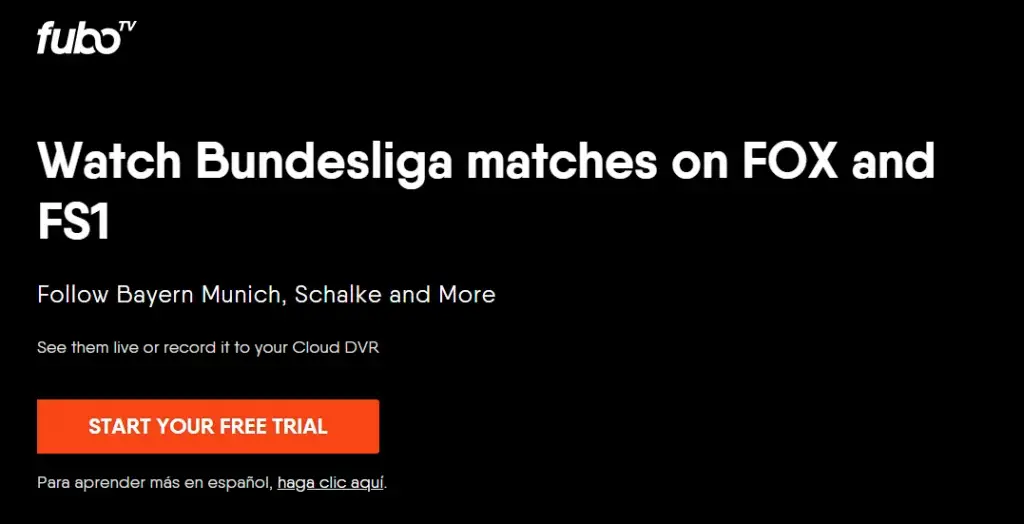 How many teams are in the Bundesliga for 2022-23?
In the Bundesliga and other European football leagues, teams change every year. The league consists of 18 teams, but the bottom two are automatically relegated to the second division. Bundesliga was replaced by the top-two finishers from the second division.
The third-lowest team in the Bundesliga plays the third-highest team in the 2. Bundesliga. The winner of the following Bundesliga season takes over the final position.
The teams competing this year are:
Arminia Bielefeld
FC Augsburg
Bayer Leverkusen
Bayern Munich
VfL Bochum
Borussia Dortmund
Borussia Mönchengladbach
Eintracht Frankfurt
SC Freiburg
SpVgg Greuther Fürth
Hertha BSC
TSG 1899 Hoffenheim
FC Cologne
RB Leipzig
Mainz 05
VfB Stuttgart
Union Berlin
VfL Wolfsburg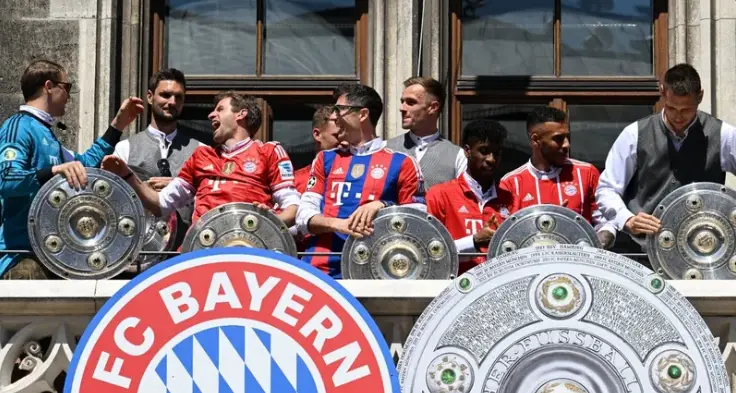 Upcoming Bundesliga fixtures
The following is a list of upcoming Bundesliga games. All fixtures may be changed. Kickoff times and information on how to watch each match can be found here.
| | | | |
| --- | --- | --- | --- |
| S. No | Matches | Date | Time |
| 1 | Borussia Monchengladbach vs. Bayern Munich | 08/13 | 2:30 p.m. |
| 2 | Arminia Bielefeld vs. Freiburg | 08/14 | 9:30 a.m. |
| 3 | Augsburg vs. Hoffenheim | 08/14 | 9:30 a.m. |
| 4 | Stuttgart vs. Greuther Furth | 08/14 | 9:30 a.m. |
| 5 | Union Berlin vs. Bayer Leverkusen | 08/14 | 9:30 a.m. |
| 6 | Wolfsburg vs. Bochum | 08/14 | 9:30 a.m. |
| 7 | Borussia Dortmund vs. Eintracht Frankfurt | 08/14 | 12:30 p.m. |
| 8 | Mainz vs. Red Bull Leipzig | 08/15 | 9:30 a.m. |
| 9 | Koln vs. Hertha Berlin | 08/15 | 11:30 a.m. |
Priority match: 8/14 at 11:30 AM ET, Bayern München vs. VfL Wolfsburg
Conclusion
Our mission at Bundesliga Fanatics is to find the best solutions for you guys out there who need more access than what's currently available. Watching the Bundesliga from overseas isn't as easy as watching it on ESPN Plus.
We'd love to hear about your experience watching Bundesliga in the USA! This article is intended to be helpful to you, and we hope you have found it useful. Please let us know if you have any comments.
FAQ on How to watch Bundesliga