Do you freak at the mounting prices of prescription? Like any essential item, prescriptions are important. Hence each one of us wants to save on pharmacy. Blink Health has it all sorted with 35000+ pharmacies nationwide, which provide discounted prescriptions for 15000 medications. 
In this blog, we will discuss what Blink is, how does it work, and how you can save money on using Blink Health Prescription Referral code. 
What is Blink Health?
With the mission to make prescriptions accessible to everyone, Blink Health provides volume discounts and help you save on pharmacy. The discount on 15000 medications is passed on to you, whether you are insured or not.
Blink Health has pharmacies participating from nationwide, which make sure that you get your Rx delivered right at your doorsteps. It also helps you book online doctor visits underline some terms and conditions. 
You can access their services either on the app or website on your desktop/PC without any charges or membership fees. Blink is the first company that initiated online payment for prescription and delivery at your doorsteps. It helps you pay for new prescriptions or place orders on the previous prescriptions. 
How does Blink Health Work?
Blink Health is one of the convenient platforms for all Americans to access their prescriptions. Using the platform is quite simple. Here are a few steps that you have to follow to place orders with Blink Health and save on pharmacy.
1. Click here to visit the website. Now search for your medication.
2. Now choose the dosage and quantity as prescribed by the doctor. 
3. Once you complete the process, make the payment. Pay online and get your e-bill on your email/SMS  
4. Visit your local pharmacy and fill your prescription available over 35000+ pharmacies. 
5. Show your E-voucher generated by Blink health, and you don't have to spend a single cent on your delivery charges.
Note – The price of medications has to be paid. You can cancel your order anytime, and all your purchases are refundable. 
Also Read |Best Health Insurance for International Students in USA
What is Blink pharmacy plus?
If you have insurance, the digital pharmacy will analyze your insurance and find the best price for your prescription. Your Rx will be delivered right at your doorsteps on prescription prescribed by the selected doctors. 
How to place an order with Blink pharmacy plus?
The option is available on prescription from selected doctors. Just follow these steps to place an order with Blink pharmacy plus –
1. Ask your doctor or have your prescription from your doctor and send it to Blink Pharmacy plus U.S.
2. You will receive a text with the best prices with the option to make an online payment.
3. Your Rx will be delivered right at your doorsteps from the local pharmacy. Pick up options also available. 
Note: There are two options of delivery available with Blink Pharmacy –
1. You can pay online and pick up from your local pharmacy
2. Ask the pharmacy to deliver it right at your doorsteps. 
Which all pharmacies are associated with Blink Health?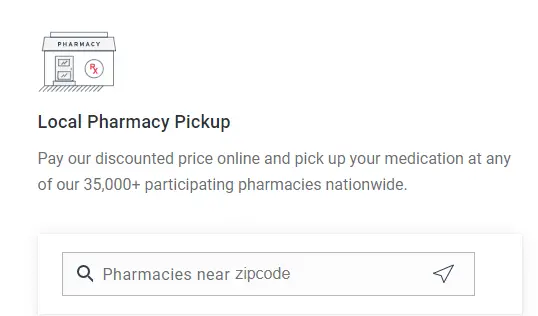 Blink Health works with all the top pharmacies nationwide which include –
Acme, Walgreens, Albertsons, Target, Costco, Walmart, Giant, Rite Aid, CVS/Pharmacy, Harris Teeter, Kroger, Safeway, etc.
These are just a few names on the list. If you are looking at the associated pharmacy near you, check on their website or app. 
$15 off on the first prescription for New users 
Create an account using the Blink Health Referral link and get $15 credited to your Blink Health account 
The amount will be instantly added up to your wallet once you finish creating your account. 
You can use this credit of $15 to avail of a $15 discount on your first prescription through the Blink health app or website. 
Note – The offer is only for new users on their first prescription through the Blink Health account. 
Blink Health Referral Program 
Once you create your Blink Health account, you can also refer to your friend or share it via email, Twitter, Facebook, etc. 
If your friends join using your referral link, they will get $15 off on their first prescription. 
You will also get a $15 credit balance for every new account created using your referral link. The amount will be credited to all the individual users. 
There is no limit to sharing the Blink Health referral link so you can accumulate all the amount generated from referral links and use it for future Rx purchases. 
Suppose you are a new user and looking to avail prescription at a discounted price you should give Blink Health a try. Even if you already have a prescription get volume discount on the same pharmacy using the Blink Health app. 
 How to use Blink Health to get a subscription?
Unlike any other service provider, Blink Health offers you online medical services. The company aims to reduce the gap between medication that people need and save on pharmacy.
For most of the medicines, you don't need any prescription. Blink Health will help you connect with an online practitioner who will create a prescription for you in 24 hrs. 
Once the prescription is ready, the company quotes you the lowest prices and delivers your Rx right at your doorsteps. 
Even if you have a prescription, you can use this app to get medicine at the best prices from the same pharmacy you visit. 
You can also avail of the option for online doctor visits but with some terms and conditions. Doctors are available for the following conditions Hair loss, High cholesterol, Birth control, Acid reflux, Erectile dysfunction.
Initially, the charges for consultation are $5 with a free prescription for the first month for any of the conditions listed above. Post this an incurring sum of $9.95 has to be paid as consultation charges along with the cost of a refill.
You can cancel your subscription via call at 844-484-5109 or write them at info@blinkhealth.com.