Disney Plus Hotstar has been aired in India on April 3rd' 2020. Everyone piqued up to watch the show with the announcement made for the release of the show on 29th March'2020. The owners were expecting to launch it with the other largest audience puller event IPL (Indian Premier League). But later, the launch was delayed due to the COVID-19 outbreak in the country and across the globe. However, the company launched a virtual Red Carpet event that kicked off the with The Lion King and The Mandalorian premieres.
Disney Plus Hotstar has episodes from popular and classic TV along with 500 films. It includes shows from the house of Disney, Pixar, Marvel Studios, Star Wars, and National Geographic. Hotstar's catalog previously consisted of over 4,000 titles in addition to exclusive sports streaming.
The announcement of Disney plus Hotstar posed serious competition to another major player such as Netflix, Amazon Prime Video along with India like ALTBalaji, Zee5, among others.
While millions of Indians who are already stuck in their homes pertaining to the pandemic lockdown of 21 days can easily enjoy the benefit of the same. This, however, came as a big chance for the leading online streaming platform Hotstar.
However, Uday Shankar, President, The Walt Disney Company APAC and chairman, Star, and Disney India told that, however, the market situation has been different if it has got released with the most happening cricket, even IPL. Though people are away from all the sources of fresh content like newspapers, TV shows, we still hope to deliver fresh content.
Subscription charges for Disney Plus Hotstar in India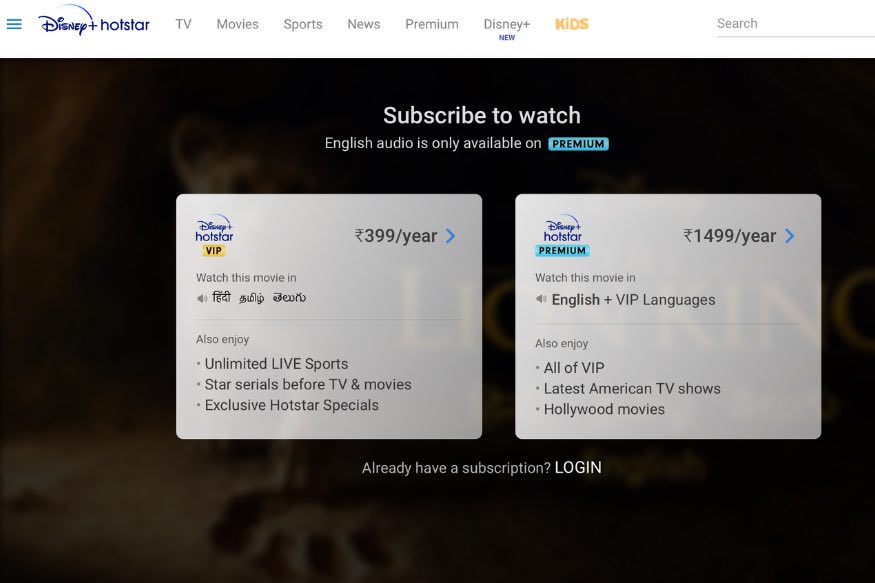 Starting on April 3rd the show will be offered in three distinct packages, namely Disney+ Hotstar VIP, Disney+ Hotstar Premium, and the basic an ad-supported version available for existing customers.
This might bog down a lot of viewers who didn't expect the changes in subscription charges underline the fact Disney Plus Hotstar being launched in India.
The VIP subscription will be available for Rs. 399 annually (as opposed to Rs. 365 prior) while the premium subscription will come for Rs. 1,499 annually (as compared to Rs. 999). If you are already existing subscribers, it will automatically be upgraded to a new subscription plan, and the new rates will be charged upon renewal.
Subscription charges for Disney Plus Hotstar in the US
Though the show is launching in India, if you are someone who is residing in the US and Canada, you don't need to panic. The access for the show is still available to you. Hotstar won't tie-up with Disney to feature this show but would be streaming it separately in the US. So for all the viewers in USA and Canada can subscribe to Hotstar USA annual plan and get an annual subscription for $44.99 by using HOTSTAR PROMO CODE: FLAT50
How do I get Disney Plus on my TV?
If you are looking to watch Disney+ on TV the best way to do this is via the Disney+ app. In order to get access to Disney Plus, you need to get a Hotstar subscription. subscribe to Hotstar USA annual plan and get an annual subscription for $44.99 by using HOTSTAR PROMO CODE: FLAT50
Once you get your subscription for Disney+ app you can download it on different devices such as smart TVs, Amazon Fire TV streaming devices, PlayStation 4, and Apple TV.
How to watch Disney Plus on Smart TVs
If you are looking to watch Disney Plus on your Smart TV the easiest way is to download the Disney+ app from television's app store and log in
Disney+ is currently available on all the latest Samsung TVs (with HD video support) . To watch Disney plus on Samsung smart TV you need to have the latest operating system the Tizen operating system not the Orsay OS.
Disney+ is also compatible with LG smart TVs from 2016 or later running WebOS 3.0 or later. LG TVs using the NetCast OS are not currently supported. A high-speed Internet connection and a smart TV with the latest operating system is recommended for optimal experience.
Also Read :- Hotstar Offer $3.7 Monthly | Hotstar promo code: DESI50 ($10 Discount Coupon)
How to get Disney Plus on Roku ?
Disney+ on TV is also available on a Roku or other streaming device. including the Roku LT (2700X), Roku 1 to 4, and 4K Roku Premiere+, as well as hundreds of Roku TV models. You can download the Disney+ app on Rok by visiting the online Roku Channel Store, or find it on the Roku home screen under "Streaming Channels."
How to stream Disney plus on TV via Amazon Fire and Apple TV
Disney+ is also available on the latest Apple TV model and Apple TV 4K running tvOS 11.0 and later.
Plus, all Fire TV devices and Fire TV Edition smart TVs are compatible with the Disney + app. All Amazon streaming device supports Disney+
What all shows will be featured on Disney Plus Hotstar
Disney Plus, which was initiated back in November 2019, with more than 28 million subscribers since it has original programming and superhero movies. It has a list of shows that are going to enchant the Indian audience like The Mandalorian, Encore, Jake and the Neverland Pirates, The World According to Jeff Goldblum, and many more. The most anticipated shows, such as The Falcon and Winter Soldier, Wandavisio will tie-in with other Marvel Studios catalogs such as The Avengers, Iron Man, and Thor Ragnarok, including films, and will drive the MCU Phase Four forward.