The Indian Web series has become quite popular among the young generation today. Not only young but adults have also started obsessing over these series. Today, there are many streaming platforms if you are looking to watch the best web series and tv shows. In recent years major OTT platforms like Hotstar, Netflix have introduced a series of original shows and web series in India that have made a revolution in the entertainment industry. Unlike TV serials that keep running for years, Bollywood web series make more creative and run in synchronization with each other. This is why many people pique up to watch the best web series the moment they start streaming on online platforms. 
Whether you are bored or looking to chill on a Saturday night web series are to our rescue. Here is a list of best web series India streaming on all the online platforms that should watch now.
List of Best Indian Web Series
1.Asur 
Asur is an unequivocally the best crime thriller Indian web series released in 2020. The web series is based on the mythological beliefs of Asur (Devil) and devas (God). The increasing cases of serial killing in the city alert the CBI officer Dhananjay Rajpoot (Arshad Warsi) and his team. The series creator Gaurav Shukla seems to have contemplated a lot before writing the thriller to create discontent between the viewers and mythological concepts. The series revolves around a serial killer who is a victim of parental abuse & later involves in a barbaric murder of his father. Use of desaturated colors & real locations such as Varanasi, Uttar Pradesh makes it an exquisite artwork and best web series for a traditional and modern age generation. 
2.Special Ops
Since the trailer's release, the best Hindi web series Special Ops has gained a lot of audience attention. Directed by Neeraj Pandey, it is so far the best web series released in 2020. The web series follows with the lead role Himmat Singh (Kay Kay Menon) Intelligence office of RAW, which is being investigated by the internal committee for his expenses incurred on Business class trips, Splurge of money on marriages outside the nation, and other extravagant transactions made. The parts of the web series are Menon's tirade about making these expenses pertaining to those who safeguard the nation. The core of the show is about active terrorists and Menon's team drawing the leads about them. Delineating the tough world of being a spy and humanizing the soldiers without uniform (Undercover agents) and bureaucratic red-tapism is what makes it the best web series.
Also Read |Amazon Prime vs Hotstar vs Netflix- Which is the best?
3.The Family Man |Best Indian web series
The other exquisite action-drama series that made its appearance in 2019 was The family Man that revolves around the lead role Srikant Tiwari (Manoj Bajpai), who works for the National Investigation Agency. The web series about the white-collar class man who has a disturbed marriage and a secret agent who loves his work and nation. However, he can't keep up a harmony between the two universes.
The specialist Srikant Tiwary, who in no way appears to be James Bond or Jack Ryan. The few scenes are so loaded up with tense and lip gnawing that you will have a hard time believing. Particularly when Srikant cracked the code that the supposed character 'Moosa' whom we thought is honest is the genuine 'danger.' Moosa (Neeraj Madhav) is a captivating character in the series. He is helpless, sharp, and flighty. He is the mastermind in The Family Man. 
Srikant's wife, played by Priyamani, resembles any other occupied lady, a mother of two children and a working lady. It is among the best web series which reflect the everyday issues of middle-class families other than on topics like homegrown terrorism. We really look up to see the second season of the Indian web series soon. 
4.Mirzapur 
Set in the heartland of North India, Mirzapur is another best web series that follows the journey of two siblings, Guddu (Ali Fazal) and Bablu (Vikrant Massey), as they get enmeshed in the realm of the Bahubali, Kaleen Bhaiyya (Pankaj Tripathi). As we vicariously see their story, it is hard not to get cleared up by this a la mode, rural existence where brutality rules and stuns are galore. 
Mirzapur's roles match the customary Hindi film; they are powerful no matter how you look at it without being groundbreaking. Pankaj Tripathi, intense in his character, is splendid as usual. Ali Fazal is incredible as the roided-up nitwit. The sisters, Sweety (Shriya Pilgaonkar) and Golu (Shweta Tripathi), are successful in their sweet turns, with Golu specifically being considerably more than a simple plot gadget. The all-around characters help make a rich world, and through the span of the show, you either care about what happens or want something to occur.
Mirzapur is indeed an exhilarating web series, and each one of us is piqued up to see the second season. 
5.Panchyat |Best Indian Web Series
TVF web series Panchyat delineates a vivid picture of  Rural India. The entire plot of the story is around a city-bred youth Abhishek Panchayat, who gets an average paying job a secretary of a village Fulera in Uttar Pradesh. The presence of other veteran actors, Neena Gupta, who plays the role of Pradhan(official), and  Raghuvir Yadav, who plays the role of "Pradhan Pati," makes this series outstanding and splendid.
The is extraordinary in realistic experience as certain areas are used rather than sets. This series holds a lot of things in the manner they are, which makes it increasingly sensible. There are parts of village life which have been talked about. Indeed, even things like dowry are discussed in an exceptionally easygoing way, similar to those in the village. Additionally, there are a few things identified with workplace issues and generally speaking governmental issues. There is additionally the portrayal of abuse of intensity, and they appear in an easy manner. 
There are a lot of satirical scenes and various inadvertent satire. These add to the kind of the overall feeling of the series. Overall it is a must-watch and among the best web series in India. Though the web series was completed in a single season we don't expect the release of the second season.  
6.Sacred Games 
An addictive, charming, and rigid crime thriller for about 400 minutes, sacred Games offers an undeterred glance at the city 'Bombay'. 
Sartaj Singh is an oppressed cop, his expert life buried in an ocean of fundamental defilement. Shriveling under his frustration and a boring perspective on his general surroundings, Sartaj is desperate for a success, longing for approval that intrigues him to keep moving. 
Ganesh Gaitonde, Mumbai's man of the mystery. The once King of Gopalmath, missing for a long time, calls Sartaj Singh and cautions him, "You have 26 days to spare your city". Also, the game is in the air. Sartaj's story is set in the present and manages his quick activities after hearing Gaitonde's notice. The second and strongly the intriguing part of the series is the rise of Ganesh Gaitonde from the backwaters of Maharashtra to the apex of the Bombay black market. A freethinker criminal with a wound feeling of profound quality, yet in addition, one who champions balance and secularism, Gaitonde is a layered, complex character, exquisite.
Saif Ali Khan, given the perfect role to work with, is an entertainer equipped for scaling marvelous statures. He accomplishes extraordinary work here even though his part isn't pretentious in the smallest. It is a seminal work in the entertainment industry & best web series to watch. The second season of Sacred Games was released in the year 2020 which was one of the most discussed Indian web series. 
7.Made in Heaven 
Made in Heaven is a story about Delhi's two wedding planners, Tara (Sobhita Dhulipala) and Karan (Arjun Mathur), who are owners of Made In Heaven. 
Made in Heaven demonstrate the dark side of weddings. Tara is associating her husband with getting into an extramarital affair. Karan is gay, and his dearest companion (Boyfriend) making arrangements for his marriage. Karan and Tara, these two characters are the life of the series. The two characters are given quality in this series. Karan's character is Homosexual, and he has been put in prison after the complaint of his affair with a man. s
Tara is the second most grounded character in this series. She married Adil Khanna (Jim Sarbh) and is battling in her marriage life due to Adil's issue with Faiza, who is the companion of Tara. It is the best Indian web series that everyone should watch. 
8. Little Things 
The Season of Little Things revolves around two stars, Dhruv(Dhruv Sehgal) and Kavya(Mithila Palkar). 
The season is great if you want to watch romance and how little things contribute to our everyday life. 
Dhruv is the quintessential lover who is tending his sweetheart, spoiling her, making her the best food, and dealing with his wiped out accomplice. These little motions are, without a doubt, charming and cute. As the show progress, we start to acknowledge how solid their relationship is. Without a doubt, they are fighting about 'Little things'; however, they are the ones who can't be frantic at one another for a long time. Each time they contend, we see Dhruv and Kavya's support with little signals of love. This advises us that each relationship has its downs. In any case, loving each other goes way past little fights. They turn basic arguments that don't last more than a couple of hours, with a warm sentiment underneath everything.
9.Kota Factory |Best Indian Web series
The web series follows a story of a brilliant student Vaibhav, who is attempting to get settled in the new city Kota for engineering. He begins his journey towards the most troublesome piece of the individual's life-Studying.In the middle of this, he discovers old buddies; he additionally begins to look all starry-eyed. As he was encountering the most brilliant time of the teenager's existence, Vaibhav is by all accounts happy and at the same time breaking. But life transpires! He needs to pick between what is correct and what feels directly at that age. The story is open-finished. It leaves the crowd to consider the 'if and buts'. The families must watch it with their kids. Individuals who are exhausted with the normal Bollywood masala can move to web series by beginning with TVF unique "Kota Factory". 
New faces, smooth storyline, and time arranged parody punches make Kota Factory the best web series. 
10. Yeh Meri Family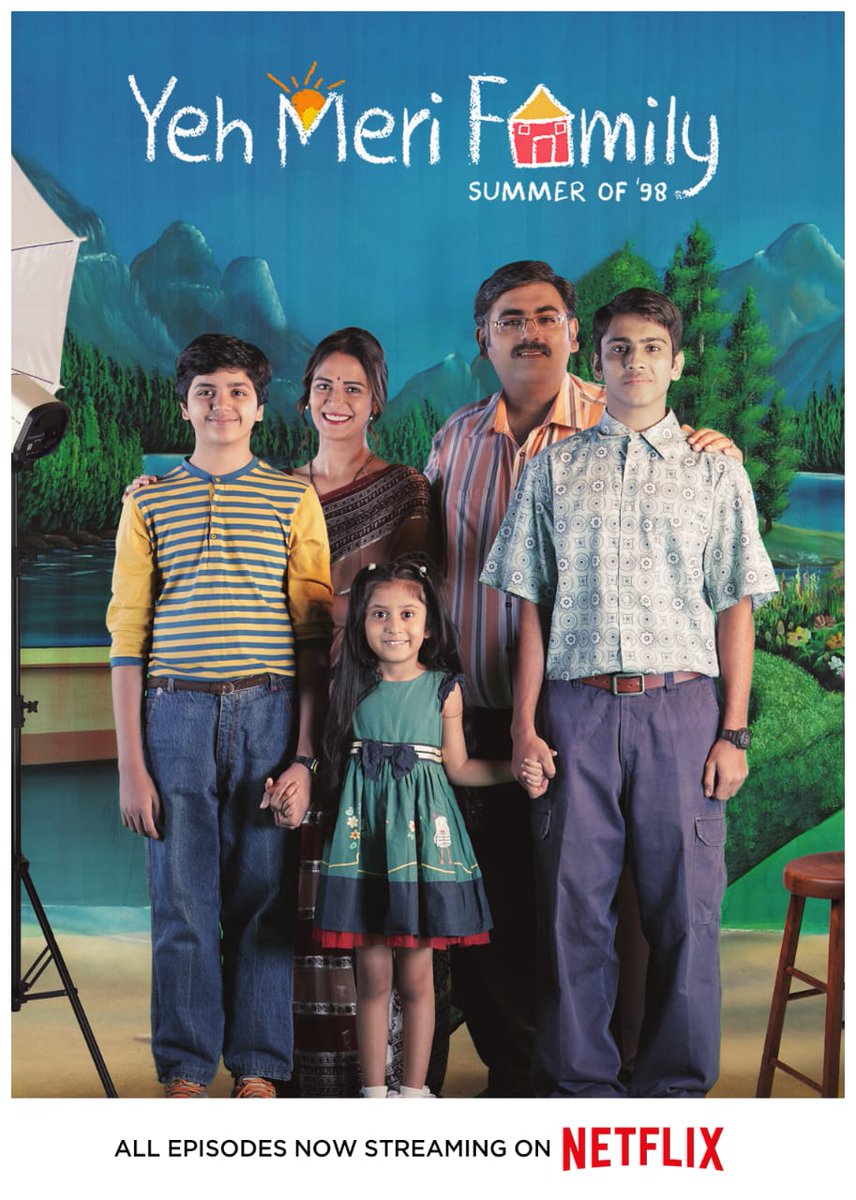 TVF has been known for its new and fresh content. The Indian web series follows to the Family-Oriented Segment wherein the financial investments are made by the older folks of the family remembering the prosperity of the family and not simply monetary benefits.. "Yeh Meri Family" gets the job done perfectly – Mr. Gupta isn't a perfect, lecturing father yet the one with his own weaknesses; Dabbu, the senior child of the family isn't altogether the perfect, sacred writing of a child – he has his 'negative behavior patterns' that he escapes his folks like some other young person.  Harshu, the 12-year-old isn't completely fiendish; however, he is a lovable, kind-hearted kid. The primary hero of the series. A cheerful kid who ends up falling into a trap after various satirical mistakes. He calls attention to the imperfections and attempts to illuminate it progressively. ,
The actors are great. This series will be remembered for a  stretch of time. You can relate to every single character in it. 
 Hope the list of Indian web series help you get rid of boredom and enjoy your day binge-watching these best web series with your family and friends